About Westinghouse refrigerators
The people behind the name
Westinghouse Electric Corporation was founded in 1886 in Pittsburgh by George Westinghouse. Some of George's engineers included famous names such as Nikola Tesla, and George's arch-nemesis was Thomas Edison, who founded General Electric.
When George passed away in 1914, he left a legacy of 361 patents. The 60 companies he founded have continued that legacy since then.
In 1934, the company opened 'The Home of Tomorrow' in Ohio to display its latest and greatest home appliances in a real home environment.
After being heavily involved in everything from aviation to nuclear energy, and having invented continuous filament tungsten light bulbs (1909) and automatic elevators (1945), Westinghouse is now most well-known for its home appliances including their refrigerators.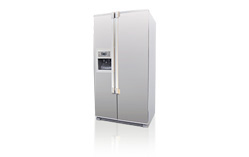 Canstar Blue refrigerator customer satisfaction survey
Some of Westinghouse's refrigerator innovations
1914: Westinghouse enters the home appliance market.
1930s: White-Westinghouse claims to be the first company to produce refrigerators with sealed refrigeration units.
1950s: White-Westinghouse introduces auto-defrost or 'frost free' refrigerators.
2010s: Spillsafe™ glass shelves are invented, which can prevent up to 1 litre of spilled liquid from dripping onto the lower shelves. That's good news for those of us who are a little bit clumsy!

Is your fridge making you sick?
Other Westinghouse 'firsts' in technology
Apart from being the first to make fridges with sealed freezer units, Westinghouse boasts many other firsts in technology:
First continuous filament tungsten light bulb in 1909
First all-electric kitchen range / stove in 1917
First international short-wave radio broadcast in 1923
First TV camera tube, the iconoscope, in 1928
First industrial atom-smasher in 1937
First automatic elevator in 1945
First electric clothes dryer in 1946
First temperature-controlled portable grill in 1950
First computer-controlled teletype network in 1962
First "Instant On" TV in 1968
The camera that filmed man's first steps on the moon in 1969
First airborne surveillance radar system in 1977
First LCD TV monitor for consumers in 2005.
So if you get a Westinghouse fridge, you are getting a product created by people who have been inventing the 'next big thing' since 1886.
Other refrigerator brands we rated
Canstar Blue commissions Colmar Brunton to regularly survey 3,000 Australian consumers across a range of categories to measure and track customer satisfaction. The outcomes reported are the results from customers within the survey group who have purchased and used a dishwasher in the last three years – in this case, 776 Australians.
The other refrigerator brands in this year's survey are:
Electrolux
Fisher & Paykel
Kelvinator
LG
Samsung
Whirlpool
You can view the refrigerator survey results here.