Samsung Bespoke Range wins Canstar Blue Innovation Excellence Award (Appliances)
The Samsung Bespoke range allows consumers to customise their home appliances to match their décor and personality. The new line from Samsung includes kitchen and home appliances which come in a variety of colours and finishes, and select models which can be customised upon order.
Samsung's Bespoke range received Canstar Blue's Innovation Excellence Award (Home Appliances) for 2022. This award recognises smart innovations in home appliances and consumer electronics and is awarded based on Canstar Blue's sophisticated rating methodology under which winners are scored on a range of factors, including whether the product is unique and how disruptive it is to its product category. Other factors considered are affordability, ease of use and impact on the average consumer.
What is the Samsung Bespoke range?

The Samsung Bespoke range is an assortment of kitchen and home appliances that can be aesthetically customised to suit personal styles. This includes appliances big and small like refrigerators, air purifiers, vacuum cleaners, and the AirDresser clothing care system.
For the kitchen, Samsung offers an array of modular fridges including the Bespoke French door Family Hub fridge. Consumers can choose preselected panel options or customise their own with dozens of colours to choose from, including pink, yellow, emerald green and 'morning blue', in addition to the standard white, charcoal, and stainless steel. These are available in steel or glass finishes.
Samsung's Bespoke range also features a vacuum cleaner that 'deserves to be seen' – the Bespoke Jet stick vacuum comes in 'midnight blue', green or white designs (depending on the model). The range additionally boasts all the latest capabilities in home cleaning like a digital display that shows the unit's power level, remaining battery time, and various alerts, plus multi-stage filtration, a cleaning station and an accessory cradle for easy access and organisation.
For the bedroom, the Bespoke range offers the AirDresser − a clothes storage system with inbuilt steam jets and a deodorising filter that sanitises and steams clothes, continuously keeping garments fresh and ready to wear. The Bespoke AirDresser comes in a 'cotta charcoal' colour.
There's also the Bespoke Cube Air Purifier − a wind-free air purification unit with HEPA filtration and a multi-layered pet purification system that removes up to 99.97% of large and ultrafine particles, pet hair, and odours in your home. The Bespoke Cube Air Purifier comes in 'clay beige' only.
The colour palette within the Bespoke range is designed to be complimentary to the choices within each appliance group. Appliances within Samsung's Bespoke range vary in price depending on the type and level of customisation.
What we like about the Samsung Bespoke range
The Samsung Bespoke range pairs customisable designs with performance and innovative technology, to empower consumers to create unique appliance designs that perfectly fit their homes and personal style. The brand's tagline for the range is 'designed for you, by you' which highlights the brand's commitment to encouraging consumers to bring their ideas to life.
"The Bespoke range held a significant 'wow' factor and was deemed to have an impact on consumers who value customisability and the opportunity to explore their creative genius, while still getting the high-quality manufacturing of a reputed brand," said Canstar Blue's Home & Lifestyle Editor, Megan Birot.
Ability to customise
The ability to customise home appliances is a relatively new concept within the market, especially to the extent of Samsung's range. The Samsung Bespoke range allows consumers to design their own refrigerator and tailor it to their specific needs and taste according to size, space, and the style of their home. The Bespoke range frees consumers from the limits of branding and gives them a say in the appliance which will hold a space in their home.
Removes the barrier between practical and personal style
Samsung has provided consumers with the ability to express themselves through their home appliances. By opening up the design process to the consumer, Samsung has transformed the role of the appliance from a necessary, practical investment to a personally involved investment, giving consumers a vision they can feel confident in investing in.
---
"The Bespoke range allows consumers the opportunity to explore their creative genius, while still getting the high-quality manufacturing of a reputed brand."
---
What are Canstar Blue's Innovation Excellence Awards?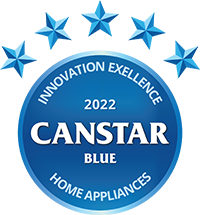 Canstar Blue's Innovation Excellence Awards use our unique expert rating methodology to compare submissions received from home appliance and consumer electronics brands throughout Australia. Canstar Blue's Innovation Excellence Award winners represent a selected group of innovative products released within these fields over the most recent year. Canstar Blue's Innovation Awards Methodology is available on request.
Read the full Canstar Blue Innovation Excellence Awards Methodology.