Air conditioning is (almost) a necessity in Australia. Not only does AC go a long way towards making indoor temperatures more comfortable, it also helps improve indoor air quality. But The Samsung WindFree GEO Split System introduces real innovations to air conditioning, most of which are unique to the brand and designed to overhaul how Australian consumers keep cool.
Samsung's GEO WindFree AR9500 Split System range received Canstar Blue's Innovation Excellence Award (Heating & Cooling) for 2021. This new award recognises smart innovations in home appliances and consumer electronics and is awarded based on Canstar Blue's sophisticated rating methodology under which winners are scored on a range of factors, including whether the product is unique and how disruptive it is to its product category. Other factors considered are affordability, ease of use and impact on the average consumer.
What is the Samsung GEO WindFree Air Conditioner?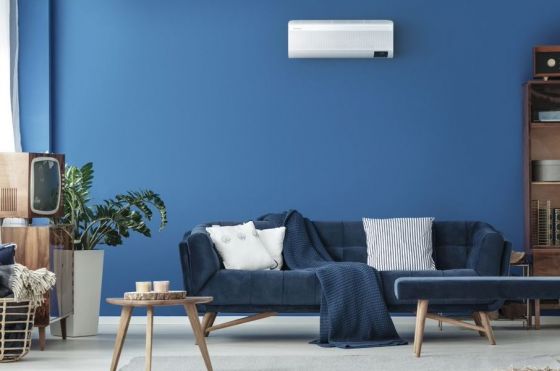 It's the next-generation model in the GEO WindFree (AR9500) range that's been designed to cool your home without the blast. It works to reduce air movement in the room so that you don't feel that typical air con draft.
Samsung's GEO WindFree Air Conditioner also uses AI to customise your temperature settings based on how you use your air con. The AI Auto Cooling function analyses the room you're in and adjusts the indoor temperature according to the room's conditions, outside temperatures and your previous usage patterns. The Wi-Fi embed gives you remote access to your unit when you're not home, through Samsung's SmartThings app.
Additionally, there's a Fast Cooling mode (with 84mm cooling range), a Good Sleep Mode designed to maintain your ideal body temperature throughout the three main stages of your sleep, and an Auto Clean function.
Samsung GEO WindFree Air Conditioner prices
Here are prices for Samsung's GEO WindFree Air Conditioner models.
| | |
| --- | --- |
| Size | RRP |
| 2.5kW (9 – 28m2) | $1,099* |
| 3.5kW (25 – 38m2) | $1,299* |
| 5.0kW (35 – 55m2) | $1,799* |
| 7.0kW (48 – 72m2) | $1,999* |
| 8.0kW (55 – 85m2) | $2,499* |
*Prices from Samsung, correct as of June 2021.
Why do we like the Samsung GEO WindFree Air Conditioner?
Samsung's WindFree GEO (AR9500) Split System Air Conditioner features – as the name suggests – a wind-free system, the likes of which we haven't seen much of in the Australian market. It was purposefully designed to cool indoor spaces more efficiently and gently. Switching on the WindFree mode will close the bottom air vent and activate ambient cooling that disperses air through 23,000 micro air holes in the front panel, which minimises the dry air con blast you may feel when using a regular AC.
Another unique feature is the Tri-Care filter, which is said to eliminate up to 98.8% of inactivate bacteria in the air through the use of three filter layers to help remove large dust particles, fibres and even pet hair. There's also an ionizer that takes care of fine dust and airborne bacteria and allergens.
All in all, the WindFree GEO Split System was designed with ease of use and home aesthetics in mind. The wide display allows users to monitor indoor temperature and air quality information at the same time; it's one of the only residential air conditioners on the market to provide this level of information on the unit itself.
What are our Innovation Excellence Awards?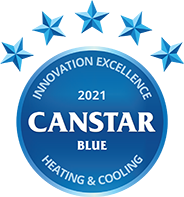 Canstar Blue's Innovation Excellence Awards use our unique expert rating methodology to compare submissions received from home appliance and consumer electronics brands throughout Australia. Canstar Blue's Innovation Excellence Award winners represent a selected group of innovative products released within these fields over the most recent year. Canstar Blue's Innovation Awards Methodology is available on request.