An Expert's Guide to Evoenergy

Fact Checked
Formerly known as ActewAGL, Evoenergy is the
electricity distributor
servicing and maintaining the power poles, overhead lines, underground cables and substations in the ACT.
Distributors are not to be confused with the body responsible for setting up power connections and billing, known as your electricity supplier. Unlike your supplier, you'll likely only come into contact with your distributor in the event of a power outage or to report damaged power lines.
So, what do you need to know about Evoenergy? In this guide, Canstar Blue will reveal everything there is to know about this ACT electricity distributor.
On this page:
Evoenergy Expert Guide
Evoenergy has a coverage area of 2,358km², servicing more than 200,000 customers in the ACT. Its network portfolio consists of 2,394km of overhead lines, 2,694km of underground cables, 14 zone substations, 53,000 power poles and 5,006 distribution substations. It also operates a natural gas network with more than 146,000 customers across the ACT and Nowra.
When to contact Evoenergy
It's not always clear when to contact your electricity distributor and when to contact your power company. In general, unless you're experiencing regular power outages, you probably won't need to contact your distributor often. Here's a quick summary of when you should and shouldn't contact Evoenergy.
| When to contact Evoenergy | When NOT to contact Evoenergy |
| --- | --- |
| In the event of a power outage | To negotiate a better deal on your electricity |
| To report fallen powerlines or trees in power lines | To pay your power bill |
| To report problems with supply quality, such as low or high frequency | If Evoenergy isn't your electricity distributor |
| To make a new electricity connection to the grid | When moving into a new home to reconnect power |
Evoenergy Tariffs
A tariff refers to how you are charged for your energy, with charges usually varying for different tariff structures. Through your electricity provider, you'll be charged a rate that will vary according to your tariff to cover Evoenergy's electricity supply costs. These are known as network and jurisdictional charges or supply charges.
Charges change every year, and the Australian Energy Regulator reviews and approves them before they are passed on to the consumer at the start of the new financial year. For an overview of what you can expect to pay, view Evoenergy's 2021–22 Electricity Network Pricing Proposal on the Australian Energy Regulator's website.
Evoenergy Connections
Looking to connect to the grid? You'll find all the information you need on the Evoenergy website. For basic residential connections, you're required to use Evoenergy's online portal to submit an application form or fill out the form manually and submit it to the distributor. Commercial customers need to submit a different form provided on the website.
To connect, an energy meter needs to be installed at your property and an agreement needs to be in place. Evoenergy will work with your chosen energy supplier to make sure you meet these requirements.
Electricity Plans on the Evoenergy Network
The ACT electricity market is less price competitive than in other states and territories due to regulated energy tariffs. The government determines how much you'll pay for power, leaving little room for a competitive market. ActewAGL has long been the preferred choice for ACT households and businesses, holding a large market share in the territory. It's worth noting that there are other energy plan options in the state, with many suppliers emerging in recent years to challenge ActewAGL's market share, causing it to drop from 95 per cent in 2014/15 to 81 per cent in 2020, according to the AEMC.
Here's the list of the 13 electricity providers servicing residential accounts in the ACT.
Evoenergy Company Information
Where does Evoenergy service? How do I contact Evoenergy? What do I do if there's an outage? Canstar Blue fills in the blanks on this ACT distributor.
Evoenergy Contact Details
Looking to get in contact with Evoenergy? There are different contact options depending on the type of enquiry.
Type of enquiry
Contact information
Emergencies, faults & outages
Electricity: 13 10 93 (24/7 hotline)

Gas: 13 19 09 (24/7 hotline)

General electricity enquiries
13 23 86

Online enquiry form

General gas enquiries
13 23 86

Online enquiry form

Media enquiries
0414 515 359 (24/7 hotline)

media@evoenergy.com.au
Evoenergy Network Map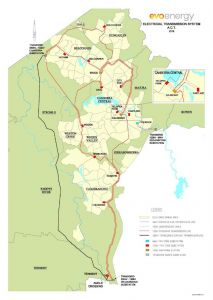 Evoenergy owns and operates the entire ACT electricity network, from Tennent to Gungahlin. As you can see on the map, Evoenergy covers the following areas and more.
Barton
Braddon
Chifley
Canberra
Cook
Curtin
Flynn
Gowrie
Griffith
Harman
Lyons
Mawson
O'Connor
Red Hill
Torrens
While Evoenergy services a vast majority of ACT residents, Essential Energy also services a small number of households.
Evoenergy Outages
From planned maintenance to trees falling on powerlines, outages are an unavoidable part of Evoenergy's responsibilities. Fortunately, power outages in the ACT are mostly few and far between, so it's often not long before power is restored. In the event of an outage, visit the Evoenergy website to check whether it's been reported in your area. Contact Evoenergy on 13 10 93 to inform your distributor that you'll need to be reconnected.
Like most distributors, Evoenergy regularly updates its Twitter, Facebook and Instagram pages to keep ACT residents notified on the progress of outages and restoration.
1/2 Hi #Gungahlin, this morning around 30,000 customers lost power for around 15minutes and 4 customers are currently without power. We're investigating the cause of the outage and working to restore the outage map on our website. pic.twitter.com/7Yi0lWUUh4

— Evoenergy (@EvoenergyACT) February 15, 2022
Other Electricity Distributors
Having trouble identifying your distributor? We've compiled a list of all of the electricity distribution networks across Australia and their service areas.
ACT Electricity Distributors
EvoEnergy – ACT
Essential Energy – Small part of ACT & Queanbeyan
NSW Electricity Distributors
Endeavour Energy

– Southern & western Sydney
Essential Energy – Regional NSW & southern regional QLD

Ausgrid

– Inner, northern & eastern Sydney
VIC Electricity Distributors
QLD Electricity Distributors
SA Electricity Distributor
Tasmania Electricity Distributor
Northern Territory Electricity Distributor
Power and Water Corporation – Northern Territory
Western Australia Electricity Distributors
Western Power – South West Interconnected System

Horizon Power

– Rural Western Australia

Monika Gudova: Freelance Content Contributor
Monika Gudova is a freelance content writer and editor who has spent several years focused on energy topics, both at Canstar Blue and elsewhere in the comparison industry. With a Bachelor of Journalism and Bachelor of Communication and Media Studies from the University of Wollongong and experience in writing on a range of non-energy topics, Monika's also well placed to know the most engaging ways to present in-depth information on electricity, gas and solar, while her personal investment in renewables and green energy mean that brings real passion to energy content.
FAQs about Evoenergy