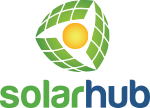 SolarHub Review & Guide
SolarHub is a solar retailer and installer operating in New South Wales, Victoria and the ACT. SolarHub has installed more than 7,000 solar systems to residential, commercial and industrial customers. SolarHub began as a sole retailer, outsourcing its installation to Solar Sparx. The two companies then merged in 2014 and continued operating under the SolarHub name.
Today SolarHub claims to be the largest solar retailer and installer in the ACT and surrounding regions, and boasts a Clean Energy Council accreditation as both a retailer and an installer. SolarHub says it's passionate about providing quality customer service, high quality products and affordable products.
In this article, Canstar Blue review SolarHub's range of products and services to make your solar choice a whole lot easier.
SolarHub Products
SolarHub offers a range of solar PV panels from a number of tier 1 manufacturers, including LG, Jinko Solar and SolarEdge. System sizes usually range from 2kW to 5kW, though a quote is necessary to help figure out the ideal size for your home. SolarHub provides solar batteries for customers looking to store their power, including the LG RESU range, SolaX and Tesla Powerwall.
SolarHub also offers solar hot water systems, inverters, energy monitoring solutions and energy optimisation devices.
Is SolarHub right for me?
As a Clean Energy Council accredited solar retailer and installer, you are more than likely in very capable hands if choosing SolarHub for your solar energy needs. With a portfolio of more than 7,000 customers, SolarHub claim to provide 'tailored solutions using the latest in smart home technology'. There is no listed pricing information on SolarHub's website so it's best to contact them for directly for a quote.
Want to know more about solar?
Thousands of Australians are turning to solar to reduce their reliance on the grid, as well as claw back some of their household's energy costs. If you're at the stage where you're considering a solar system for your residence, Canstar Blue has got you covered. We compare a range of solar providers every year to help narrow down your search. Click on the link below to get started!