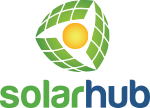 About SolarHub
SolarHub is a solar retailer and installer operating in New South Wales and the ACT.
Its history
SolarHub began as a sole retailer, outsourcing its installation to Solar Sparx. The two companies then merged in 2014 and continued operating under the SolarHub name.
Today SolarHub claims to be the largest solar retailer and installer in the ACT and surrounding regions, and boasts a Clean Energy Council accreditation as both a retailer and an installer.
SolarHub says it's passionate about providing quality customer service, high quality products and affordable products.
What SolarHub offers
SolarHub offers a range of solar PV panels from a number of tier 1 manufacturers, including Trina Solar and LG. SolarHub has three 'ranges' of solar panel systems, allowing you to find the best option for your needs. These are gold, platinum and diamond (ordered from lowest to highest based on excellence and trusted quality). System sizes usually range from 2kW to 5kW, though a quote is necessary to help figure out the ideal size for your home.
Gold Range: This range is designed to be the most cost effective, offering Zeversolar inverters and Trina solar panels.
Platinum Range: The platinum range uses inverters from the German manufacturer SMA, as well as solar panels from global giant LG.
Diamond Range: The diamond range is designed to be SolarHub's ultimate quality solar system. It uses LG's top-of-the-line Neon2 panels and a 'highly efficient' SolarEdge inverter.
SolarHub also offers solar hot water systems, energy monitoring solutions and energy storage devices.
Other articles you might like
The Tesla Powerwall has arrived