Review of Woolworths sunscreen
Supermarket giant Woolworths aims for big brand quality at a lower price under its own brand products. Does Woolworths sunscreen keep you sun safe, or are you paying a different kind of cost for affordable sun care?
Woolworths is claimed to be the world's only retailer with its own NATA certified onsite lab specifically designed for product testing. The lab was opened in 1964 and was quickly followed by the launch of Woolworths' own brands in 1973. This was superseded by generic packaging with the distinctive 'Home Brands' logo in 1983, then in 2005 expanded to include a premium range called 'Woolworths Select'.
Woolworths sunscreens are among the very cheapest by volume available on the market. Despite the low cost, there's no shortage of features you'd expect from a reliable sunscreen brand. All Woolworths sunscreen formulas are broad spectrum, with both UVA and UVB protection, and are said to be dermatologically tested on human skin. They're also claimed to be non-greasy, which can be one of the big differences between a sunscreen that feels comfortable on skin and one that feels heavy and unpleasant.
Read on to learn more about what sun care Woolworths offers for your skin in this Canstar Blue review.
Woolworths EveryDay Sunscreen SPF 50+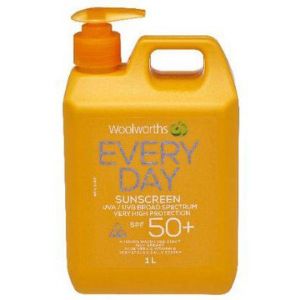 This high protection general use sunscreen comes in all sizes, from a small tube that can be easily kept in a bag up to a bulk pump pack to keep the whole family well supplied with sun protection all summer long. The Woolworths EveryDay Sunscreen formula contains aloe vera and vitamin E to soothe skin and offers four hours of water resistance to stop the pool or beach from washing away your protection against UV rays.
Woolworths EveryDay Sunscreen comes in the following packages:
1L pump pack with handle
500mL pump bottle
100mL tube
175g aerosol spray
Woolworths Face Sunscreen SPF 30+
Suitable for wearing under makeup or on its own, this specialised face sunscreen has a matte finish for a smooth, non-shiny look. The formula also includes vitamin E to help keep skin healthy. The Woolworths Face Sunscreen comes in a 50mL tube.
Woolworths Kids Sunscreen SPF 50+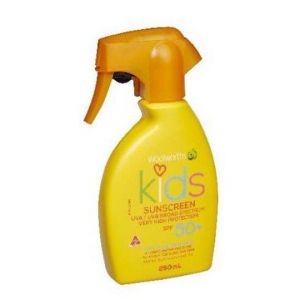 Getting wriggly kids that just want to go out and play to sit still long enough to properly apply sunscreen can be a struggle. The Woolworths Kids Sunscreen is coloured purple and rubs in clear, which can help you make sure you cover everywhere a bit easier. It contains aloe vera and vitamin E to protect vulnerable young skin, and is fragrance free so it doesn't bother their noses.
There are three different application methods to choose from for fuss-free sun safety:
250mL trigger spray
75mL roll on
50g tube with loop end and carabiner (attach it to your bag or pram for easy access)
Woolworths also produces a sunscreen specifically for baby skin in a 75mL roll-on.
Woolworths Active Sport Sunscreen SPF 50+
The primarily difference between this sunscreen and the EveryDay formula is that the Active Sport formula is sweat resistant, to stop your sun protection from dripping off with your sweat. As with the EveryDay formula, it's 4 hours water resistant and contains aloe vera and vitamin E to help keep skin healthy. It comes in a 250mL trigger spray and a 175g aerosol spray – spray-on sunscreen can feel a lot nicer during exercise than rubbing in a lotion. The aerosol also contains menthol to add an extra refreshing feel.
Woolworths Zinc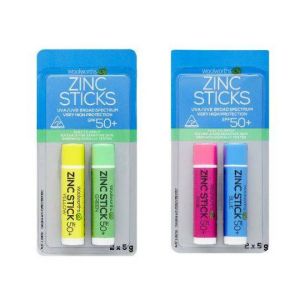 Zinc oxide is a physical UV blocker, which reflects and scatters UV light particles. It offers quite good UVA protection. Zinc oxide is often preferred by those with sensitive skin, who may have adverse reactions to chemical sunscreen formulas.
Woolworths produces two types of zinc sunscreens. The Woolworths Select Clear Zinc SPF 30+ is fragrance-free with no chemical allergens, coming in a 100mL tube. The tradition zinc sticks are still around, with the Woolworths Zinc Sticks SPF 50+ coming in a two-pack of varying colour combinations such as yellow and green or pink and blue. The zinc sticks offer four hours of water resistance.
Woolworths After Sun Aloe Vera
While sunburn can't be cured, you can help make the healing process more comfortable and less painful by applying topical treatments. The Woolworths Select After Sun Aloe Vera comes in a gel (200mL tube) or aerosol (175g spray). The non-greasy spray also contains vitamin E to hydrate skin and witch hazel and green tea to cool skin left dry and irritated by sun and wind.
Should you choose Woolworths sunscreen?
For an everyday use sunscreen with high UV protection for a low price, Woolworths should be on your list to try. While the range doesn't offer specialised products for particular skin types and needs, it can be a good generic option. If you're looking for a good value sunscreen, it's worth giving Woolworths a go – if in the end you're not a fan, you haven't wasted much money. It's a safe bet when shopping around for sun safety. Its kids' sunscreen coloured purple is particularly appealing.
About the author of this page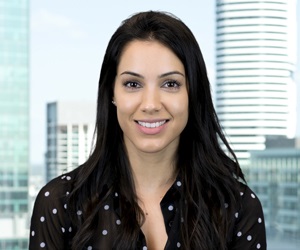 This report was written by Canstar Blue's Home & Lifestyle Content Lead, Megan Birot. She's an expert on household appliances, health & beauty products, as well as all things grocery and shopping. When she's not writing up our research-based ratings reports, Megan spends her time helping consumers make better purchase decisions, whether it's at the supermarket, other retailers, or online, highlighting the best deals and flagging anything you need to be aware of.