An essential for those looking to stay comfy on those weekend camping trips, air mattresses are also handy for when you have friends and family unexpectedly stay over, creating a comfy place to rest a head within minutes.
Also known as an airbed, inflatable mattress or blow-up mattress, air mattresses come in a variety of shapes, sizes and brands, meaning like an actual mattress, there's plenty of options to choose from, all potentially offering a good night's sleep. To help narrow down the options available at your local store, Canstar Blue has compiled some of the products on offer, as well as what to consider before buying, to save you from tossing and turning over the decision.
Types of air mattresses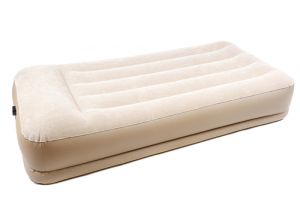 While at first glance air mattresses might all look the same, a closer inspection should reveal a few key variations that could mean the difference between nodding off straight away and having to count sheep at night. Below are some of the models you may find when you visit your local store.
Low profile mattresses
These are the most common mattresses available, and most likely what you'd find rolled up in the back of the shed. Low profile mattresses are closer to the ground, meaning they might not be the option for those after maximum comfort, but may be the pick for those looking for something to take camping.
Raised mattresses
As the name suggests, raised mattresses are 'raised' further off the ground, similar to a bed ensemble. These may be more suitable if you're looking for a guest bed, regardless if it's just for the night or a few days. These are generally more expensive, but do offer more comfort than low profile models.
Mattresses with built-in pumps
Pumping up a bed can take a while, so purchasing a mattress with a built-in pump will save you from getting puffed. Built-in models will cost more than air mattresses that require an external pump, but may be worth the price tag if you don't want to waste your time, or breath, getting your mattress ready for bedtime.
Air mattresses Compared
While you can pick up an air mattress at your local Kmart or Target for under $15, if you're looking for something that will help you from waking up on the wrong side of the bed, the brands below could be more your style.
Coleman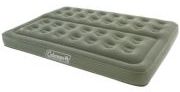 Operating for over 100 years, Coleman offers a number of products for the outdoor adventurer, including sleeping bags, tents and coolers, with the Coleman brand additionally including Aerobed products.
Coleman's range includes the QuickBed, DuraSleep and All Terrain models, each available in single, double and queen-sized mattresses, in addition to both low profile and raised varieties. Available at most camping retailers, Coleman air mattresses are priced between $80 and $250 depending on the retailer, putting them at the higher of the price spectrum.
Intex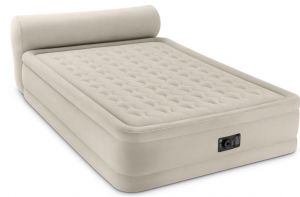 Readily available at camping stores, Intex air mattresses are split into the Dura-Beam, Premaire and Outdoor ranges. One of the cheapest options available – with some models available for under $20 – Intex's more expensive models will set you back over $200, with single, double and queen-sized models available for purchase. Pumps and covers are also available via the Intex website, along with a variety of replacement parts, helping you to prepare before your next trip away.
Spinifex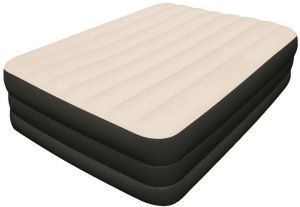 In addition to stocking other brands, camping and outdoor adventure store Anaconda has its own brand, called Spinifex. Stocking single, double and queen-sized mattresses, Spinifex mattresses are available in both low profile and raised models to suit your preferred comfort levels. Coming with a storage sack and built-in pump, Spinifex models are suitable for those looking for a portable and easy-to-set-up mattress, with models priced between $30 to $150, although you'll be able to pick them up at a discount if you're an Anaconda member.
Wanderer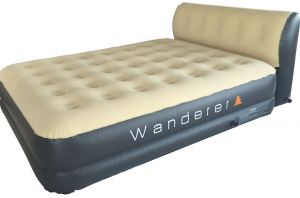 Not to be outdone by its competitor Anaconda, BCF offers its own brand – Wanderer – for you to consider the next time you're looking for an air mattress. Offering similarly priced models ranging between $30 and $170, as well as the potential to save by becoming a BCF member, a Wanderer air mattress is available in single, double and queen-sized models, with Wanderer additionally offering a comfort rest model (pictured) for those after the 'real bed' feel.
Inflatable mattresses for cars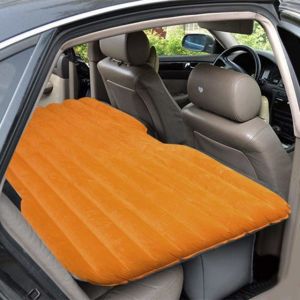 Pulling over and having a quick kip is sometimes the safest option for those on a long road trip, or may be the only option for those who have forgotten their tent on a camping weekend. But as much as your car may be your pride and joy, chances are the back seats aren't comfy enough to get a good night's sleep, particularly if you drive a small car.
Thankfully, some air mattress manufacturers provide a comfier option for those confined to their car, offering inflatable mattresses that cover the back seats to give you a stable place to sleep. While they may be a handy option to have, inflatable car mattresses – such as the one pictured courtesy of Guide Pro – aren't a common sight at your local store, and you may struggle finding one that fits your ride, meaning searching for one may prove more trouble than its worth.
What to consider before buying an air mattress
Material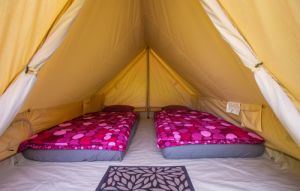 Comfort is a big factor when it comes to mattresses, with the materials used in the construction the difference between snuggling in and being restless. Most air mattresses are traditionally made from polyvinyl chloride (PVC), with more modern versions include reinforced plastic or rubber for increased durability and comfort. Suede is also used for the top layer, giving extra comfort and preventing you from sticking to the plastic on those hot nights.
If you're looking to take an air mattress with you on your next outdoor adventure, going for a model made from hardier materials will ensure that a rogue stick or rock doesn't deflate your chance of a good night's sleep. Some outdoor models will also feature waterproof materials, which may come in handy should a storm rain on your fun.
PVC material also ensures that you aren't sharing your side of the bed with bedbugs and dust mites, which tend to burrow in traditional spring mattresses
Size
Sizing is the same as a traditional mattress, although which sizes are available will usually come down to individual brands and providers, with most providing options for when you need to sleep one, or a few sleepy heads.
Pumps & extras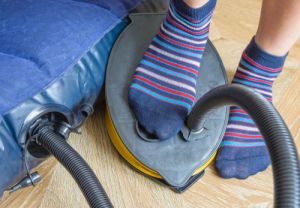 If you decide to purchase an air mattress that requires an external pump, you may have to fork out a few extra dollars to purchase the pump separately. However, most air mattresses only require a hand or bike pump, with some additionally compatible with air compressors, meaning a look around your garage may determine whether or not you need to add a pump to the shopping list.
Some top of the line models also include additional extras such USB ports to charge your phone while you sleep, as well as automatic pumps that sense when parts of the mattress have suffered a pressure drop. After all, waking up to realise that your mattress deflated during the night is sure to leave you feeling it for the rest of the day.
Are air mattresses good for you?
Considering traditional spring or foam mattresses can cost thousands of dollars, you wouldn't be alone in thinking that opting for an air mattress and pocketing the difference might be the better option. But are air mattresses good for you in the long run?
One of the biggest benefits of an air mattress is that it can become a custom bed every time it's blown up. While some people prefer a firm mattress, others may prefer something softer to sleep on, with air mattress giving you the option to inflate or deflate to your preference, making it a handy addition if you have regular visitors.
However, while it may suit the masses who are only using it for one night, sleeping on an air mattress night after night may not be the best option for you, particularly if you need specific spinal support. Air mattresses tend to deflate, meaning you're not getting the same support every time you use it, which can do more than interrupt your sleep schedule.
While an air mattress may be a suitable option for a few days away under the stars, or when you're in between moving houses and waiting on a new mattress delivery, it may be best to steer clear if you're looking for something permanent. If you're particularly worried about back problems or your spinal alignment, contact an expert or your GP before making any mattress – traditional or air – purchases.
Which air mattress should I get?
With plenty of options available, it can be tough to decide which brands are worth it, and which ones are just a bunch of hot air. While it will come down to what you primarily use your mattress for, whether it's those weekend getaways in the bush or those movie nights with friends in the comfort of your living room, looking into all your options will ensure you don't lose any sleep over your decision.
If you're after a budget option, a low-profile single-sized mattress will generally cost you under $50, with plenty of brands offering the option for those conscious about price. But if you're happy to 'blow' the big bucks, then going for a model with a built-in pump and extra head support may be more your speed, particularly if you're more into "glamping" than regular camping. Regardless of your style of camping, looking into all your options before hitting the checkout is a surefire to get a good night's sleep.