ALDI is proving that the bedroom isn't where the magic happens, instead it's in the sales aisles of its many stores. Well, depending on who you talk to!
The supermarket chain has pulled another money-saving trick out of its hat with this week's Special Buys, offering wallet-friendly furniture and home decor at bargain basement prices.
Shoppers can expect to save hundreds of dollars on mattresses from the 'Urban Living' range, which start from just $149 for a single and reach up to $249 for a Queen-size bed.
With similar mattresses retailing for at least $750 from other brands all-year round, a number of savvy shoppers have been quick to ask fellow bargain hunters for reviews of the product online to see if ALDI's cheaper alternative is actually worth it.
A few social media users have praised the seasonal Special Buy for its comfort and durability, saying the supermarket's mattresses can last for years.
On the Simple Savers Facebook group page, one woman encouraged members who were curious about the mattress to "go for it" after owning one herself for eight years and claiming the product was still "as good" as the day she bought it.
Another commenter said: "The mattresses in a box have soft sides so there's less support when you're sitting on the edge of the bed but we have them for my kids and they're still comfy to sleep on".
ALDI has also previously ticked all the boxes for a number of parents on the ALDI Mums Facebook group, who agree the popular mattress is "very comfortable" and "lasted for years".
Customers who have bought the ALDI Mattress in a Box describe the item to have a firm to medium feel, although one clever mum suggested a mattress topper helped her get a bit more comfortable.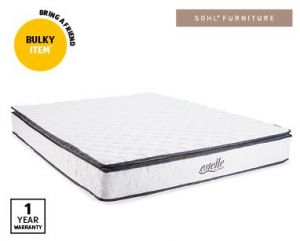 But it seems not everyone is waking up on the right side of this budget bed, saying that sleeping on the mattress feels far from spending a night on cloud nine.
Several people who bought the mattress when it was released back in March complained about strong chemical smells.
One Facebook user said: "I took a single mattress back last time that had the smell of a warehouse chemical fire. I have another single mattress that I bought from ALDI 6 years ago and it has been great. Only a little smell when first opened".
Other critics warned curious buyers to save their money and stick to pricier, yet still affordable, mattress brands like Koala.
For salt and pepper you need to push it… PUSH IT REAL GOOD! Available 10/7 https://t.co/41EZ6cGR1M #Grinders #Scandi #Salt #Pepper pic.twitter.com/23juDZUTYv

— ALDI Australia (@ALDIAustralia) July 7, 2019
What else is available in this week's ALDI Special Buys?
French Linens will also be lining ALDI's shelves as part of the Special Buys. Available in five different colours, ALDI customers can purchase a Queen-size quilt set for $89.99 or a King for $99.99.
Each quilt cover set is said to include a quilt cover and two pillow cases, with each item claimed to be made from pure French Flax.
But not everyone is convinced. Some frustrated customers have complained about the consistency of the sizing of the linen sheets.
Despite mixed reviews on ALDI's bedroom range, fans of the discount supermarket chain will be shaking with excitement when the doors open to reveal the return of the $10 electric salt and pepper shakers.
List of ALDI Special Buys
Some items included in ALDI's Special Buys:
Mattress in a Box — Single: $149
Mattress in a Box — Double: $199
Mattress in a Box — Queen: $249
French Linen Quilt Cover Set — Queen size: $89.99
French Linen Quilt Cover Set — King size: $99.99
French Linen Sheet Set — Queen size: $89.99
French Linen Sheet Set — King size: $99.99
The Scandi Floor Lamp: $69.99
Elwood Chair: $119
Round Side Table: $39.99
Eyelet Curtains (2 pack): $49.99
Woven Cotton Area Rug: $49.99
Luxury Cushions: $19.99
Chunky Knit Throw $59.99
Melange Blanket $39.99
Electric Salt or Pepper Mill: $9.99
Speckle Monochrome Dinnerware 4 Pack: $9.99
Frosted Glass Servingware: $7.99
Chair Pad: $12.90
Decorator Runner: $14.99
Yarn Dyed Tablecloth: $19.99
Kitchen Hand Towel 4 Pack: $8.99
Honeycomb Monochrome Dinnerware 4 pack: $9.99
Stemless Wine Glasses 4 Pack: $9.99
Cutlery Set 16 Piece: $19.99
Oak Wood Serving Boards: $19.99
Over The Door Hooks: $9.99
Picture credits: Anna Marynenko/shutterstock.com