IKEA Pillows Review & Guide
From its modular sofas to Swedish meatballs, IKEA is a firm favourite for many Aussies when it comes to furniture and bedding goods. The store offers a wide selection of products such as chaise lounges, fitted wardrobes, benchtops, mobile and tablet accessories, gazebos and pots and pans. IKEA covers all price points, with its pillows typically ranging from just $4.99 up to almost $100.
IKEA has a range of pillows available in different sizes and profiles. Many of these can also be completed with a pillow protector to protect the pillow from dirt and stains. With so many options available, we've compiled each range and made a list of a few items at different price points to help you narrow the field.
IKEA Pillow Range
Natural pillows
Man-made pillows
Memory foam pillows
Natural Pillows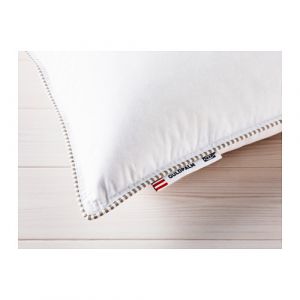 IKEA's natural pillows range features items filled with duck down and feathers, with products available from $8.49 to $79. Many of these pillows are only available in one size (50cm x 80cm).
If you're on a budget, the JORDRÖK pillow is the cheapest option available in IKEA's natural pillow collection at $10.99. This is described as an ideal item for those searching for a firm pillow that can provide support, as well as keep the head dry by absorbing away any moisture the body may produce throughout the night. On the higher end of the spectrum is the $99 KNAVEL pillow, which similarly has a firm feel and contains more down and feather fill. This is encased in sateen-woven cotton cover with a pronounced lustre, while the inner core features a soft down layer to provide extra support and relieve pressure from your neck and shoulders.
If you prefer sleeping on a softer pillow with less down and feather filling, there are various options ranging from $8.49 to $79. These include items from the JORDRÖK, GULDPALM and KNAVEL lines. All these products are said to breathe well, which encourages good air circulation. The large amount of feathers used in creating the product is also stated to help maintain the temperature of the pillow.
Man-made Pillows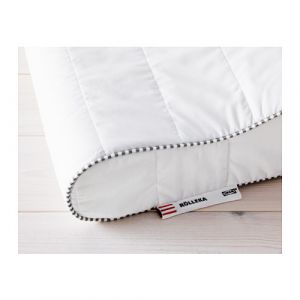 IKEA's man-made pillows range showcases products made with memory foam or pillows filled with polyester and/or lyocell. There are various soft and firm pillows, ranging in price from $4.99 to $29.99. Except the memory foam items, the man-made products are machine-washable and therefore suitable for allergy sufferers.
The cheapest item from IKEA's pillow range is the SLÅN pillow. This has less filling and is claimed to be ideal for those who prefer to sleep on a softer pillow. It's also suitable for allergy sufferers as the pillow is machine-washable at 60°C, a temperature stated to kill dust mites.
Another noteworthy pillow with a softer feel includes the $8.48 JORDRÖK pillow, which is available at $8.49. This similarly contains less fill than other products, but offers more support than the SLÅN pillow due to the large proportion of feathers contained inside. The amount of feathers is said to absorb and wick away moisture while you sleep. This pillow is also described to promote good airflow, which helps regulate temperature and ensure the pillow stays dry during the hottest days.
If you favour firmer pillows, the HAMPDÅN pillow contains more filling and is available in different sizes. The HYLLE pillow also has an inner core inside a soft padded cover, designed to give extra support. The cover is also said to encourage airflow and help moisture evaporate due to the lyocell and cotton blend used to make the product.
Memory Foam Pillows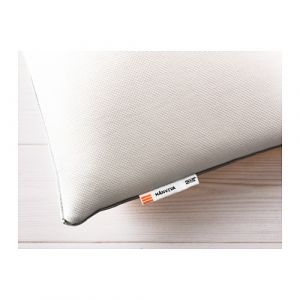 Various memory foam pillows are available at IKEA to provide head and neck support, as well as maintain your body temperature while you sleep.
The RÖLLEKA is said to be suitable for many sleeping positions as this has two heights and is stated to have a special shape which moulds to the contours of your head and neck, allowing the pillow to adjust to the way you sleep. The machine-washable cover is made with lyocell, which is said to help wick away moisture and keep your body temperature at an even temperature throughout the night. The wadding in the cover is also stated to add softness and prolong the life of the pillow by protecting the memory foam core.
The MÅNVIVA pillow has a similar knitted outer fabric that protects the memory foam. Available for $59, this option helps regulate the sleeping climate by circulating the air and allowing moisture to evaporate through small holes in the core of the memory foam.
Is an IKEA pillow right for me?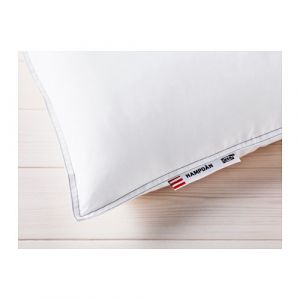 IKEA features a range of pillows with various fills and profiles. The selection of fills includes down and feather, polyester, and memory foam. Compared to the man-made and memory foam ranges, the natural collection includes various items for a lower price. These pillows are made with a duck down and feather fill, and are available in either a firm or soft feel. The pillows in the natural collection also offer neck and shoulder support, as well as promote airflow to help regulate the temperature of the pillow.
Many of the man-made pillows also have a large proportion of feathers to absorb away moisture while you sleep, and offer greater support than some of the other items available from IKEA. Apart from the memory foam pillows, all the pillows in the man-made line are suitable for allergy sufferers as these can be washed to rid any dust mites that have grown over time. Like the other ranges, IKEA's memory foam line similarly provides temperature control and adjusts to adapt to the specific contour of your head and neck. The wadding in these products also contributes to the durability of the pillow.
Still can't decide? Just like you, we love options. This is why we have a bunch of ratings and reviews on our website to help you pick the perfect pillow.
About the author of this page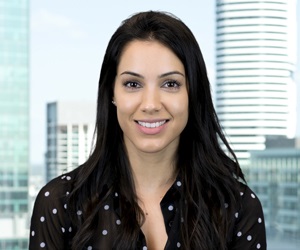 This report was written by Canstar Blue's Home & Lifestyle Content Lead, Megan Birot. She's an expert on household appliances, health & beauty products, as well as all things grocery and shopping. When she's not writing up our research-based ratings reports, Megan spends her time helping consumers make better purchase decisions, whether it's at the supermarket, other retailers, or online, highlighting the best deals and flagging anything you need to be aware of.