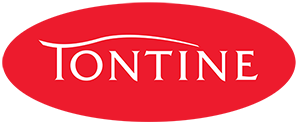 Tontine Pillows Review & Guide
Tontine has been one of the biggest bedding brands in Australia for more than 60 years. It's especially well-known for its cotton and polyester pillows, as well as its polyester quilts. Some of the company's other products include toppers and underlays, plus mattress protectors and pillow protectors. Various collections like the latex pillow range and the memory foam pillow range are also marketed under the Tontine Comfortech brand.
From allergy sensitive pillows to pet pillows, Tontine has a broad selection of items in its pillow collection. Many of the products are available in different styles, profiles and feels. To help you see what's on offer, we've compiled a list of the different collections currently available from Tontine.
Tontine Pillow Range
Tontine has a variety of pillows in a wide selection fills, sizes and profiles. Some of the styles include:
Cooling pillows
Allergy sensitive pillows
Stain resistant pillows
European pillows
Pet pillows
Cooling Pillows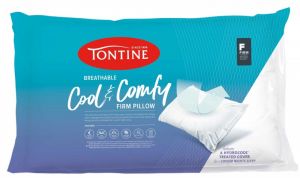 If night sweats are preventing you from waking up nice and refreshed in the morning, pillows like the Cool & Comfy Firm and High Pillow from Tontine feature Hydrocool evaporative moisture management technology, which is stated to move heat and perspiration away from your body. This is said to regulate your body temperature and keep your head dry by encouraging moisture to dissipate and evaporate, therefore wicking away moisture.
These pillows contain Ultrafibre fill, claimed to extend the life of the pillow. The machine washable pillows are also treated with antibacterial protection to minimise the growth of mould and bacteria.
Allergy Sensitive Pillows
Tontine provides a range of allergy sensitive pillows in a variety of styles, profiles and feels. Typically ranging between $19.99 and $39.99, these allergy friendly products are approved by the National Asthma Council of Australia's Sensitive Choice program. The fill used also prevents the growth of bacteria, mould and dust mites. Each style of pillow is available in a 2-pack and is described to have a premium breathable 100% cotton cover, which features a date stamp to show the freshness of the pillow.
According to the website, the Luxe Anti-Allergy Pillow in the medium profile is the best seller in the range. This has a medium feel and contains antimicrobial protection. The popular pick is one of the pricier items in the collection at $39.99. For those looking for pillows with less fill, Tontine offers the Fibre Fresh Pillow. This item features a soft feel and a low profile, and similarly contains an Ultra-fibre polyester fill. It is also treated with antimicrobial protection to prevent the growth of bacteria, mould, mildew and dust mites. This typically costs $19.99.
Stain Resistant Pillows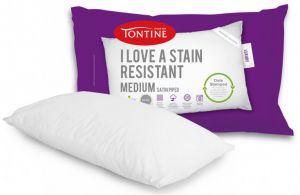 Tontine offers stain resistant pillows said to use a unique cotton fabric woven within the material of the pillow to repel and release stain. The I Love a Stain Resistant Pillow is available for $42.99 and features a satin piped finish and premium polyester fill with antimicrobial protection.
European Pillows
Tontine's European pillows are stated as one of the company's biggest sellers. The 'I'm Simply Living Euro Pillow' has a firm feel and a high profile. Like many of Tontine's pillows, this product contains an Ultrafibre polyester fill with antimicrobial protection.
Pet Pillows
Since dogs are man's best friends, it's important to make sure that our pooches aren't sleeping rough. Tontine's pet pillows like the Bone Pet Pillow and the Paw Pet Pillow are usually $49.99. These items feature a cotton and polyester fill, encased in a removable zip polyester cover.
These pillows are available in two sizes, medium and large:
Medium size: 62cm x 90cm x 5cm
Large size: 115cm x 75cm x 5cm
The product also has an anti-slip backing and an embroidered bone or paw design.
Does Tontine have the right pillow for me?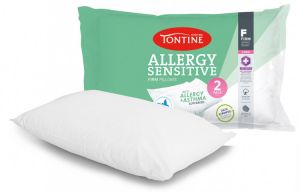 Tontine's pillow collection has various styles to choose from. These include cooling pillows, allergy sensitive pillows, stain resistant pillows, European pillows and pet pillows. Many of the products also contain Ultrafibre fill to ensure resilience and durability.
If you're searching for a pillow to help you manage the warm weather at night, products from the Cooling range are claimed to offer unique technology which transfers heat and perspiration away from your body. Tontine has also created a range to specifically suit allergy sufferers. The allergy sensitive line feature pillows approved by the National Asthma Council of Australia and include antimicrobial as well as antibacterial protection to inhibit the growth of bacteria, mould, mildew and dust mites. Other items from the stain resistant range and the European pillow line also have antimicrobial protection and are safe for people who are allergy sensitive.
With its pet pillow range, Tontine recognises that everyone deserves to sleep comfortably – including our pet pooches. Products like the Bone Pet Pillow and the Paw Pet Pillow typically cost $49.99 and are available in either medium or large.
Sometimes our search for the perfect pillow isn't love at first sight. Make sure to check out the Canstar Blue website to see a range of reviews and ratings on a variety of pillow brands.
About the author of this page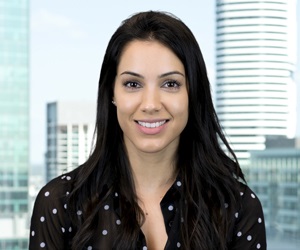 This report was written by Canstar Blue's Home & Lifestyle Content Lead, Megan Birot. She's an expert on household appliances, health & beauty products, as well as all things grocery and shopping. When she's not writing up our research-based ratings reports, Megan spends her time helping consumers make better purchase decisions, whether it's at the supermarket, other retailers, or online, highlighting the best deals and flagging anything you need to be aware of.