Laundry day isn't fun – separating the loads, washing them, drying them, ironing them and then putting it all away before the next laundry day comes around. In helping to ease the load, dryer balls have been rolling around the laundry space for some time, deemed to be the "eco-friendly" alternative to dryer sheets and fabric softeners, as well as seemingly decreasing drying and ironing time. To find out what they're all about, read on for all the details before we jump into the brands available in Australia.
What is a dryer ball?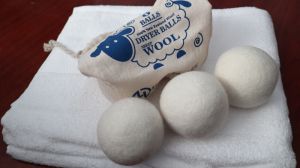 There are three main types of dryer balls:
Plastic Dryer Balls
Rubber Dryer Balls
Woolen Dryer Balls
A dryer ball is placed in the dryer with wet laundry and is designed to move between the folds of the items, breaking up clumps so that hot air can circulate and dry the clothes more efficiently. The woolen option also absorbs moisture from the clothes, supposedly cutting down on drying time.
Additionally, dryer balls are said to naturally soften clothes and keep clothes static-free, saving you a shock – literally – when you grab your clothes out of the machine. Most woolen dryer balls are also said to be hypoallergenic and chemical-free, with some dryer balls even claimed to last more than 1,500 cycles, potentially making them more appealing than fabric softeners or chemical-filled dryer sheets.
How to use a dryer ball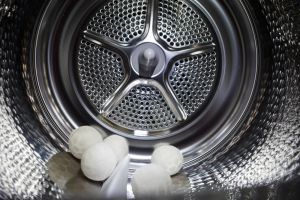 To use dryer balls in your cycle:
Place your wet load of laundry in the clothes dryer with the dryer balls (generally, four balls should suffice for normal loads, with more suitable for heavier loads).
Use your normal dryer settings, but reduce the drying time by 20-30% as a rule of thumb (this will be dependent on the type of dryer, cycle spin speed, types of fabric and size of the load).
After the cycle is done, leave the balls in the dryer with the door slightly ajar to air out the dryer balls ready for the next load.
After the cycle, the balls are said to feel damp and heavy, particularly if using woolen ones. You might find some peeling on the surface of the balls, but this doesn't affect the use and can be removed with a safety razor if necessary. As an option, some brands allow you to add a drop of essential oil directly onto the balls to naturally scent the load.
How much do dryer balls cost?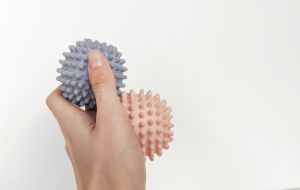 Depending on the type you buy, you can find dryer balls for $6.50 for a pack of two. However, woolen varieties can cost around $20 for a pack of three, with some brands offering packs of six for $40.
Dryer Balls in Australia
So, what dryer balls can you buy in Australia? We've compiled a list of five brands floating around in the dryer ball world:
Brolly
Ms Fix-It
Pacific Air
That Red House
Wooly Mates
Brolly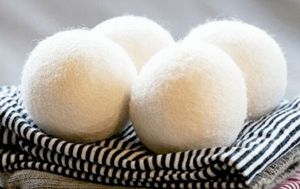 Brolly Sheets is a family-owned brand that offers just one option in the dryer ball range. Its pack comes with four dryer balls, made of pure New Zealand Wool, being hand-felted in Kathmandu. These are said to be "super absorbent" and reduce drying time by as much as 30-50%. Additionally, they are apparently eco-friendly, and last more than 1,500 washes.
Brolly dryer balls
Material: pure New Zealand wool
Price: $29.95 (pack of 4)
Ms Fix-It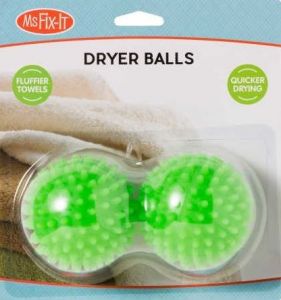 Available at Big W, Ms Fix-It also has just one offering of dryer balls. The pack includes two heat resistant dryer balls, which are made of plastic and have a width of 7cm each. According to the brand, these will help to speed up drying time and achieve fluffier towels by placing them in the dryer with your laundry.
Ms Fix-It dryer balls
Material: plastic
Price: $6.50 (pack of 2)
Pacific Air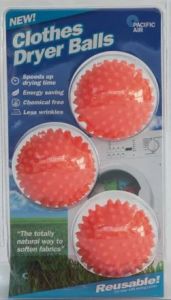 Pacific Air Clothes Dryer Balls can be found at The Good Guys. They come in packs of three and are said to be designed to help circulate air, separate items, and reduce creasing and wrinkles. Additionally, the spikes on the clothes dryer balls can help to naturally soften clothes, removing the need to use chemical softeners, according to the brand. Pacific Air Clothes Dryer Balls are reusable and chemical-free, plus are claimed to last for more than 100 drying cycles.
Pacific Air dryer balls
Material: plastic
Price: $16.95 (pack of 3)
That Red House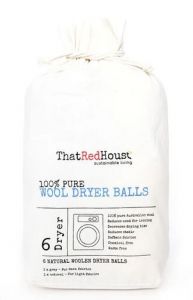 The 'That Red House' brand is built on the foundation of striving for a sustainable, organic, zero-waste, chemical free, eco-conscious and healthy way of life. It aims to help educate and convert people to using natural laundry products including its 100% Australian Wool Dryer Balls. These come in a pack of six with three grey varieties for darks loads and three white varieties for light loads. It's suggested you use three balls at a time for standard loads. As with most dryer balls, they are designed to help reduce drying time and your power bill by absorbing moisture and creating air pockets in the load for better circulation and more even heat distribution. Additionally, they're claimed to eliminate static and the need for wasteful dryer sheets, plus reduce wrinkles.
That Red House dryer balls
Material: 100% Australian pure wool (natural sheep)
Price: $36.95 (pack of 6)
Wooly Mates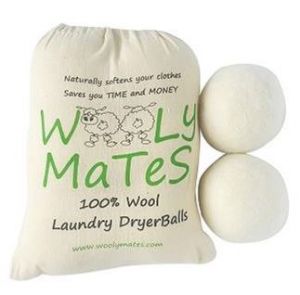 Wooly Mates Laundry Tumble Dryer Balls are triple-felted from pure Australian non-mulesed wool. The pack of six Natural Cream Wool Tumble Dryer balls are approximately 7cms in diameter, and come in a natural cotton drawstring bag with other colour options available. They are claimed to be chemical-free and biodegradable, and you can also add a few drops of pure essential oil before popping them in the dryer to lightly scent the load. They are handmade in Australia in rural Victoria and can be bought directly from the manufacturer.
Material: Australian wool
Prices: $20 (pack of 3), $39.50 (pack of 6)
Are dryer balls worth the money?
While manufacturers claim dryer balls can help reduce drying time and soften clothes, you'll need to test this theory out yourself before investing in too many! There aren't very many brands out there in Australia, which might suggest they're not as big a hit as what they're claimed to be. However, if you're looking for a way to potentially cut back on your laundry timetable, you might like to give them a try.
Clothes Dryer Reviews & Ratings
Picture credits: FotoHelin/shutterstock.com, ninjasun – Hung Tran/shutterstock.com, Ramona Heim/shutterstock.com, Haelen Haagen/shutterstock.com