Water tanks are a common sight on the outside of Aussie homes, with many of us looking to make the most of when the heavens open up. While the rains may prove few and far between for some, a water tank allows you to take care of your garden and other areas of the house, long after those storms have rolled through.
When it comes to finding a water tank however, there are plenty of options to consider, particularly if you don't have a lot of room to play with outside. Additionally, you may also have to consider installing downpipes, filtration systems and pumps, meaning it may turn into a bigger decision than anticipated. If you're looking to become a bit more water-savvy, or looking to give your garden a bit more love, read on to find out which water tank may be the best fit for you.
Types of water tanks
While they may all do essentially the same thing, there's still plenty of options when it comes to picking out a water tank, including the capacity, colour, and materials. Most water tanks are traditionally made from concrete, metal, fiberglass or plastic and polyethylene. Plastic, or 'poly', water tanks are the more common household variety, with metal and concrete generally used for larger tanks or those in harsher conditions. Below are some of the more common models available: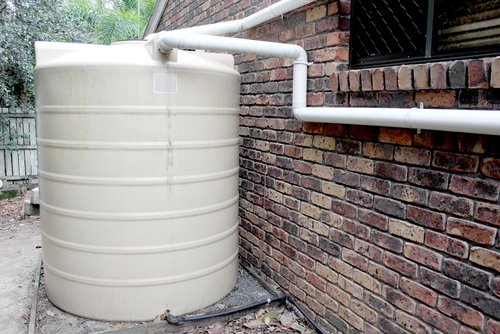 Round Water Tanks
What most people envision when they think of water tanks, the rounded water tank is one of the most common types available for purchase, coming in a variety of capacities to suit your household. If you're not looking for anything in particular, and have the space, a rounded model may be the best option for you.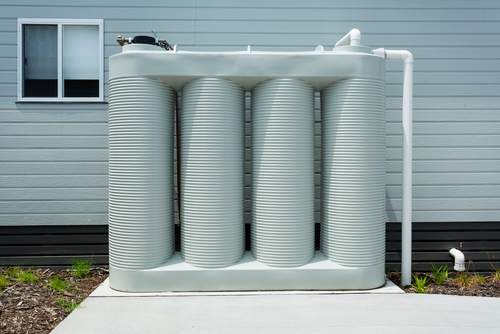 Slimline Water Tanks
Made for those who may not have a lot of room to play with, slimline water tanks may also be the option of choice for those who prefer style over substance, with slimline models able to be placed closer to walls, away from prying eyes. Similar to rounded models, slimline tanks are available in a number of capacities and materials, as well as giving you plenty of colours to suit the aesthetic of your home.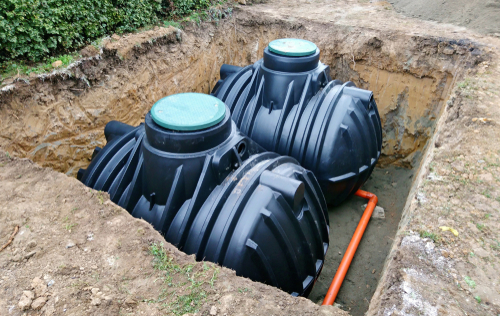 Underground Water Tanks
A more common option for those with larger properties, underground water tanks are frequently used for irrigation systems in addition to the traditional water-saving functions of smaller Aussie households. Underground models are also popular for those looking to save space around the house, with the tank often installed under driveways or areas with easy-access.
Underground tanks are also recommended for areas prone to bushfires, with above ground models more susceptible to damage and warping. However, due to the work needed to install, underground models may be more expensive than above ground tanks, meaning it may not suit those with a tight budget.
Bladders
Different to traditional water tanks, bladders are essentially large 'sacks' that are generally made from puncture-resistant material. As a result, these may appeal to those who don't have enough room for a water tank, or are looking to make better use of the space under the deck or verandah.
Tank Capacity Factors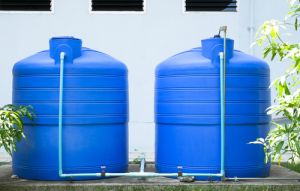 While tanks can be personalised to suit your preferences and style, there are three primary factors that you should consider when it comes to selecting the right capacity. These include:
Annual rainfall – how much rain you experience throughout the year – as well as how severe the dry months are – will impact of the capacity of your water tank
Roof area – how many square meters of roof you have will impact on the capacity of your tank, as the more roof area you have, the more rain you catch
Water usage – whether you plan on using the water tank as a supplement for the mains water supply, or to use occasionally on the garden, will influence how big you go
Water Tank Accessories
In addition to the tank itself, you'll have to consider a number of accessories and features that you'll often need to ensure the water gets where it's needed, as well as keep your water cleaner.
First flush diverters
First flush diverters are used to capture the sediment-laden water that washes into your pipes during the first bit of rain, meaning that all the dirt and grime that covers your roof doesn't make its way into your water tank. As a result, diverters improve the quality of water in your tank, but only if properly cleaned and maintained. First flush diverters can be purchased from hardware retailers, and can be either installed by a professional or as a DIY project.
Water tank pumps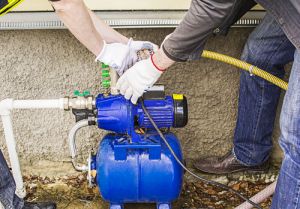 Most tanks will also need a pressurised pump to operate, allowing water to travel where it's needed, regardless of where the pipes may go. Key factors for choosing a water pump include:
Distance – the further the distance the water has to travel from the tank, the more powerful the pump needs to be
Water pressure – higher pressure pumps are needed for those after a constant flow (such as watering the garden or for showering), whereas a lower pressure pump may be better suited for situations that require a slower flow, such as refilling the toilet cistern
Noise – noise restrictions from your local council may impact on which pump you can purchase, although pump covers may be available to combat noisy pumps
Energy usage – buying a bigger pump than you need may mean you're paying extra on your next electricity bill, meaning it's best to look into all your options instead of simply going for the biggest unit available
As with buying the tank itself, purchasing a pump will come down to what you're using the water for, as well as how regularly you're using the water. Most tank manufacturers will also stock pumps, meaning you won't be under the pump when it comes to locating a suitable option for your needs.
Wet and dry systems
When it comes to water tanks, 'wet' and 'dry' systems are a phrase that may be thrown around a fair bit, with each referring to how water travels from the roof to the water tank.
In a dry system, water flows through a sloping pipe into the top of the water tank, with the pipe emptying after the rain to become 'dry'. This is generally used for water tanks closer to the house, or those on the same side as the downpipes.
A wet system generally includes piping that goes lower than the top of the tank, and is generally used for tanks that are further away from the house, or where a sloping pipe may be impractical. As the piping generally goes underground, they continuously hold water, hence making them 'wet'. Wet systems will require more work to install, but may be worth the extra effort if you don't want a yard full of down pipes.
Is my house suitable for a water tank?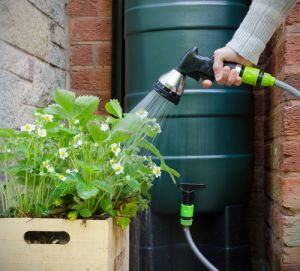 While installing a water tank may be appealing, it may not be a practical option for some households, particular those who don't have a lot of space to play with. For instance, the current layout of your house and property will impact on what you can install, as well as the ground itself.
Poly tanks can be placed on most surfaces, including pavers, sand bases, or even partly submerged in the ground. Metal tanks will need a concrete base however, with larger metal tanks needing to be assembled on site, meaning you may need extra space to allow for machinery and construction space. Properties on a slope may also encounter additional problems or require extra support, meaning it may prove costly.
You may also have to align your water tank with local council guidelines, which may impact on the size and type you can install. While this may vary from council to council, some considerations may include a minimum distance between the tank and fence lines, stormwater detention and even fire-fighting purposes if you live in a bushfire area. Similarly, there may be plumbing and installation regulations that need to be followed, as well as both local and federal health guidelines if you're planning on using the water tank for food preparation or drinking.
If you're not sure about which guidelines and regulations affect you, contact your local authority or visit your local council's website for more information.
How to clean a water tank
Even if you're not using your water tank for drinking or food preparation, having a clean tank may cut down on bacteria, as well as make sure that you're prepared for storm season. Most tank manufacturers recommend cleaning at the end of summer when there's generally less water left in the tank, but as the Australian summer tends to give us plenty of weather extremes, cleaning during low rainfall months may be more practical.
To clean out dirty water, connect a hose to the draining valve to empty out the majority of the remaining water. Afterwards, flush clean water through the tank inlet to clear out the remaining water, as well as any floating debris. For a proper clean, a high-pressure flush is recommended if you're looking to remove any buildup on the inside of the tank.
Regularly cleaning leaf guards and other filters is also recommended, particularly during storm season, so that your tank and guttering don't suffer from blockages or overflowing. Outside of storm season, regularly cleaning every month or two will also ensure that you aren't left with any nasty surprises during the next rainfall.
Cleaning the outside of the tank will not only make your house look fresher, but cut down on insects such as wasps making nests nearby
Is it worth installing a water tank?
Water tanks can prove a true blessing for those who may only see rain as a speck on the horizon, allowing water to be safely stored for months at a time. Considering this water can then be used for a range of things, including washing the car, watering the garden, or even showering and drinking, water tanks can prove to be a handy addition to your house.
Which tank you decide to install will ultimately come down to your personal preferences and situation, including your location, your average rainfall, and how much space you have to work with. As a result, it's best to look into all of your options before deciding on your tank of choice, as well as any additional features or systems that you may need to install, to ensure that you're getting the best option for your needs.