Ever heard of your NBN connection running out of batteries? That's right, if you're one of the lucky souls to be on a Fibre to the Premises (FTTP) connection, your NBN installation might also include a battery pack to weather any power outages. However, as with all batteries, these can run out of juice. Find out how much these batteries cost, where you can find them and how to install them below.
What is an NBN battery?
Those on a FTTP NBN connection not only receive faster speeds – much of the time – but they often have the opportunity to install a 'Power Supply' unit in their regular installation. This is essentially a battery pack that can keep your internet powering on in case of any blackouts.
NBN battery specs are: 12V, 7.0 to 7.2 Ah, 6 cell SLA battery (F2 terminals).
Costs: NBN batteries may resemble mini car batteries, but they are much cheaper. Prices hover around the $40 mark, and seem to be much the same no matter what store or brand you purchase through.
The stock NBN battery can last up to five hours, so if you're in a blackout you may want to tread lightly with the Netflix
The NBN battery comes with a two year warranty, after which customers may need to purchase their own if the stock one falls flat.
If you've been hit by a storm lately and noticed the power went out, chances are you continued to use your NBN via the battery pack. Like all batteries, they'll need to be replaced eventually, but luckily with the NBN battery it's largely like buying any other battery.
How do I tell if my NBN battery needs replacing?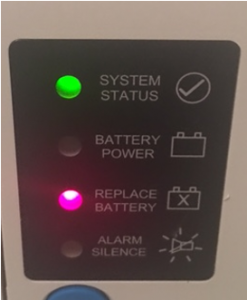 If there's a beep coming from your NBN installation unit, chances are the battery needs replacing.
One beep every 15 minutes indicates the battery needs replacing.
Four beeps every minute indicates less than half the battery charge remains.
The frequency of beeps can get annoying. Luckily on the installation unit you are able to silence them. Just press and hold the 'Alarm Silence' button for up to 15 seconds to silence it for 24 hours or more. This can stop the irritation, but doesn't stop the fact your battery probably needs replacing soon.
Where can I buy NBN replacement batteries?
Luckily these batteries are quite easy to come by and can be purchased at many mainstream retailers across Australia. Stores include:
Battery Works
Battery World Australia
Marshall Batteries
R&J Batteries
Supercheap Auto
Note that some stores may require a special order, so it may pay to call ahead and explain your needs. Other stores known for selling batteries, such as Jaycar, may also sell NBN units but the five above are the ones specifically mentioned by NBN Co.
NBN battery disposal
The above retailers can also recycle your batteries. However, if a store is not convenient to you, most battery recycling centres should be able to recycle it, as well as a few councils across Australia:
Southern Downs Regional Council, QLD
Katherine Town Council, NT
Huon Valley Council, TAS
Generally the regional or rural councils boast battery recycling centres, but for urban dwellers one of the stores mentioned above may be the best bet.
How do I replace my NBN battery?
Replacing an NBN battery is easy, and can take only a few minutes if following the video guide from NBN Co featured above. It's a little bit more complex than replacing remote control batteries, but if you can replace a car battery you'll probably find it dead simple.
The NBN battery housing consists of a red tab that needs to be pulled and two tabs on each end of the battery. A black plug must also be removed.
Connecting the new battery is as simple as doing the above but in reverse. A new battery will take up to 24 hours to fully recharge, so if you've been in a blackout for a few days, don't expect a split-second miracle.
What providers replace my NBN battery?
NBN batteries come with a two-year warranty, under which internet service providers (ISPs) should replace your battery at little to no extra cost. The bigger internet providers tend to provide explicit details about how they replace batteries:
If choosing a particular provider, it pays to check if they even supply an NBN battery in the first place. While they may offer cheaper installation, this may be due to the fact their NBN is powered by mains power only, and in a blackout your internet may go down too!
Is it worthwhile replacing my NBN battery?
You've heard some beeping coming from the NBN installation and you can probably sense it's going to cost some money to silence – you'd be right. Most replacement NBN batteries cost about $40 to purchase, and this usually comes out of pocket until your telco reimburses you in some way. But remember, your telco will likely only reimburse you if your battery is within its two-year warranty period.
You may not actually need battery-powered NBN but the deafening beeps can only be silenced for so long; the $40 fee may be worth it to prevent you and your household from going insane.
While not expensive, the hassle of getting a battery replaced, then waiting for your telco to reimburse you can be quite bothersome. While NBN batteries can provide much-needed internet access during a blackout, the fact is that some of the time they could be more hassle than they are worth. But at the end of the day you'd probably rather have it and not need it, rather than need it and not have it.