Huawei is a Chinese electronics manufacturer and its mobile phones have caused a serious stir Down Under in recent years. It has proven to be a capable and powerful Android-based phone company, to rival the likes of Samsung and HTC. Its latest iteration – the Mate10 Pro – is its flagship model, clearly designed to challenge the Samsung Galaxy S8 and iPhone series. Find out how you can get it with a great new phone plan with this Canstar Blue review.
The Mate10 Pro is packed full of features like a Leica-powered f/1.6 dual-lens camera, a massive 6GB RAM, 4K video recording and a 6-inch display. If something like this tickles your fancy, then you'll be pleased to know it often comes in cheaper than its main rivals. If you want to bundle it with a phone plan, then you can expect some pretty competitive deals from the likes of Optus and Vodafone. So let's see what these providers are offering, and how you can bag a good deal.
Huawei Mate10 Pro Mobile Phone Plans & Deals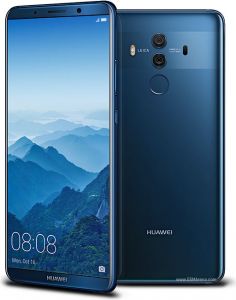 Among the four premier providers in Australia – Optus, Telstra, Vodafone and Virgin Mobile – only Optus and Vodafone bundle in the Mate10 on a plan. Plans start at around $60 a month, but quickly rise to over $80 a month depending on your inclssions.
Optus Huawei Mate10 Pro Mobile Phone Plans
Optus' Mate 10 Pro plans start at $75 a month, of which $45 goes towards the plan and $30 goes to the phone repayment over 24 months. With the most basic plan you'll get unlimited calls and texts plus 2GB of data as well as unlimited texts to selected countries. Optus is also known for offering data-free music streaming on a lot of its plans, as well as Optus Sport subscriptions. If you desire a little more 'oomph' in your plan, $80 a month gets you 5GB of data plus extra international calling credit. The more you spend, generally speaking, the cheaper your phone repayment gets and the more extra perks you stand to receive. While Optus does have 'lease' plans, they seem to be absent if you want a Mate10 Pro bundle.
Vodafone Huawei Mate10 Mobile Phone Plans
While Vodafone does not carry the Pro model, it does carry the standard Mate10 model. This sacrifices 0.1″ of screen size and 2GB RAM among some other specs. Vodafone has taken measures to move away from the traditional 'plan + phone' deal, and now you can pay off the Huawei  from around $25 a month. This is for a 36 month contract and the monthly price is bumped up to about $37 for a 24 month contract, and $75 for a 12 month contract. You are then able to choose from just about any 'Red' plan, and Vodafone gives you the option of extra data, international calls or Qantas Points as your perk.
The cheapest eligible Vodafone Red plan is $40 a month, in which you receive unlimited calls and texts plus 6GB of data as standard. These Red plans come on a month to month contract, meaning you can upgrade or downgrade your plan after just a month. This may well afford more flexibility for people who are tired of the standard 24 month contract for both the plan and handset. Total bundled prices start at $65 a month for both the plan and phone. While you're not particularly financially better off compared to other service providers, what Vodafone has done is given more options for those who like maximum customisation.
Is a Huawei Mate10 phone plan worth the buzz?
The Huawei Mate10 is arguably one of the more exciting smartphones to come out in recent memory. With its Leica lens prowess, massive amount of RAM and huge display, it seems a phone for the Instagrammers or photographers out there. But uploading or downloading photos can use lots of data, so you may want to bundle it with a phone plan with more than 1GB of data. The minimum price you can expect to pay in this instance is about $60 per month, and here you'll be looking at going with an Optus or Vodafone phone plan.
The two providers excel in different areas – some plans offer data bonuses, entertainment perks, or frequent flyer points. Optus offers the bog standard 24 month plans, while Vodafone may offer extra flexibility with terms over 12, 24 or 36 months. It might actually work out to be cheaper to purchase the phone outright and source your own cheap SIM-only deal. In any case, phone plans can be convenient but it pays to shop around – with an exciting phone like the P10, you'll want to jump into the best mobile phone deal for you.