With all the hype over Samsung's just-announced Galaxy S10 line – including the upcoming Galaxy S10 5G – it's been easy to overlook the Korean tech company's fifth big smartphone unveiling: the Galaxy Fold. And although the device isn't likely to reach Australian retailers until later this year, there's plenty of reason for tech fans to get excited.
As the name suggests, the Galaxy Fold is Samsung's long-awaited foldable smartphone. With a primary 7.3-inch screen, the Fold is both a tablet and a smartphone, offering new multi-tasking capabilities in a compact and – quite literally – flexible package.
Flexible features
The Fold's big feature is its specially-designed Infinity Flex display, which allows the device to fold in half and reveal a smaller, 4.6-inch cover display. The main screen is designed to fold over, book-style, when not in use, without affecting the display quality – a feat that required Samsung to invent new polymer display materials and an all-new, multi-gear hingeing mechanism.
Presumably, users will flip open the main display for more intensive phone use (such as video, social media, and games), and rely on the smaller cover display to answer calls and texts, check notifications, and perform quick one-handed tasks. Samsung is really pushing the new multi-tasking features that the Fold's size and design offers, and has produced a unique user interface to take advantage of the phone's possibilities.
Multi-Active Window allows users to open and run up to three apps simultaneously on the 7-inch screen, and switch between apps with ease – so no more juggling between apps when texting, posting, or working. The Fold's ease of use also extends to the transition between the main display and the cover screen, and the new App Continuity feature means in-use apps will automatically show up on the next screen when you open or close the device.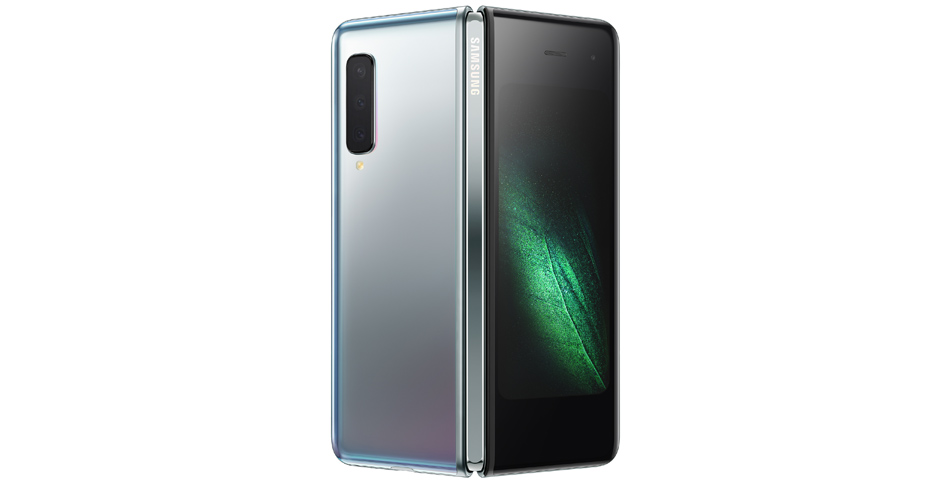 You'll also be able to take photos from both screens, with multiple cameras covering the front, inside and back. The cover features a 10-megapixel 'selfie' camera, while the inner dual camera includes both the 10-megapixel lens and an 8-megapixel RGB depth shooter. In the rear, you'll get a triple lens setup featuring a 16-megapixel ultra-wide camera, a 12-megapixel wide-angle camera, and a 12-megapixel telephoto lens with 2X optical zoom.
The Fold will run Android 9.0 Pie out of the box, and includes a massive 4,380mAh battery with fast wireless charging and the new Power Share option, meaning you can use the phone to charge other devices. You'll also get 12GB of RAM and 512GB of internal storage, but unfortunately no microSD card slot. It's also important to note that, unlike the Galaxy S10 5G, the Fold won't have 5G connectivity upon release.
When can I get the Galaxy Fold (and how much does it cost)?
Samsung is pricing the Galaxy Fold from $1,980 USD, or about $2,789 Australian dollars – so this won't be a phone for buyers on a budget. Although the company has announced partnerships with American carriers AT&T and T-Mobile, we don't yet know when the Galaxy Fold will be available in Australia, or where you'll be able to get it. Perhaps, like the S10 5G, it will be a Telstra exclusive.
Overall, the Fold is a serious step forward for smartphones, but whether the prospect of a foldable screen is really an industry game changer – or just a headline-grabbing novelty – remains to be seen. If you rely on your phone for work, you may appreciate the new multi-tasking functions and overall bigger screen. It could also be attractive to tablet users who love a big screen, but need a pocket-friendly device for on-the-go.
Affordability is also a factor. With a price tag of almost $2,800, the Galaxy Fold is a serious upfront investment. Buying on plans may help spread out the cost over two years or longer, but as we still don't know if the Fold will be available from Australian telcos, it's hard to predict if buyers Down Under will opt for the Fold over the new S10, S01+, and S10e.