Keen for a new phone or mobile plan with a feel-good factor? The sustainability-first Green Friday shopping event is back for 2023, and two popular prepaid providers are offering customers some great savings on refurbished devices and month-to-month SIM plans.
Boost Mobile and Felix Mobile have each partnered with Green Friday, giving customers a chance to score half-price phone plans and discounts on iPhones, iPads and Samsung devices. If you're looking for an affordable (and eco-friendly!) alternative to buying a new device or plan from the big-name telcos, read on to see what's on offer.
Boost Mobile: 15% off iPhones and iPads
From now through to November 7, 2023, Boost Mobile is cutting up to 15% off its extensive refurbished phone and tablet range. This includes Apple iPhones, Samsung Galaxy handsets, and iPads, all of which are available to buy outright to be paired with a SIM-only plan.
Some of Boost's key offers include:
Apple iPhone 12 64GB: was $679 , now $611.10
Apple iPhone 12 Pro 128GB: was $959, now $863.10
Apple iPhone 11 64GB: was $539, now $485.10
Apple iPhone 11 Pro Max 64GB: was $769, now $692.10
iPad 6 (WiFi and cellular): was $409, now $347.65
Samsung Galaxy S21+ 128GB: was $549, now $494.10
Samsung Galaxy S21 Ultra 128GB: was $649, now $584.10
All phones and tablets come with a $35 Boost Mobile SIM card, plus a charging cable and wall charger. Devices also include a 12-month warranty and free express shipping.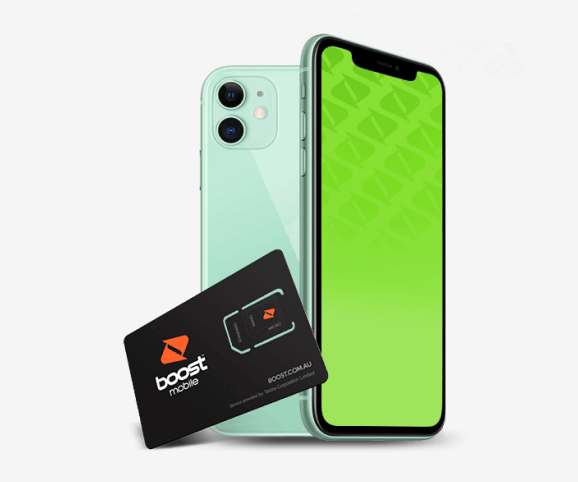 Of course, the catch to Boost Mobile's sale is that all products are premium refurbished, rather than brand new. This means that you'll get a previously gently-used device that's still in great working condition, that's 100% fully functional and subjected to rigorous testing and inspections before being approved for sale.
Boost Mobile's refurbished phones undergo a 72-point check through Alegre before being resold, are cross-checked against Australia's national police lost and stolen database, and come fully data-wiped and factory reset. All phones are also network unlocked, so can be used with Boost Mobile or any other Australian telco.
All of this means buying refurbished can be a smart money-saving option if you don't need the latest-and-greatest phone, brand new out of the box. You'll get authentic devices at significantly cheaper prices, so this can be ideal for kids excited for their first iPhone, or any buyer looking for a good deal on tech.
Each phone in Boost Mobile's Green Friday sale can be paired with one of the telco's no-contract SIM-only prepaid plans, including 28-day and long expiry options. All plans come with access to Telstra's nationwide networks, including 5G, but download speed caps of up to 250 megabits per second may apply. The exemption is Boost Mobile's $70 28-day plan, which includes 115GB of data and no speed restrictions.
The following table shows a selection of Boost Mobile prepaid plans from Canstar Blue's database, listed in order of standard cost, lowest to highest, then by data allowance, largest to smallest. Use our comparison tool to see a wide range of plans from other providers.
Felix Mobile: 50% off plan costs for three months
Customers who are happy to BYO phone, but want to save on their monthly mobile costs, can claim a sweet three-month discount on plans from Felix Mobile. The SIM-only telco is giving new sign-ups a 50% price cut on all plans for their first three months, bringing the price down to as low as $12.50 per month.
To claim this offer, sign up to a Felix Mobile plan through the links below and use the promo code GREEN at check-out. This offer is available from now through to November 30, 2023, unless extended. Terms apply.
Felix Mobile offers three low-cost SIM plans, including 25GB for $25, 50GB for $30, and unlimited data for $40. Unlimited data is capped at a maximum download speed of 20Mbps. $25 and $30 plans also include no excess data charges in Australia; instead, you can keep using data at speeds up to 1.5Mbps.
Felix is also serious about reducing its environmental impact. The telco invests in certified carbon offset projects which meet the eligibility requirements of the government's Climate Active Carbon Neutral Standard, and is also powered by 100% renewable electricity.
The following table shows a selection of Felix Mobile plans from Canstar Blue's database, listed in order of standard cost, lowest to highest, then by data allowance, largest to smallest. Use our comparison tool to see a wide range of plans from other providers.
What is Green Friday?
Green Friday is a NSW-based startup focused on sustainability in the retail space. The platform brings together brands committed to Green Friday's sustainability framework to offer customers products and services year-round, as well as during an annual four-day Green Friday sales event.
While Green Friday partners with more than 150 brands, the two main participants in the telco space are Boost Mobile and Felix Mobile. Some of the partnering brands in other categories include Appliances Online, Frank Green, Garnier, Hype, Modibodi, Poshmark, R.M. Williams, Salvos stores and The Body Shop.
Postpaid offers you might like
The following table shows a selection of sponsored SIM Only plans on Canstar Blue's database with links to referral partners.