Deliveroo Restaurant Guide
As of November 2022, Deliveroo ceased operations in Australia, and is no longer available.
One of the apps you might download to satisfy your late night cravings of loaded fries is Deliveroo – but where do they deliver to and what restaurants do they have listed? Here is our guide to Deliveroo in your area.
How does Deliveroo work?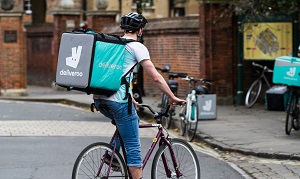 Deliveroo is a food delivery mobile app that brings local restaurants to you – even restaurants who typically do not have a delivery option. You order as much food as your heart desires, the restaurant gets cooking and drivers (endearingly referred to as Roomen and Roowomen) pick it up and bring it straight to you. Payment is made through the app using your method of choice, making it a simple venture that won't have you fumbling for cash upon delivery.
Despite their mammal mascot having Aussie origins, Deliveroo is actually a UK-based start-up, which began when founders Will Shu and Greg Orlowski found it difficult to get good food delivered in London. Fun fact – they chose the Kangaroo because of their protection over their young, claiming that they are equally protective over your food when it's being delivered.
Deliveroo Delivery Areas In Australia
Deliveroo currently delivers to the metro areas of Sydney, Melbourne, Brisbane, Adelaide and Perth. Both the website and the app will ask you to enter your address which will then tell you exactly which restaurants deliver to you. If they don't deliver to your area yet, you can sign up for email updates to let you know when they're planning on delivering to your area and even vote for your city to be the next location Deliveroo launches.
List of Deliveroo Restaurants
Deliveroo's website only allows you to see websites that are open at the time that you wish to order, meaning that not every restaurant is listed at one time. This means that if you're planning your #cheatmeal in advance, you may want to click through the different delivery times to make sure you've seen all your options. Speaking of food options, here are some of the more popular restaurants from each city that now deliver on Deliveroo! Prepare to indulge in your track pants of choice.
Deliveroo Restaurants Sydney
Gelato Messina
Yes. That Gelato Messina. Ice cream from one of Australia's most beloved gelati institutions is able to be home delivered at the snap (more like tap) of your fingers. Pick up a tub of one of their limited flavours, or opt for a whole ice cream cake. We won't tell.
Sabbaba
Wholesome Middle Eastern food is on the menu here, including pita pockets and falafel. If you're a frequent lunch meeting attendee, they also have a variety of catering packages available that can be ordered straight through the app.
Uncle Tetsu's Japanese Cheesecake
If you follow any foodie accounts on Instagram then you may be familiar with Uncle Tetsu – these famous Japanese cheesecakes are light, fluffy and in demand – and instead of lining up with the masses you can have it delivered to your door.
Friggitoria
Italian street food straight from Kings Cross, this is a carb-lover's heaven, with plenty of pizza and pasta options to keep you going. Most notably they have a design your own pasta option which is perfect for those who consider themselves pasta connoisseurs.
Fishbowl
Poke bowls are the latest in healthy Japanese goodness, and this Surry Hills spot is the place to get one from. Fishbowl offers a variety of fresh sashimi with delicious accompaniments, with the option to build your own poke bowl!
Deliveroo Restaurants Melbourne
Spudbar
Spudbar is the perfect meeting of comfort and health food, offering a massive range of baked potatoes with all the toppings you could desire. Bolognese Spud and Moroccan Chickpea & Kale are just two of the flavours you can munch on.
T by LuxBite
This tea time specialty place allows you to get treats like macarons and delicate layer cakes delivered to your desk or door. Also if you forget a certain someone's birthday, you could order a mango Weis bar inspired cake for that person. Or just for you, we won't judge.
Gazi
Souvlaki is truly one of the best things in life, and Gazi delivers them in a neat little package. If you find yourself needing to feed a whole family quickly, they offer a Greek Family Feast option with chicken off the spit, all the trimmings and even some doughnuts to round it all off.
Huxtaburger
One of the definitive cool kids of the Melbourne burger club, Huxtaburger is now able to be brought to you. You'd be hard pressed to go past the original namesake, but there are plenty of Burger options to sink your teeth into.
FOMO Thai
This restaurant is keen to make sure you do not have any Fear of Missing Out on Bangkok street food, even if you're sitting in your pajamas at home. With four different options of pork belly, there's plenty to look forward to.
Deliveroo Restaurants Brisbane
Melt Brothers
Nothing beats a really good cheese toastie, and that's the Melt Brothers specialty. Gourmet grilled cheese sandwiches have names like Holy Cheezus and M.C. Cheesy, as well as the option of adding a side of Loaded Tater Tots.
Red Hook
If you're in a New York state of mind but not quite able to make it to the Big Apple and back just for dinner, then go to Red Hook. They have plenty of diner classics like a Philly cheese steaks and chicken wings, but also new classics, like the Uptown Funk burger.
Mecca Bah
Offering up North African and Middle Eastern cuisine, Mecca Bah has plenty of both traditional and non-traditional options to choose from. If you're in the mood for something different try their Middle Eastern pizzas with lamb kofte or harissa spiced tomato and haloumi.
Mister Fitz
You've probably seen these ice cream sandwiches all over your social media, but did you know you don't need to leave the house to get that perfect Insta snap? Pick your choice of ice cream and order some cookies and toppings on the side to have an ice cream party at home.
Heya Bar
Inspired by the alleywar bars of Japan, Heya Bar has a curated selection of bites to be delivered to your house, from the more traditional edamame and karaage popcorn chicken to the more innovative cheeseburger springrolls.
Deliveroo Restaurants Perth
NeNe Chicken
This is KFC, but not as you knows it. NeNe's Korean Fried Chicken recipe is said to be straight from the streets of Seoul, and now you can have it – minus the 14 hour flight. They have a range of signature flavours for their fried chicken for you to try, such as "Bulgogi", "Swicy" and the aptly named "Freaking Hot".
West End Deli Cereal & Sandwich Bar
If you didn't think you could get nostalgia delivered to your home, you would be wrong. All your favourite sugary cereals are available with a grown up twist – Cinnamon Toast Crunch and poached pear? Yes please.
What the Bao
Bao is officially the new burger. Choose from a variety of Asian style buns with fillings like char sui pork, roasted duck or even Singapore style soft shell crab, all wrapped up in pillowy bao goodness.
Pretzel
The famous pastel pink boxes are picture perfect, and they house fresh pretzels with your choice of topping. With both savoury and sweet options, the original pretzels are also vegan, making it the perfect option for a group order.
Dough Pizza
For traditional style pizza in Perth, it's hard to go past a place like Dough. Offering all the classic pizzas, they also have house made wood fired fresh bread on offer, as well as a variety of traditional desserts.
Deliveroo Restaurants Adelaide
50SIXONE
If you have an insatiable sweet tooth than this dessert bar may be for you! They have a smorgasbord of Instagram famous milkshakes and pancakes available, as well as some savoury burger options to balance it all out.
Soonta
Known for their fresh pork bahn mi, this is apparently an Adelaide office worker staple with plenty of fresh Vietnamese delights for the choosing.
En Japanese Bar and Restaurant
Perfect for having some pals over for a bite to eat, this Japanese tapas restaurant offers a variety of small food plates, with plenty of gyoza, takoyaki and teriyaki chicken to go around.
Nutrition Republic
For the health conscious, there is a healthy delivery option available for you! A variety of salad bowls and earth bowls packed with fruit, veggies and grains are ready to order, as well as blended organic coffees for a healthy pick-me up.
Antina Pizzeria E Cucina CBD
A traditional style Italian restaurant with a modern twist. All of your favourite comfort foods like gnocchi, pizza and arancini are here! Keep an eye out for their lunch time pizza pockets, they only serve them until 2:30!
Deliveroo Contact Details
Deliveroo only lets you order online through the website or the app. However, if you have any issues with your order, you can either email or call them for help with the issue.
Email: support@deliveroo.com.au
Call: +61 1300 335 483