From humble beginnings with the GameBoy, gaming on the go has long been the dream for both hardcore and casual gamers, with many companies looking to capture our imaginations with products to keep us busy on those long road trips or the short bus ride to work. But while there have been many options over the years, gaming on our phones has sharply risen over the past few years – and it's no surprise given the size of some of the phones available – although for some, it just isn't the same. But there's one product that just may hit the middle ground of modern technology with nostalgic playtime – the Razer Kishi.
Produced by gaming company Razer – who specialise in gaming computers, keyboards, mice and a wide variety of other accessories – the Razer Kishi is a universal controller that gives you the traditional gaming feel while playing on your phone, and may just be the latest addition to your gaming collection. Find out all you need to know about the Razer Kishi in this Canstar Blue article.
What is the Razer Kishi?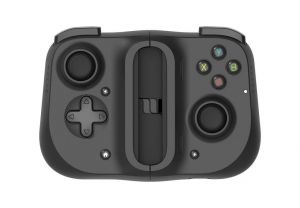 The Razer Kishi is a controller that transforms your phone into a portable gaming station, equipped with a D-Pad, analog sticks and shoulder triggers, to give you a more immersive experience. With a similar design to the Nintendo Switch or older PlayStation Portable, the Razer Kishi is compatible with a wide variety of smartphones, including Apple and Android models, and works by simply clicking your phone into the slot and launching your game.
The Razer Kishi features an ergonomic construction, which can be stretched and clamped around your phone, creating a safe lock that will keep your phone secure while you get stuck into the next level. And when you're finished a session, you can simply retract the controller into a more portable design, easily storable in your backpack. As an added bonus to set it apart from just being another controller, the Razer Kishi also comes equipped with a USB-C port to help you charge your phone while you're on the go.
If you really want to make the most of your gaming sessions, the Razer Kishi is also compatible with the Google Stadia gaming streaming service, allowing you to play any title within the Google Stadia library.
If you want to see what the Razer Kishi is all about, check out YouTube channel ShortCircuit getting hands on in the video below.
What phones are compatible with the Razer Kishi?
If the Razer Kishi has tickled your fancy, below are the phone brands, models and dimensions currently compatible with the controller:
iPhone 12, Pro, Pro Max & Mini
iPhone 11, Pro, Pro Max
iPhone SE (1st & 2nd generation)
iPhone X, XR, XS, XS Max
iPhone 8, 8 Plus
iPhone 7, 7 Plus
iPhone 6s, 6s Plus
Samsung Galaxy Note 8, Note 9, Note 10 & Note 10+
Samsung Galaxy S8, S8+, S9, S9+, S10, S10+, S20 & S20+
Google Pixel 2, 2 XL, 3, 3a, 3XL, 4 & 4XL
OnePlus 7, 7 Pro & 8
Razer Phone 1 & 2
In addition to the above models, Android devices with the following dimensions and features will also be compatible with the Razer Kishi:
Height: 3 – 163.7mm (5.7 – 6.4 inches)
Width: 2 – 78.1 mm (2.8 – 3.1 inches)
Depth: 0 – 8.8 mm (0.28 – 0.34 inches)
Centre Mounted USB-C port
Where can I buy the Razer Kishi?
If you're keen on adding the Razer Kishi to your gaming collection, here are the in-store and online retailers that currently stock the controller:
Microsoft (Android versions only)
Apple (iPhone versions only)
Razer
Scorptec
PLE Computers
Amazon
How much does the Razer Kishi cost?
The Razer Kishi currently retails for $149AUD at most stores, which may be a small price to pay for those who are looking for a portable gaming system without forking out too much for a new system.
Is the Razer Kishi worth it?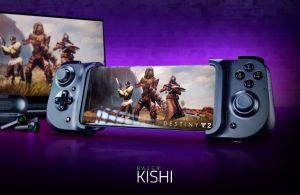 While the Nintendo Switch may be the current king of portable gaming, the appeal of gaming on your phone can often be too much to pass up for some, with many downloading apps and games to pass the time. But for those looking to take the next step in mobile gaming, the Razer Kishi may be well worth the money, giving you more control during your gaming sessions, with the added bonus of potentially being compatible even if you upgrade your phone. If you're more of a Candy-Crush type gamer, the Razer Kishi may not be an essential purchase, but if you enjoy putting in plenty of hours on games – particularly if you've signed up to Google Stadia – then it may be worth investigating.
Internet Plans for Gamers
The following table shows a selection of published NBN 50 plans on Canstar Blue's database, listed in order of monthly cost, from lowest to highest, and then by alphabetical order. Use our comparison tool to see plans from a range of other providers. This is a selection of products with links to referral partners.
Photo Credit: Microsoft.com, Razer.com, engadget.com