If you're sweating up a storm even before summer has hit, then you might want to invest in a quality air conditioner to tide you over. Summer is a time for many of us to kick back and enjoy the longer days and get out there to enjoy what the warm weather has to offer. For many more of us, summer is a living nightmare, where sweat reigns supreme and any shirt colour other than black or white is a definite no-no. A quality air con from brands such as Panasonic and Daikin may be your saviour – at least while at home.
Two of the biggest names in the world of air conditioning, Daikin and Panasonic, are admired for their quality, efficiency, advanced technology and functionality. But which brand comes out on top when it really hits the fan? We've reviewed their air con offerings to help you make a more informed decision.
What do Panasonic and Daikin offer?
Long story short, Panasonic and Daikin are largely not cheap brands of air conditioners by any stretch, but they are leaders in advanced cooling. They also specialise in split system air conditioners – no cheap portable units or window rattlers in sight. Let's see some of what the two giants of cooling have to offer, broken down by power and price:
Price Bracket
Model
Price From
Under $1,000
Panasonic 'Aero' 2.5kW
$1,301*
Daikin 'Cora' 2.5kW
$935*
Under $1,500
Panasonic 3.5kW
$1,508*
Daikin 'Cora' 3.5kW
$1,295*
Under $2,000
Panasonic 7.1kW
$2,548*
Daikin 'Cora' 7.1kW
$1,860*
Under $3,000
Panasonic 'Aero' 8kW
$3,273*
Daikin 'L-Series' 9.4kW
$2,790*
*Prices taken from respective retailers and Appliances Online, correct as of June 2020.
Air conditioners under $1,000
While not strictly in the 'budget' category, these are some of the cheapest air conditioners among Panasonic's and Daikin's ranges. Remember, they are not the cheapest – their value is in their quality.
Panasonic

Though not technically under $1,000, the Panasonic 2.5kW AERO Series Reverse Cycle Inverter Air Conditioner is the cheapest model from the brand is has previously been on sale for less than $1,000. The CS/CU-Z25VKR model usually retails for $1,301 and is alternatively available in capacities ranging up to 8kW.
Its key feature is the built-in air purifiers which remove odour and impurities from the air. The purifier is also claimed to discourage the growth of bacteria, viruses, allergens and harmful smoke substances, making it an air conditioner potentially worth considering if you're allergy prone or have pets.
If you're looking to minimise your power bill or want to have a better hold of your electricity usage, it's worth nothing this air conditioner is a Demand Enabled Response Device (DRED). This means you can let your electricity provider control the appliance based on pre-programmed levels in order to help you manage your demand on the power grid during period periods. Keep in mind you'll need to buy and install an extra adaptor to do so. But check to see if this is available in your area.

Daikin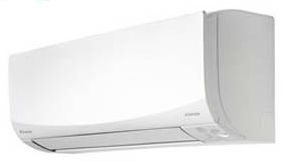 In this price bracket, Daikin offers much the same as Panasonic. The 'Cora' air conditioner (FTXM25Q) is usually available at under $1,000 from Air Conditioning Online and it packs in 2.5kW of cooling power and 3.2kW heating power. However, we suspect you're probably reading this article for cooling rather than heating. This unit like Panasonic's is also a reverse cycle one. It's also a fairly quiet unit, operating at 59 decibels, and 60 for heating. In this price bracket, both of what Panasonic and Daikin have to offer are fairly similar.

Air conditioners under $1,500
If you're willing to part with some more of your pennies, then you might be surprised at the value that's on offer for a touch over $1,000 among the two brands.
Panasonic
For a smidge more than $1,000 at Appliances Online, you can get a moderately-powerful Panasonic air conditioner that has a recommended retail price of close to $1,500. The Panasonic 3.5kW AERO Series Premium Reverse Cycle Inverter Air Conditioner ($1,508 RRP*) is one of the most affordable options from the brand and comes in capacities ranging between retails 2.5kW and 8kW.
As with all Panasonic split system air conditioners, it comes with an anti-bacterial air filter, an odour-removing function, nanoe-G air purifier, and the iAuto-X system with Aerowings for more efficient cooling. Furthermore, for heating, the unit packs a punch at 4.3kW. If you're after a mid-ranged system that can do anything in all seasons, then this one may be for you.

Daikin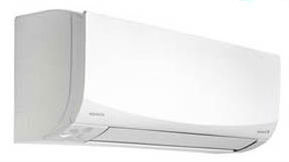 For about $100 less than the Panasonic above, Daikin offers a tidy unit (FTXM35Q) that also boasts 3.5kW of power. For heating it also boasts 3.7kW of power, so it's evident that the Daikin and Panasonic models are almost even in the power stakes. In terms of cooling features, this 'Cora' unit features 2-Area 'Intelligent Eye', which means cool air is either blown towards you in the room (or also away if you like draft-free comfort).
It also features Coanda Airflow, which directs the cool air and cools from the top down, which is known as the Coanda Effect. Further, its precise temperature controls of 0.5°C mean that you can nail down your desired temperature with ease. This is a good option for those looking for a feature-packed mid-range air conditioner.

Air conditioners under $2,000
If your budget can stretch to the upper echelons of split-system air conditioned glory, then we suspect you'll be pretty happy with either the Panasonic or Daikin models here.
Panasonic
A significant step-up from the previous models mentioned, the 4.3kW AERO Series Premium Reverse Cycle Inverter air Conditioner retails for $1,675. Although the much more powerful 7.1kW alternative is often available for less than $2,000 on Appliances Online, despite retailing for $2,548. Its features include mild-dry cooling, a quiet mode, a 24-hour auto timer and all the usual goodies you come to expect in a Panasonic unit. It operates at up to 47 decibels, which is about the level of a bird chirping. Think of the lovely magpies calling to their young in the morning.

Daikin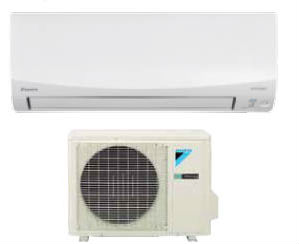 For about the same price as the Panasonic above, the Daikin here also packs in 7.1kW (FTXM71Q). Like the model previously mentioned, it features Coanda Airflow, as well as 2-Area Intelligent Eye. It also features an advanced (wait for it) 'titanium apatite photocatalytic' air-purifying filter. These filters help to rid the air of nasty bacteria and viruses along with mould and other odours.
It operates at 49 decibels, which is comparable to the Panasonic model above. Air conditioning is more than just blowing cold air in your face – it's about cleaning the air around you – and this Daikin model does it very effectively. It comes with the optional extra of Wi-Fi to interact with a smartphone app for a one-stop command centre.

Air conditioners under $3,000
At the higher-end of the spectrum, both Daikin and Panasonic pack a punch in full-bore cooling – and heating – power.
Panasonic
For just short of $3,000, you can opt for either the Panasonic 5kW AERO Series Premium Reverse Cycle Inverter Air Conditioner ($2,077 RRP*) or the Panasonic 6kW AERO Series alternative ($2,269*) for nearly $200 more. The outdoor unit for the 6kW model is shown here.
Suitable for a larger room and likely capable of handling a family's needs, Both units feature the same technology contained in the cheaper Panasonic models, in addition to third party connectivity, meaning you can fine-tune your frosty comfort with a smartphone app. Operating near the 50 decibel mark, these high-powered units are still fairly quiet.

Daikin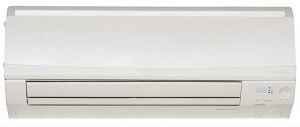 As one of the more high-end units in Daikin's lineup, this unit (FTXS95L) is powerful with 9.4kW onboard. This is a sensational power level and is sure to make light work of a variety of family needs. What's also impressive is that it all operates at 54 decibels, and in relation to its size and power, is a noteworthy achievement. It can be found for under $2,850 on Airconditioning Online, making it a great-value option considering it retails for more than that.
It's also equipped with a standby power function that's stated to automatically reduce energy consumption when the system is not in use. This could result in a kinder power bill. This Daikin unit is a solid offering for the family home, and summer may no longer be the dreaded experience it used to be.

Panasonic vs Daikin: Technology and Features Compared
Moving on from the model comparison, which we hope has proved useful, the next step in determining who is the king of air conditioning is to compare the technology and features generally found in each brands' models. Both are high-end brands in the cooling world, but how do their key features and trademark technology compare?
Smart Cooling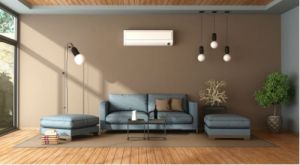 What makes these brands the best at what they do is their super smart air conditioning technology, which is constantly evolving and leaving the other big brands behind. While the technology is similar in many ways, there are contrasting features to each product range, which can make a huge difference to the buyer. Both brands offer a human sensor control which detects when someone is actually in the room and will adjust automatically to save on energy. Daikin's 2-Area intelligent eye will automatically detect when you leave and enter the room. If the room is empty for 20 minutes it will adjust to an energy saving setting and then return to its original setting when someone re-enters the room.
In comparison, Panasonic's ECONAVI technology is arguably more advanced. It will not only detect when someone left or entered the room, but will adjust the flow of air to the area of human activity. It will also adjust the cooling temperature when it detects changes in the sunlight intensity of the room. You can't really go wrong with either brand when it comes to smart cooling, but Panasonic may have the slight edge here as it goes one further. This may also be a reflection of the brand's general higher price compared to Daikin.
Cleaning Capabilities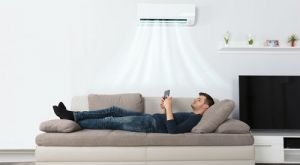 Both the Panasonic and Daikin models offer an air purifying function to keep the air clean and healthy. Panasonic's Nanoe-G uses nano technology which works on micro-organisms, such as bacteria and viruses, to provide a cleaner living environment. It claims to remove 99 per cent of bacteria and viruses, and will deactivate any bacteria which have been trapped in the filter.
Daikin's air purifying filtration system, in contrast, has been rewarded by The National Asthma Council with a Sensitive Choice symbol. Another winning feature in the Daikin range is an automatic self-cleaning filter which removes dust to maintain the airflow and reduce power consumption. It's pretty even here, but we'd give Daikin the edge for its NAC certification. While both brands would likely be good contenders for the allergy-prone, the fact that Daikin has this certified means that it's a winner in this regard.
Control Power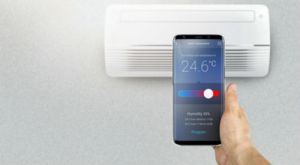 With the advanced technology of their smartphone controlled systems, both Daikin and Panasonic are top competitors in the air conditioning world. Having access to technology at our fingertips is part and parcel of the modern day, so when a brand can offer smartphone technology on its products, it's a huge selling point to consumers. The technology allows you to monitor and control your system from anywhere – as long as you have an internet connection at home and on your phone or tablet. You can turn your air conditioner on and adjust the temperature of your home before you even get there. In terms of accessibility, it seems Panasonic has smartphone features included in the price and with a wider variety of models and price points; for this alone, we'll hand this section to Panasonic.

Who's the winner?
The Panasonic and Daikin product ranges both offer advanced technology and are super-energy efficient, so when they are pitted against each other it's extremely tough to award a champion. Barring sales, Panasonic found itself to be the slightly more expensive of the two-brands and this was found in its generally more impressive list of features across a range of models.
With the two pitted against each other, however, we suspect it'll come down to your own individual budget versus technology desires. You might like to check out Canstar Blue's customer satisfaction ratings for air conditioners, too see how each brand was rated by Aussie consumers.