Fact Checked
For many of us, summer is more than the beach and cricket; it's putrid sweat and the desire to be in air conditioning at all times. Some consumers might be holding off on buying a new air con unit because of the perception that they're too expensive – or just that any good air conditioner will come at a very high price. The truth is that air conditioners and the cost of running them can come cheaper than you may think. Learn all you need to know about cheap air conditioners with this Canstar Blue guide.

Cheap air cons
Cheap air conditioners are more common than you may think. There are a variety of bargains out there to be had. We've taken a look at air conditioners in three categories – portable, window, and split system air conditioners. So, which type of cheap air conditioner should you go with? You will be able to purchase the following units on a budget:
Portable air conditioners: represent great 'bang for your buck' and have the added bonus of being flexible as to where you put them.
Split system: units are more expensive, but likely to be more efficient at cooling and will be quieter too.
Window air conditioners: tend to sit somewhere in the middle – not particularly efficient or powerful compared to other types, but not very costly to purchase either.
Who sells cheap air conditioners?
A number of brands offer cheap air conditioners in Australia. This includes Dimplex, Kelvinator, TCL, Omega and Samsung.
Dimplex cheap air conditioners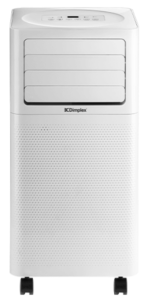 For over 70 years Dimplex have been a trusted home appliance brand. Through constant innovation, it offers products that are user friendly. Dimplex produces a range of cooling appliances including air conditioners and evaporative coolers, and a number of them are offered at cheap prices.
The Dimplex 2.6kW Portable Air Conditioner and Dehumidifier will control air quality and keep you comfortable. This cheap portable model features an electronic LED display, a 24-hour timer and two speed/heat settings. It also comes on wheels, allowing it to easily be moved from room to room. This model will set you back around $700.
The Dimplex 2.2kW Window/Wall Box Air Conditioner comes fitted with a 10amp plug, so you don't have to worry about any electrical installation woes. It also features a 24-hour timer, allowing you to set the air con to start cooling the house an hour before you arrive home, as well as a sleep mode and swing function to disperse cool air more evenly. This model will cost you around $900.
Kelvinator cheap air conditioners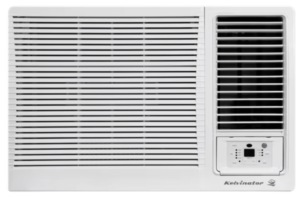 Kelvinator offer a range of cheap air conditioners that can keep your house cool through a sweltering summer. The brand is known to specialise in refrigeration and air conditioning, stocking a number of split system and window/wall air con options – some of which sit in an affordable price range.
The Kelvinator 2.2kW Cool Only Box Air Conditioner comes equipped with fresh air return for additional ventilation. This model also features an auto mode to set the ideal operating level based on your indoor temperature. It's equipped with a remote, a 24-hour timer, and air swing capability. This air conditioner will set you back around $800.
The Kelvinator 2.5kW Split System Reverse Cycle Air Conditioner can cool, heat and will operate manually or automatically. It features HEPA and ion filters that purify indoor air with high efficiency. This model offers a 24-hour timer, adjustable temperature settings, a sleep mode, and an auto mode which lets the unit determine the best settings based on current conditions. This model will cost you around $1,150.
TCL cheap air conditioners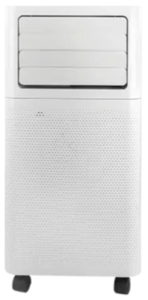 TCL is dedicated to improving people's lives and experiences with innovative technology. TCL's air conditioning range includes both portable and split wall mounted units, with a number of these models sitting in a cheap or affordable price bracket.
The TCL 2.0kW Portable Air Conditioner is a three in one model, hosting a fan, air conditioner and a dehumidifier. This model features two fan speeds, an easy washable filter, sleep mode, a child lock and a 24-hour timer. This model will cost you around $450.
The TCL 3.5kW Reverse Cycle Air Conditioner offers a bit more cooling capacity and is ideal for small rooms. It features five fan speeds and a 24-hour timer, so you can program the air con to switch on according to your daily schedule. As this is a split system model, it's slightly more expensive, costing around $1,000.
Omega cheap air conditioners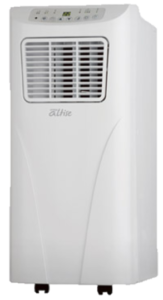 Omega began its brand 26 years ago, aiming to bring the concept of comfortable living to every home in Australia. Its range of cooling and heating products are focussed on being well-designed and stylish to suit a wide range of decors and requirements. Omega offers a number of cheap air conditioners to keep you cool on a budget.
The Omega Altise 2.6kW Portable Air Conditioner is designed with a smaller room of 20m² in mind, offering fuss-free cooling at a cheaper purchase price. This model features an LED display with a remote control, two fan speeds with directional air louvres to direct air your way, an on/off timer, plus a 24-hour programmable timer. It also uses Aqua Chill technology for low maintenance. This model will set you back around $550.
The Omega Altise 4.1kW Portable Air Conditioner offers additional cooling capacity. It features three fan speeds (high, medium, and low), as well as multiple operating modes like cooling, fan, and dehumidify. There's a 24-hour timer for convenience plus a remote control, allowing you to switch between settings. This model will cost you around $850.
Samsung cheap air conditioners

Samsung are best known for their electronic products such as televisions and smartphones, but the brand also offers multiple cooling appliances. Its air conditioner range includes split system, ducted and cassette air conditioners. While Samsung air conditioning products can come at a premium, the range includes some affordable options for consumers to choose from.
The Samsung 2.5kW GEO Split System Air Conditioner will help you get through those hot summer days. This model is equipped with innovative fast cooling technology and a removeable filter with antibacterial coating to protect against airborne contaminants. It also features 'good sleep mode' which automatically adjusts the air flow direction to create a comfortable sleep environment. This model will cost you around $1,050.
How much does a cheap air conditioner cost?
The expected price of a cheap air conditioner will depend on the style of unit you're purchasing. It's also important to ensure you're investing in an appliance that boasts some amount of quality and durability. So, a cheap portable model should cost no more than $700, a cheap split system unit should only set you back around $1,000, while a cheap wall air con should cost around $900. It should be noted that all of this is dependent on design, size, brand and other additional features.
Cheap air conditioner running costs
The running costs of your air conditioner are highly dependent on the unit you have and how often you use it. Unfortunately, it's likely that a cheap air conditioner will be less efficient, using more energy and increasing your power bill. To estimate the running costs of your air conditioner, refer to Canstar Blue's air conditioner electricity usage guide.
Purchasing a cheap air conditioner
In purchasing a cheap air conditioner, you might find that the money you save now could cost you in the long run through having to use it for longer and under more duress to cool the room you're in. Overall, there are lots of factors to consider and every home is different. It's really about finding the best risk versus reward trade-off. You could buy cheap and be left disappointed, but you might also just bag a bargain and walk away with a low-price air conditioner that serves your purpose just fine. To explore more and help you decide which model is the best fit for you and your home, check out some of Canstar Blue's best-rated air conditioners.