Fact Checked
When it comes to kitchens, the fridge is arguably the most important appliance, with Australians often having two to ensure that their household has plenty of food on hand. An increasingly popular option is the Integrated fridge, offering an aesthetic and minimalistic design. With the kitchen acting as a big selling point for many households, integrated appliances have taken over in recent years, with plenty of companies now offering the design. Learn all you need to know about integrated fridges with this Canstar Blue guide.
What is an integrated fridge?
An integrated fridge is a style where the fridge is designed to blend in with the rest of the kitchen, with a matching door on the front to conceal it when closed. Also known as seamless models, integrated fridges are designed to fit into a cavity with no edges sticking out, allowing for a seamless aesthetic throughout your house. With kitchens often a central hub for activity, how it looks and operates is often a defining factor for many.
Who sells integrated fridges?
A variety of brands offer integrated fridges in Australia. These include Fisher & Paykel, Miele, Liebherr, and Bosch.
Fisher & Paykel integrated fridge

Originally starting as an importing business, Fisher & Paykel shifted its business to manufacturing, creating cooking appliances and utensils to become a modern-day giant of the appliance industry. Offering a wide variety of fridges and freezers, Fisher & Paykel has expanded its range to accommodate the increasing popularity of integrated fridges, offering consumers a number of models to suit all styles and sizes.
The Fisher & Paykel 60cm Integrated Refrigerator Freezer features a slim profile which pairs easily with other integrated kitchen appliances. This fridge is equipped with a chilled water and ice dispenser, adjustable temperature and humidity, Wi-Fi capability, a touch control panel, and flexible storage options. This model will cost you around $6,000.
Miele integrated fridge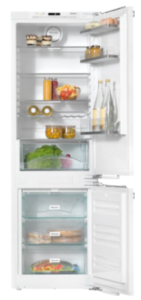 Offering multiple integrated models for consumers, Miele looks to go for quality over quantity, with the German manufacturer known for its product quality. Originally manufacturing butter churners and tub washing machines in 1899, Miele has diversified and evolved its operations to include domestic products and appliances. Among these appliances are some integrated refrigerator models that will add to the aesthetic of your kitchen.
Miele's iD Built-in Fridge-Freezer Combination hosts a fully integrated design for you to customise. This model also features individually adjustable glass shelving, an anti-frost system, soft-closing doors, and shelves that can be cleaned in the dishwasher. This fridge will likely cost you around $3,300.
Liebherr integrated fridge

Regardless of what size you need for your family, Liebherr has you covered, with small and large models available. While not always the cheapest option, Liebherr does have a large range to choose from, meaning you'll be able to find a model if you're after an integrated fridge or freezer. With many fridges coming with state-of-the-art technology, Liebherr offers consumers more than just a simple fridge.
The Liebherr BioFresh Integrated Refrigerator features a sleek integrated design that's built to compliment any kitchen. This fridge is equipped with LED side-wall lighting, a SuperCool function to preserve the freshness of new groceries, a touch-screen control system, and sound absorbing compressors that eliminate noise. This model will set you back around $6,000.
Bosch integrated fridge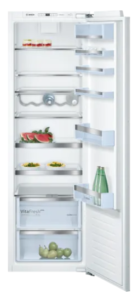 Another veteran of the home appliance market, Bosch has been kitting out Australian households for years. Bosch's range of refrigerators, designed and manufactured in Germany, include a variety of built-in models. These appliances are designed to fit into any kitchen seamlessly.
The Bosch Series 6 Built-in Fridge-Freezer hosts an integrated design that is fully customisable to suit your kitchen. This model also features LED lighting, climate-controlled fruit and vegetable drawers, easy-access shelving, and internal sensors designed to monitor external temperatures. This model will set you back around $3,700.
How much does an integrated fridge cost?
The price of an integrated fridge depends heavily on design, size, brand, and other additional features. Cheaper integrated fridges with this feature will cost you around $2,500, while some of the most expensive models may cost more than $20,000.
Purchasing an integrated fridge
If you're after a kitchen with 'wow' factor, an integrated refrigerator may be the best way to go. Unfortunately, these aren't the cheapest fridges on the market, often costing at least $800 more than a regular model. With capacities and features that rival most standalone refrigerators, an integrated fridge doesn't sacrifice substance for style, which does make the generally larger price tag a bit easier to swallow.
Like any other big purchase, it's always best to do your research beforehand, as you may find a different brand or model that will suit your household needs better. When it comes to refrigerators, which one you choose will depend on your household's food consumption, the available space in your kitchen, as well as its impact on your electricity bill, so it's best to take your time when it comes to making the final decision. If an integrated fridge just isn't right for your kitchen, it may be best to consider some alternative models and styles. To help you decide which appliance is best for you and your home, check out some of Canstar Blue's best-rated refrigerators.