When it comes to the kitchen, the fridge is arguably the most important appliance, with Australians often having two to ensure that their household has plenty of food on hand for school lunches or those special family dinners. As essential as they are, choosing a fridge that can stock your weekly grocery trip can be a tough ask, with plenty of brands offering consumers models that come in all shapes and sizes.
An increasingly popular option is the Integrated fridge, with the aesthetic design appealing to many households and families. With the kitchen a big selling point for households, integrated appliances and minimalistic designs have taken over in recent years, with plenty of companies now offering the design. Read on to find out which brands offer integrated fridges for your consideration.
What is an Integrated Fridge?
An Integrated Fridge is a style where the fridge is designed to blend in with the rest of the kitchen, with a matching door on the front to conceal it when the door is closed. Also known as Seamless models, Integrated fridges are designed to fit into a cavity with no edges sticking out, allowing for a seamless aesthetic for households. With kitchens often a central hub for activity, how it looks and operates is often a defining factor for many.
Integrated Fridges
Fisher & Paykel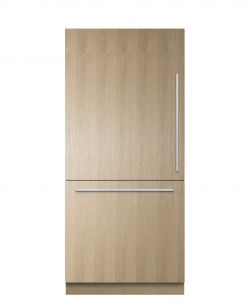 Originally starting as an importing business, Fisher & Paykel shifted its business to manufacturing, creating cooking appliances and utensils to become a modern day giant of the appliance industry. Covering all areas of the kitchen, as well as the laundry, Fisher & Paykel has your household sorted.
Offering a wide variety of fridges and freezers, Fisher & Paykel has expanded its range to accommodate the increasing popularity of integrated fridges, offering consumers a number of models to suit all styles and sizes. Integrated models include the smaller 266L single door fridges, as well as 525L French door fridges to fit in with your kitchen's aesthetic.
If you don't have enough space for a full fridge, or just need a bit of extra space, Fisher & Paykel also offers the CoolDrawer in an integrated design, which as the name suggests, is a fridge drawer that can be used as a fridge, freezer or pantry depending on what you need to store. All Fisher & Paykel fridges come with a 2 year warranty.

Liebherr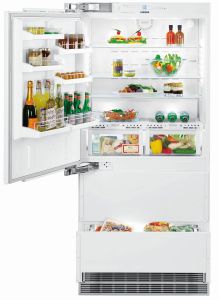 A global company with fingers in many pies, Liebherr may be more well-known for its construction and mining operations than its kitchen appliances, but that doesn't stop it from producing a wide selection of fridges and freezers for consumers to choose from.
Regardless of what size you need for your family, Liebherr has you covered, with small and large models available, including French Door models. While not the cheapest option available, Liebherr does have the largest range to choose from, meaning you'll be able to find a model if you're after an integrated fridge or freezer.
With all models coming with a three year warranty, and many coming with state-of-the-art technology, Liebherr offers consumers more than just a simple fridge.

You may also be interested in:
Miele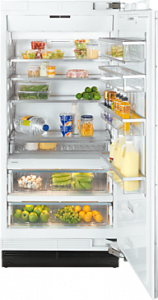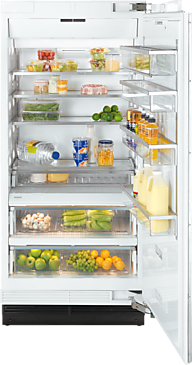 Offering three integrated models for consumers, Miele looks to go for quality over quantity, with the German manufacturer known for its product quality. Originally manufacturing butter churners and tub washing machines in 1899, Miele has diversified and evolved its operations to include domestic products and appliances.
Miele's top of the line integrated model, the MasterCool refrigerator, comes with dynamic cooling to ensure proper ventilation and air circulation so that food is kept fresh. There are also micro-climates in the drawers. Miele's other models, the KS series, include the PerfectFresh feature to ensure that fruits and veggies are kept crisp and tasty, as well as soft closing doors, helpful for those late night trips to the fridge. Miele fridges also come with individually adjustable shelf lighting, helping you see what needs to be put on the grocery list.

You may also be interested in:
LG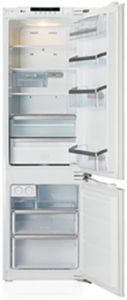 Another veteran of the home appliance market, LG has been kitting out Australian households for years, from electronics to appliances. One of those products is the integrated fridge, with LG offering two new models for consumers to choose from.
Including flap-cover shelves for convenience on the top shelves, LG offers consumer comfort with its products, ensuring that its fridges are easy to use. With 'No-Frost' technology also installed, you can confidently store your fruit and veggies without ruining your groceries. And if you're in a rush to freeze the ice cream during those hot days, LG's Super Freeze snaps food frozen in under three hours. LG offers two integrated models, both with similar capacities and prices, so be sure to check out which model is best suited for your household.

Is an integrated fridge worth the money?
While not the cheapest option on the market, if you're after a kitchen with a 'wow' factor, an integrated fridge may be the best suit for you. With capacities and features that rival most standalone refrigerators, an integrated fridge doesn't sacrifice substance for style, which does make the generally larger price tag a bit easier to swallow.
Like any other big purchase, it's always best to do your research beforehand, as you may find a different brand or model that will suit your household needs better. When it comes to refrigerators, which one you choose will depend on your household's food consumption, the available space in your kitchen, as well as its impact on your electricity bill, so it's best to take your time when it comes to making the final decision.