Fact Checked
Singer rated 'sew' good in sewing machines ratings
Are you 'knots' over repurposing curtains into one-of-a-kind outfits? Or maybe you're feeling a little frayed after hemming jeans for the first time? You're not the only one! But while a good worker never blames their tools, as the old adage goes, sometimes the right (or wrong) equipment really can make an impact on the final product.
To help you avoid getting stitched up, we've asked almost 300 Australian consumers for their feedback on the new sewing machine(s) they've purchased and used in the last two years. Respondents rated brands on performance & quality, features & functionality, ease of use, quietness, design & appearance, reliability, value for money and overall satisfaction. Those that received the minimum survey sample size (30 responses) are compared in our report.
So, which brand is the best of the bunch and which seem a little 'sew-sew'? Singer achieved a seamless win with five-star reviews across the board!
Best Sewing Machines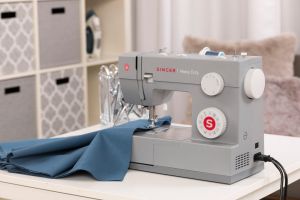 Here are the best sewing machines in Australia, as rated by consumers in Canstar Blue's review:
Singer
Brother
Janome
Elna
Singer was ahead of the curve in our sewing machines ratings, scoring five-star reviews in all research categories. These were performance & quality, features & functionality, ease of use, quietness, design & appearance, reliability, value for money and overall satisfaction.
Runner-up Brother followed behind on four stars overall, while Janome and Elna rounded up the results on three stars for overall satisfaction.
Sewing Machines Compared
Singer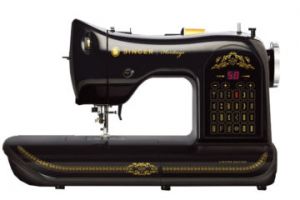 Leading brand Singer spins a wide range of sewing machines, helping you tackle everything from simple hemming jobs to highly detailed embroidery and cosplay projects. Prices start from $199 for beginner models like the Singer Start 1306, and reach up to $2,999 for the all-in-one Singer FUTURA X-550 sewing and embroidery machine. There are additionally certain models sold exclusively at Spotlight, including the Singer C5205 computerised sewing machine.
If you're starting out as a budding quilter or aspiring fashion designer, you might want to check out sewing machines for beginners like the Singer Fashion Mate 3337 and Singer Confidence Quilter 7469Q. These 'entry-level' machines are specifically designed for people new to the sewing world and contain features such as an automatic needle threader, one-step buttonhole functionality and a variety of built-in functions for basic stitching and decorative sewing.
Singer gave a seamless performance, earning five-star reviews for overall satisfaction and all other categories.
Brother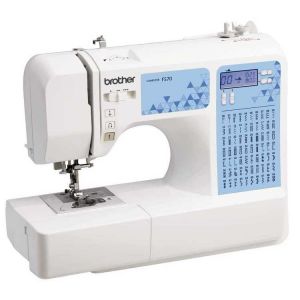 There's no need to ask mum to tailor your pants, especially since Brother offers a number of sewing machines and overlockers to choose from. Many of these are made for basic sewing, mending and dressmaking, as well as making different size quilts and working on denim or sheer fabrics. Brother's sewing machines and overlockers will set you back at least $249 for the Brother Sewing Machine (JV1400), with the most expensive model being the Brother Comp Sew Machine (TY600C) retailing for $4,499.
For regular clothing alterations, Brother sells a large number of mechanical sewing machines and computerised sewing machines to choose from. Computerised sewing machines can be particularly helpful when dealing with denim and other heavy fabrics, or when you've got some big jobs ahead of you. The Brother Sewing & Quilting Machine (VQ2400) is one of the top models currently available, featuring 561 stitches, ICAPS (Continuous Automatic Pressure System), pivot function and LCD touch screen display.
Brother pocketed a clean four-star review across the board, including for features & functionality, value for money and overall satisfaction.
Janome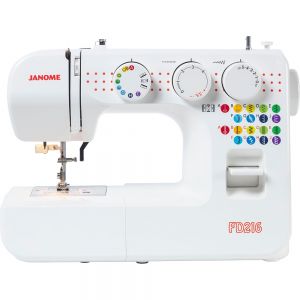 Having produced sewing machines for more than 100 years, powerhouse Janome certainly knows a thing or two about the needle and thread. The brand offers a variety of sewing machines, quilting machines and embroidery machines. Janome additionally sells specialty models including the Janome CoverPro 2000CPX, a coverstitch machine for professionals.
The brand tailors its range to suit different skill levels and sewing demands. For the casual sewer, there are models like the Janome FD216 or the Janome Sewist 725S which offer a number of built-in stitches to help make tasks like sewing buttons fairly simple. The brand's line-up alternatively features models like the Janome DM7200 and Janome Sewist 780DC for heavy-duty tasks. These two workhorses are said to provide a sewing speed of 820 SPM, with the Janome DM7200 even packed with 200 built-in stitches.
Janome knitted four-star reviews in most categories, such as performance & quality, reliability and value for money. It ultimately gathered three stars for overall satisfaction.
Elna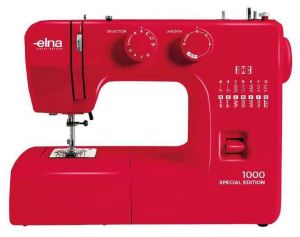 Elna is another leading brand that's taking on the sewing world with its hugely popular range of sewing machines, computerised sewing machines, embroidery machines, mechanical sewing machines and quilting machines. It also stocks up on overlockers and presses. You're likely to fork out at least $149 for the most affordable model, the Elna Mini 525. On the other end, the Elna eXperience 500 will set you back $950 if you want the brand's top-of-the-range machine. Although Elna's sewing machines are noticeably cheaper than some other brands, including those mentioned in this year's ratings.
Similar to smart washing machines and smart fridges, sewing machines like the Elna Air Artist Embroidery Machine are designed to sync with your smartphone to spark even more creative creations. This particular model comes with 260 built-in embroidery designs, plus 12 fonts, a Japanese font and Kanji characters. There's also a slow redraw function, which offers a simulation of design stitching.
Elna weaved three-star reviews for all categories, such as ease of use, performance & quality, reliability, value for money and overall satisfaction.
Other Sewing Machine Brands
The four brands featured in our ratings aren't the only ones worth checking out. Here are a number of other brands you might want to look at:
Birch
Klasse
Kmart
Russell Hobbs
Semco
Schmetz
Timber & Thread
Triumph
What are the different types of sewing machines?
There is no such thing as a one-size-fits-all model when it comes to sewing machines. Each sewing machine is designed for a different purpose(s), like basic mending for beginners or large-scale quilting for professionals and hobbyists.
Most Australian consumers we surveyed bought an electronic sewing machine (50%), followed by mechanical (17%) and an automatic/computerised sewing machine (16%). A handful of respondents purchased an embroidery machine (5%), quilting machine (4%) or an overlocker (4%).
Here is a rundown of the main types of sewing machines: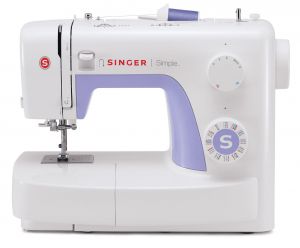 What's a mechanical sewing machine?
Mechanical sewing machines use manual controls and are mostly used for basic sewing and simple alterations or small sewing projects. These still feature many of the same functions as contained in computerised sewing models and other types of models. Mechanical sewing machines aren't necessarily cheaper than computerised versions, especially as many brands continue to make more advanced, feature-packed versions.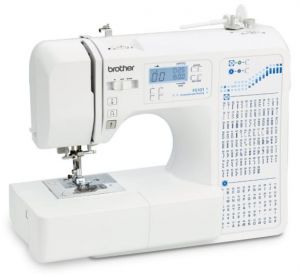 What's a computerised sewing machine?
Computerised sewing machines are stated to be made with microprocessors that can control and automate various sewing functions. Compared to mechanical sewing machines, they're more convenient to use, with automated functions including needle threading, built-in stitches and better speed controls.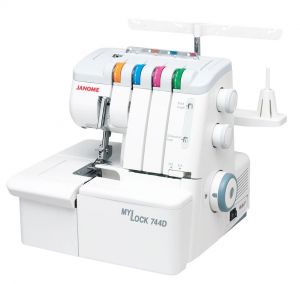 What's an overlocker?
An overlocker (or serger) is a type of sewing machine designed to connect the edges of one or two pieces of material by creating what's called an 'overcast' or 'overlock stitch', while also simultaneously trimming the seam allowance. A seam allowance is the space between the line of stitching and the raw edge of the fabric. It's usually located inside the garment.
An overlocker can be particularly useful for producing a flat seam allowance and ensuring a neat finish, or securing the edges to extend the lifespan of your favourite shirt.
Is it worth getting a sewing machine?
Finding the best sewing machine shouldn't be as difficult as looking for a needle in a haystack. Fortunately, brands offer a variety of models to suit a wide range of needs and skill levels.
Whether or not you should buy a sewing machine ultimately depends on the type of DIY projects you want to undertake and how often. If you're constantly paying for alterations, purchasing a machine with basic mending functions could help you save a small fortune in the long run! But if it's just the odd hemming job here and there, it's probably best to stick to altering clothes by hand.
Don't forget that you don't need the most expensive sewing machine when just starting a new hobby. There's always a wide variety of entry-level quilting machines and other types of sewing machines easily available, typically at a much more affordable price than advanced models.
Here's what respondents to our survey commonly use their sewing machine for:
Repairing clothes and odd jobs: 50%
Making own clothes: 19%
Quilting: 18%
Embroidery: 10%
Our research revealed Aussies spend an average of $394 on a new sewing machine ─ although nearly one in four wished they had spent more on a better-quality model (23%), similar to the 16% of consumers who purchased a top-of-the-line sewing machine. Although, most respondents bought their sewing machine on sale (49%).
About the author of this page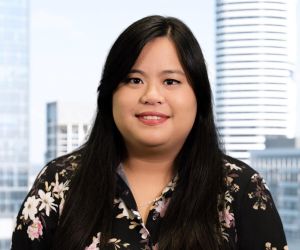 This report was written by Canstar Blue's home & lifestyle journalist, Tahnee-Jae Lopez-Vito. She's an expert on household appliances, grooming products and all things grocery and shopping. In addition to translating our expert research into consumer-friendly ratings reports, Tahnee spends her time helping consumers make better-informed purchase decisions on all manner of consumer goods and services, while highlighting the best deals and anything you need to be aware of.
Compare Front Load Washing Machines
*Prices taken from respective retailers, correct as of January 2021.