Fact Checked
Is there anything better than a piping hot bowl of soup on a chilly night? Yes! Soup that doesn't come from a can. One quick way to make soup is to use a blender to pulverise your ingredients in one go and then heating your concoction on the stove. However, a soup maker can whip up a batch of soup at the simple press of a button. But are they worth investing in? Canstar Blue finds out.
How does a soup maker work?
Aesthetically similar to a blender or kettle, soup makers are an all-in-one appliance that can combine various blending functions to make your soup chunky or smooth. They have both a heating element and friction blades to blend and cook your batch of soup within 20 to 30 minutes.
What's the difference between a soup maker and a blender?
Many people ask – isn't a soup maker just a glorified blender? Yes and no. While you can make soup in a blender, they only do half the job. Soup makers will simultaneously blend and heat your ingredients, with most soup makers featuring time and temperature settings, so you can set your soup to cook and come back when it's ready.
Soup Maker Brands
There are a number of brands that offer soup makers, including Morphy Richards, Cuisinart and Ninja, with lesser-known brands also available to purchase.
Morphy Richards Soup Maker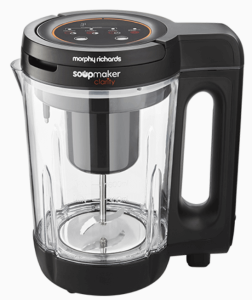 Morphy Richards may not offer a huge range of options, but may not need to, with the Clarity Soup Maker offering  a capacity of 1.6L and will have your soup ready in just 21 minutes. It has four cooking functions (smooth, chunky, clean and blend/smoothie) and a keep warm setting, allowing your soup to be ready whenever you are. The soup maker also has a 'clean mode' option for easy maintenance, and will set you back around $200.
Ninja Soup Maker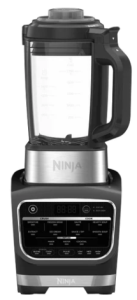 While technically a blender, the Ninja Foodi Blender may be an option for those looking for an all-in-one appliance when it comes to soup makers, with the model including 10 preset programs that allow you to create smoothies, frozen drinks, extractions, soups, sauces, mixers, water infusions and ice cream. The built-in precision heating element will allow you to cook soup in just 30 minutes. The Ninja also has a heated clean program to make washing up a breeze.
Cuisinart Soup Maker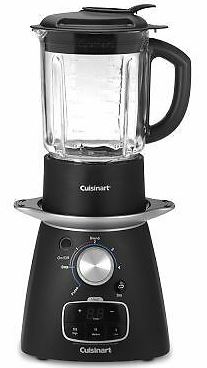 This Cuisinart machine does it all – hot soups, cold smoothies, icy drinks and more. For soups, simply add your pre-cut ingredients and the machine will sauté and blend everything until your soup is ready to serve. This model comes with digital controls, three temperature settings and four speed settings to help you get the soup consistency you prefer.
How much does a soup maker cost?
Soup makers cost roughly the same as blenders, with prices starting from $70 and reaching up to $400 or more, for models with more capacity and multiple pre-set functions. However, it's a relatively small market, with many traditional blenders also catering to the soup market, meaning it may be more of a question as to whether you'll want smoothies and soup, or just soup.
Features to consider when buying a soup maker
While they all do the same job, there are a number of areas and features you should investigate before buying your soup maker, including:
Capacity
Functions & programs
Cleaning
Capacity
One litre of soup is equivalent to about three servings. If you're planning to make a batch for the whole family, make sure your soup maker has at least a 1.5L capacity.
Functions and programs
The more pre-set programs and functions you have, the more options you'll have in terms of consistency and finish. Some soup makers come with a sauté function that allows you to fry some ingredients at the start. Look for models that have various blending options and specific programs for stews, as well as a keep warm function and pause button, in case you want to add ingredients last minute.
Easy clean
Most soup maker parts aren't dishwasher safe, which means you'll have to handwash. Look for a model with comes with a non-stick base and a glass jug (instead of plastic), which should make the clean-up easier. There are also models on the market that come with an auto-clean function!
Is a soup maker worth it?
If you're serious about soup, and more specifically, making soup with minimal effort, then a soup maker is totally worth it. It's as simple as prepping your ingredients and just pressing 'cook' and you can have yourself a batch of soup in 20 minutes, while you watch TV. As mentioned, soup makers can also make smoothies, jams and other foods, which makes them versatile.
On the other hand, if you don't mind spending a little more time in the kitchen, then you're best to stick with making soup using a blender, and save yourself the cost of a soup maker. Blenders cost roughly the same as a soup maker, but have more functionality overall, which provides more bang for your buck. If you're still not sure, check out what brand of blenders Aussie consumers rate via the button below!
Picture credits: Picture credits: Dani Vincek/Shutterstock.com
Original Author: Megan Birot