Is there anything better than a piping hot bowl of soup on a chilly night? Yes! Soup that doesn't come from a can of Heinz. One quick way to make soup is to use a blender to pulverize and blend your ingredients in one go and then heating your concoction on the stove. Or, there's another contraption on the market that can whip up a batch of soup at the simple press of a button – a soup maker. But, is it a must-have, or a waste of cash? We find out.
How does a soup maker work?
A soup maker is an all-in-one appliance that combines various blending functions, to make your soup chunky or smooth (or however you like it), with a heating element or friction blades to cook a batch of soup in about 20 to 30 minutes. Soup makers typically resemble a blender or kettle.
What's the point of a soup maker?
A soup maker takes the hassle out of making soup. It requires minimal time and effort, which is perfect for busy families and anyone who isn't fond of cooking. All you need to do is chuck in your ingredients, add stock and other condiments, sear (if required) and let the soup maker take care of the rest.
Most soup makers have a variety of settings and features to create varying consistencies and textures, or specific recipes, like pumpkin or tomato soup. Basic models typically only have a boiling and blending function with limited consistency settings, which is why most people stick to making soup with a blender.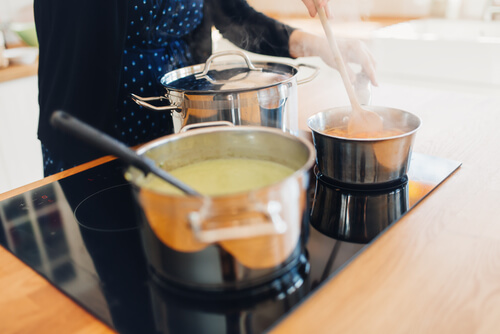 What's the difference between a soup maker and a blender?
Isn't a soup maker just a glorified blender? Yes and no. While you can make soup in a blender, it typically only does about half of the job of blending, but not heating or cooking ingredients. Some blenders do come pretty close though, as some models have a high enough speed setting, that the friction from the blender can heat the soup slowly.
A soup maker works a little differently. It's designed specifically for the purpose of making soup (and smoothies), and uses the friction of spinning blades to heat the soup and blend all your ingredients simultaneously. Soup makers also feature time and temperature settings, so you can set your soup to cook and come back when it's ready. Some soup makers also come with a full-fledged heating element to sauté foods like onions or meat, a keep warm setting and pre-cleaning mode.
Best soup makers and blenders
Looking for a good-value soup maker or blender? Check out our suggestions below:
Kogan Soup & Smoothie Maker: $69.99*
Tefal Soup & Co Blender: $170*
Beko Prowellness Vacuum Blender: $190*
Morphy Richards Total Control Soup Maker: $229*
Cuisinart Blend and Cook Soup Maker: $255*
Kogan Soup & Smoothie Maker ─ $69.99*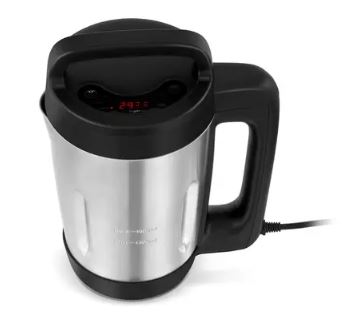 This Kogan soup and smoothie maker is one of the cheapest on the market and is easy to use. It comes with six cooking presets − chunky, medium, smooth, juice/blend, jam and keep warm – a digital display, overfill sensor and a generous 1.7L stainless-steel jug (big enough for a family of four).

Tefal Soup & Co Blender ─ $170*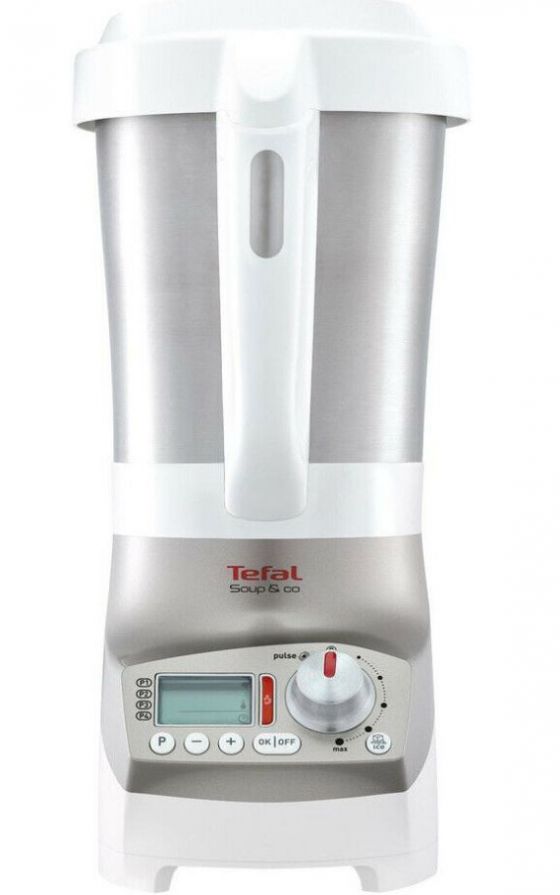 This Tefal Soup & Co model (BL908) is a powerful 2-in-1 cooking and chilling blender, which can make soups, smoothies, dips and all types of spreads. It comes kitted with four automatic programs, a five-speed pulse crushed ice function and very large 2L jug. And the best part? It has a self-cleaning function, which should make washing up a breeze!

Beko Prowellness Vacuum Blender ─ $190*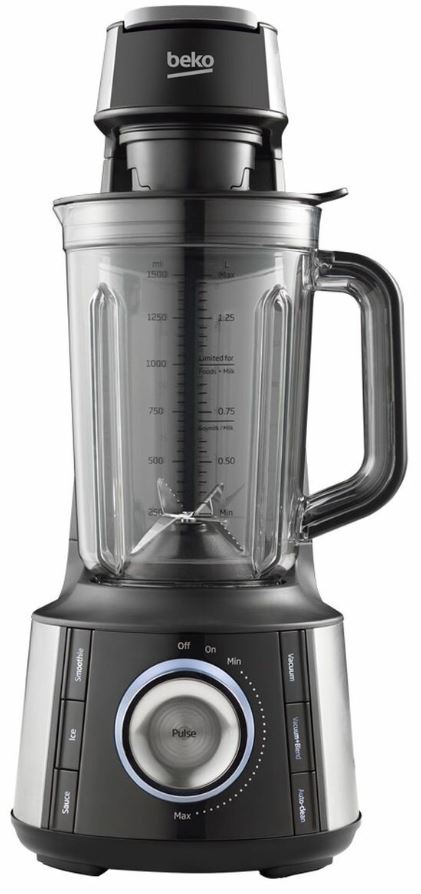 This Beko vacuum blender keeps oxygen out of the equation to help you get the maximum nutrients from your concoctions. It comes with six preset programs, including one to prepare soup; and an auto-clean function and a 1.5L capacity jug. If you're always on the go, you'll also like that it comes with a 700ml vacuum-sealed travel bottle.

Morphy Richards Total Control Soup Maker ─ $229*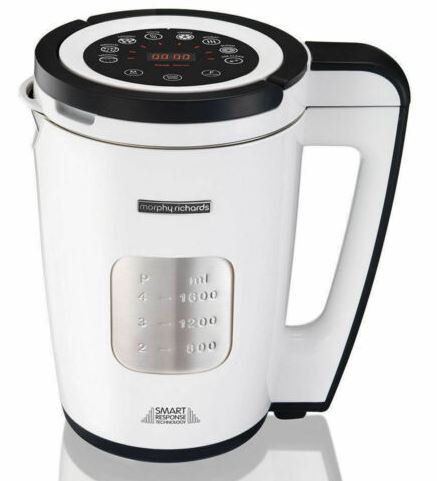 Morphy Richards is arguably the king of soup makers. The Total Control Soup Maker comes with an added sauté and blend function which allows you to make soups and smoothies with minimal effort. It also has a nifty portion control function which automatically tailors your cooking time, as well as other various cooking programs to make smooth and chunky soups, and an easy-clean function.

Cuisinart Blend and Cook Soup Maker ─ $255*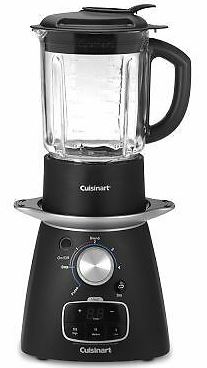 This Cuisinart machine does it all – hot soups, cold smoothies, icy drinks and more. For soups, simply add your pre-cut ingredients and the machine will sauté and blend everything until your soup is ready to serve. This model comes with digital controls, three temperature settings and four speed settings to help you get the soup consistency you prefer.

How much does a soup maker cost?
Soup makers cost roughly the same as blenders, with prices starting from $70 and reaching up to $300 or more, for models with more capacity and multiple preset functions. If you're serious about soup, it may be worth to fork out more for a model which features smart connectivity which will give you access to recipes and cooking tips for your appliance.
Can you put raw meat in a soup maker?
You should pre-cook all meats (including fish) before putting them in a soup maker, because the heat settings on most models simply aren't high enough to cook meat thoroughly. A good way to skip this step is to use any leftover meat from other meals to make a hearty soup. This also reduces food waste. With that said, there are models out there, like the Morphy Richards Total Control Soup Maker, which comes with a heating element that allows you to fry up small quantities of raw meat (less than 200g).
Can you put frozen veggies in a soup maker?
Small amounts of frozen veggies (less than 100g) like peas or carrots, should be ok to go in the soup maker with a hot broth. As a rule of thumb, avoid putting large quantities of frozen veggies in a soup maker, because a) this could damage the blades of your appliance and b) because it could slow the cooking process all together. If you want to play it safe, just let your ingredients fully thaw before popping them in the soup maker.
5 reasons to use a soup maker
#1 − It saves time and effort: Making soup from scratch can be very time consuming. It typically involves chopping up your ingredients and simmering everything using different pots and pans, while keeping an eye on the cooking time etc. A soup maker does all that for you at the press of a button.
#2 − It saves on the washing up: Instead of washing up a frying pan, pots and a blender; all you'll have is a jug and blade to clean!
#3 – It's versatile: Soup makers don't just make soup. They can also make smoothies, milkshakes, batters, dips and even baby food. Blenders still typically have way more functionally though.
#4 – It helps reduce food waste: If you often find yourself with random leftovers in your fridge, making soup is the perfect way to use up that food and minimise waste. Chuck everything in the soup maker, add broth, spices and make yourself a hearty chowder or gumbo.
#5 – It saves space in the kitchen. A soup maker is sleeker and more compact in design than a blender, which means it can fit in even the tiniest of cupboards.
Features to look out for in a soup maker
Capacity
One litre of soup is equivalent to about three servings. If you're planning to make a batch for the whole family, make sure your soup maker has at least a 1.5L capacity.
Functions and programs
The more preset programs and functions you have, the more options you'll have in terms of consistency and finish. Some soup makers come with a sauté function that allows you to fry some ingredients at the start. Look for models that have various blending options and specific programs for stews etc, as well as a keep warm function and pause button, in case you want to add ingredients last minute.
Easy clean
Most soup maker parts aren't dishwasher safe, which means you'll have to handwash. Look for a model with comes with a non-stick base and a glass jug (instead of plastic), which should make the clean-up easier. There are also models on the market that come with an auto-clean function!
How long does it take to make soup in a soup maker?
From start to finish, it should take you roughly 20 to 30 minutes, depending on your cooking/blending setting. Chunky soup typically takes the longest to cook. Making soup using a blender takes maybe 10 or 20 minutes more.
Chicken soup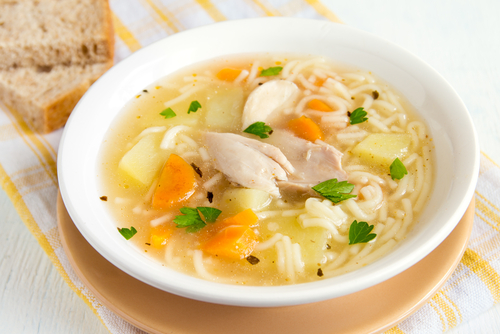 Ingredients
Instructions
200g of cooked (shredded) chicken

2 crushed garlic cloves

1 chopped onion

200g of potatoes (scrubbed and diced)

Chicken stock (1L)

Cooking cream (optional)

Add all the ingredients in the soup maker

Set your cooking function to 'smooth' and let it simmer until the potatoes have turned soft (20 mins)

Add cooking cream for extra flavour
Tomato soup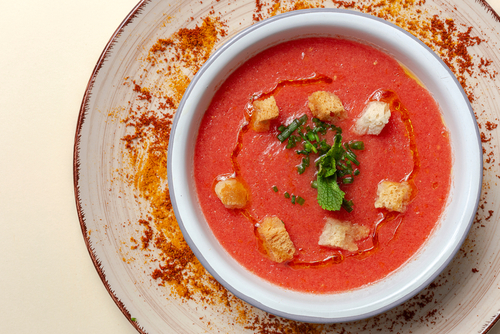 Ingredients
Instructions
1 tbsp of butter

10 fresh tomatoes

1 chopped onion

Vegetable stock (800ml)

Melt butter in soup maker

Add your chopped onion and let it simmer

Add your diced tomatoes and vegetable stock

Set your soup maker to 'smooth'
Is a soup maker worth it?
If you're serious about soup, and more specifically, making soup with minimal effort, then a soup maker is totally worth it. It's as simple as prepping your ingredients and just pressing 'cook' and you can have yourself a batch of soup in 20 minutes, while you watch TV. As mentioned, soup makers can also make smoothies, jams and other foods, which makes them versatile.
On the other hand, if you don't mind spending a little more time in the kitchen, then you're best to stick with making soup using a blender, and save yourself the cost of a soup maker. Blenders cost roughly the same as a soup maker, but have more functionality overall, which provides more bang for your buck.
Picture credits: Picture credits: Dani Vincek/Shutterstock.com, NDAB Creativity/Shutterstock.com, Oksana Mizina/Shutterstock.com, Eduardo Lopez/Shutterstock.com.