Whether you're taking a shower or a sip, it can be easy to forget that water comes with a price tag. And while most Australians have been taught to conserve our most precious resource from a young age, it's not until you get much older and a water bill lands in your mailbox that you may realise that being mindful about your usage could save your wallet, too.
With so much jargon on utility bills, it can be tempting to just pay the due amount and call it a day, but we at Canstar Blue want you to understand what exactly it is you're paying for. Here's our guide to understanding your water bill.
Compare Electricity Plans
Water Suppliers vs Retailers
It may seem a bit confusing, but it's not always the case that you're paying your water bill to the same people that source the water. For example, in South East Queensland, SEQ Water is the company responsible for supplying water from sources including dams, desalination plants and weirs, at which point three retail companies distribute it across the region. However, this varies between the states and it could be the case that the supplier and retailer are in fact the same in your area.
Who do I pay my water bill to?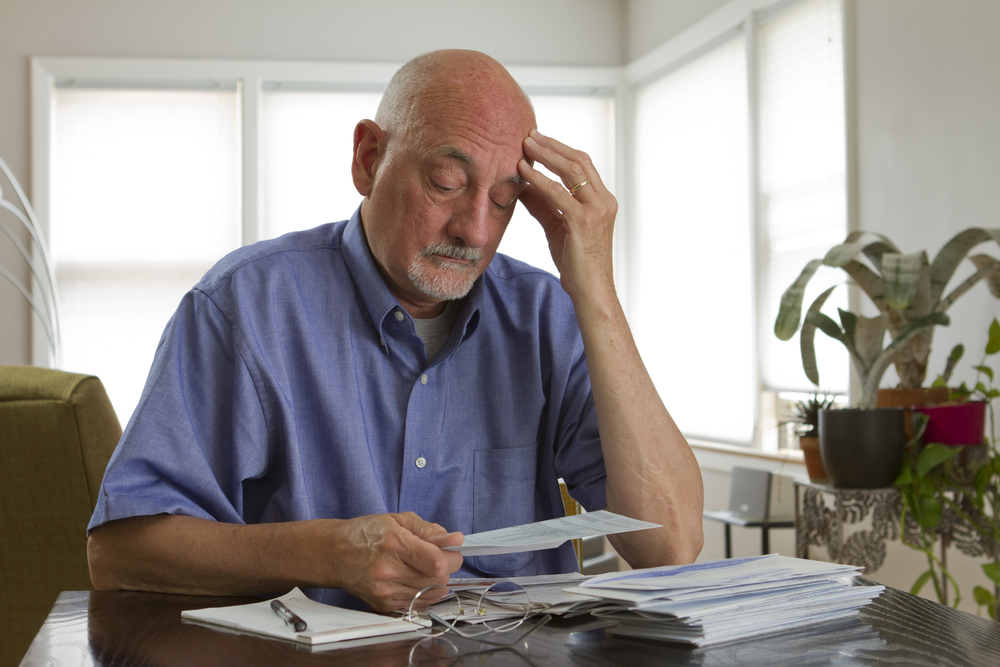 Where your water bill payment goes should be made clear to you upon entering a new living situation. In most cases, your landlord, solicitor, conveyancer or real estate will alert you of how you'll pay your bill. So, for example, when purchasing a home, the conveyancer will contact the water utility company responsible and let them know who to bill to. In rental situations, it's often the case that water is included in the rent amount, but if it isn't, then your landlord or real estate should send you a bill. The good news is that renters aren't responsible for the whole bill, rather just the usage charges in most cases.
Here's a list of the water retailers broken down by state and region, so you know who to contact about your supply or billing if need be.
NSW Water Companies
There are more than 90 different water service providers in NSW. Whilst Sydney Water may cover a good majority, with more than four million customer accounts, it's local councils that are responsible for water distribution in regional areas. Here are a few of the main retailers, but to view the full list visit the NSW Department of Industry website.
Sydney Water (Sydney, Illawarra, Blue Mountains)
Hunter Water (Lower Hunter)
Albury City Council
Armidale Regional Council
Ballina Shire Council
Bathurst Regional City Council
Byron Shire Council
Central Coast Council
Cobar Shire Council
Coffs Harbour City Council
Cowra Shire Council
Dubbo Regional Council
Goulburn Mulwaree Council
Griffith City Council
Kempsey Shire Council
Lismore City Council
Lithgow City Council
Murray River Council
Orange City Council
Port Macquarie-Hastings Council
Queanbeyan-Palerang Regional Council
Shoalhaven City Council
Snowy Valleys Council
Tamworth Regional Council
Tweed Shire Council
Upper Hunter Shire Council
Wagga Wagga City Council
Yass Valley Council
Victoria Water Companies
There are 16 water companies in Victoria, with three retailers supplying the largest population of the state. Government-owned Melbourne Water is the supplier/wholesaler taking care of most of Victoria's residents.
City West Water (Melbourne, Brimbank, Hobsons Bay, Moonee Valley, Wyndham)
South East Water (Melbourne, Mornington Peninsula, Dandenong, Bunyip, Lang Lang)
Yarra Valley Water (Melbourne, Tullamarine, Whittlesea, Yarra Ranges)
Barwon Water (Geelong)
Central Highlands Water (Ballarat)
Coliban Water (Bendigo)
East Gippsland Water (Bairnsdale)
Goulburn Valley Water (Shepparton)
Gippsland Water (Traralgon)
GWM Water (Horsham)
Lower Murray Water (Mildura)
North East Water (Wodonga)
South Gippsland Water (Foster)
Wannon Water (Warrnambool)
Western Water (Sunbury)
Westernport Water (Phillip Island)
Queensland Water Companies
Queenslanders have upwards of 70 utility companies and councils which take care of water bills. In south east Queensland, there are far fewer, with QLD Urban Utilities taking care of a good portion of the whole population. Households in regional areas should be in touch with their local council to manage water supply.
QLD Urban Utilities (Brisbane, Ipswich, Lockyer Valley, Scenic Rim and Somerset)
Unity Water (Sunshine Coast and Moreton Bay)
Gold Coast City Council
Bundaberg Regional Council
Central Highlands Regional Council
Fraser Coast Regional Council
Gladstone Regional Council
Gympie Regional Council
Logan City Council
Mackay Regional Council
Moreton Bay Regional Council
Redland City Council
Rockhampton Regional Council
Toowoomba Regional Council
Whitsunday Regional Council
South Australia Water Companies
In South Australia, one state-level water utility, SA Water, takes care of most of the state, in both water supply and distribution. This includes metro areas such as Adelaide, as well as Kangaroo Island, the Barossa and the Eyre Peninsula.
Western Australia Water Companies
From Geraldton to Perth to Broome, Western Australia has just one water utility company, The Water Corporation. This company takes care of both sourcing and distributing water all across the state.
ACT Water Companies
In the ACT, there's just one company that owns and operates the water and sewage assets in the territory. This utility is called Icon Water.
Northern Territory Water Companies
The Northern Territory has one state-level company, Power and Water Corporation, covering both electricity transmission and distribution as well as water and sewerage services.
Tasmania Water Companies
Tas Water is responsible for the treatment of sewage and distribution of water for the majority of Tasmanians. This includes, but is not limited to, Hobart, Launceston and Devonport.
How to read a water bill
No two water bills will look exactly the same, but there are a few tidbits of information that all must have. We've used a bill from Unity Water in Queensland to help explain what it is you're looking at when it comes to your water bill.
Account and billing information
Account number: The number you'll use to identify your account when contacting your water provider for help.
Payment reference: Comes in handy if you're paying your bill manually.
Property: Your address.
Bill number: A number assigned to your bill, to help a representative find your specific bill if there's a discrepancy.
Billing period: The time period you're being charged for this bill.
Issue date: When your bill was sent to you.
Next meter reading: You can expect your next bill shortly after your next meter reading.
Due date and amount
A summary that lets you know if anything is due from your last bill, as well as the total of your new bill. In this case, direct debit payment has been set up, meaning that on April 15, the total charge of $331.61 was taken out of this person's account.

Water usage tracking information
Most water bills will also allow you to compare your current water usage with your past bills, as well as what others in your region are using, according to household size. In this example, this household can see how their daily usage (in litres) has changed over the year, and that their usage is slightly high for a two-person household, and slightly low for a three-person home.

Payment options
For those that prefer to BPAY, the information for that is often found here. This section will also reveal some other popular options for payment, including bill smoothing. More often than not this section will prompt you to go online to learn more about your payment options.

Water meter details
Properties generally have water meters out the front of them, which is read by your water utility company every few months. This displays a number on it that allows your water provider to see how many kilolitres (kL = 1000L) you've used since your last meter read.
Meter ID: The number assigned to your water meter.
Previous read date/reading: When your water meter was read last, and what amount was displayed on the meter at that time.
Current read date/reading: When your water meter was read recently, and the updated amount on the meter at the current time.
Usage (kL): The amount of kL from your current reading subtracted by the number of kL from your current reading, revealing how much you have used this billing period.
Number of days: How many days since your last meter reading.
Average daily usage: Your total usage in kL x 1000, divided by the number of days reveals how much your daily usage is in litres.

Water charges
Water charges work much like electricity bills in that you'll pay for your usage, and you'll pay for your supply.
State bulk water price: This is the amount the state government charges your power company to purchase water for supply to customers. This is set by the state government and your retailer is legally required to pass this cost on. This bill example is specific to Queensland, so your bill may not have this charge.
Variable usage charges: Usage charges are considered variable due to their tiered nature. This means that up to a certain amount, you'll pay one rate for your water, with this increasing if you go above a certain threshold. In this case, this person sits well under the threshold of 822L of water usage a day. Sewerage charges are estimated as about 90% of your average daily water usage, and are charged at the same rate as your water usage. Again, this charge is tiered.
Fixed access charges: Making up a large amount of your bill, this is what you'll pay to keep your property connected to the water network. It factors in everything from water supply to sewerage infrastructure.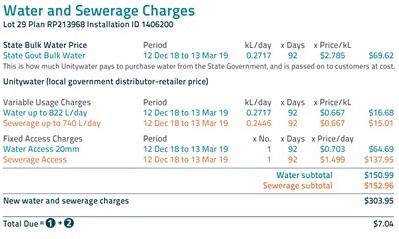 How often do you get water bills?
It is up to your water company to set how frequently you receive water bills. In some areas, your water meter may be read monthly, and in others, as infrequently as biannually. Many water retailers and councils across Australia will, however, bill quarterly – much like most electricity bills.
If you haven't received a water bill in a while, it's still a good idea to get in contact with your water provider or landlord so you're not stuck paying a large accumulative cost. If you've just moved into a new place and are unsure who your water retailer is, refer to the list above.
What's a normal amount to pay for water?
How much you pay for water is dependent on either how much you're using, or your living situation. Home owners will pay more than tenants as they'll be expected to cover any sewage service costs or stormwater drainage costs. However, a large chunk of your bill will come from your usage costs, which is determined by how much water you use.
Water companies often keep customers in the loop as to how much water they're using in comparison to other homes in their area, to give households a push to ramp up conservation efforts if need be. It's not uncommon for households to use more water in the summer, so you may receive a slightly larger bill over that period.

Image credits: 5 Second Studio/shutterstock.com, Burlingham/shutterstock.com, unitywater.com