Aussie Broadband Carbon Platform: Canstar Blue Innovation Award Winner
After receiving last year's Canstar Blue Innovation Excellence Award for telecommunications for its game-changing MyAussie app, Aussie Broadband is back in 2021 with a similar product, this time aimed at business and enterprise customers alongside managed service providers. Aussie Broadband's Carbon platform offers customers a user-friendly portal for managing and ordering business telco services, saving business owners time and money and delivering a level of account control as yet unmatched by competing phone and internet providers.
What is Aussie Broadband's Carbon?
Designed to streamline telco operations for businesses of varying sizes, Carbon is a free self-service portal that allows business owners and ICT managers to control all their Aussie Broadband services from one central location.
Originally launched in May of 2020, Carbon was pioneered by the same in-house team behind the MyAussie app for residential NBN customers, and offers a similar level of account control and customisation, as well as self-help options and diagnostic tools. Aussie Broadband engineered Carbon to tackle some the biggest pain points experienced by business and enterprise customers, and the company believes they are the first telco in Australia to offer account features and self-service at this level.
Carbon takes the wait time and confusion out of ordering new services, with products such as business NBN, data centre connections, phone system and cloud services all available to order directly and with transparent pricing. Rather than wait for months to order and receive new business services, Carbon users can access free quotes, place their own orders, and control everything from hardware dispatch to service activation all from one central portal.
In addition to simplifying and shortening the ordering process, Carbon also provides users with a bevy of features for managing existing services, as well as handling billing and troubleshooting issues without the need to call customer support. Users can apply their preferred custom configurations to business telco services, which is especially useful for enterprise customers looking to build and manage their own networks and cloud platforms.
Even smaller businesses can make use of Carbon's self-serve features. If you're experiencing connectivity issues, Carbon also allows customers to run diagnostic tools, check data such as bandwidth and CVC capacity at their service's POI, and even 'kick' their connection directly from the portal. Likewise, businesses can quickly access all their account and billing information, as well as notifications and support tickets, and receive additional assistance via Carbon's 24/7 live chat.
Carbon is a 100% free service that is available to all Aussie Broadband business and enterprise customers. Interested business owners and IT managers can request a free demo directly from Aussie Broadband, and create their own free account on the Aussie Broadband site.

Why do we like Aussie Broadband's Carbon?
Carbon was pioneered by Aussie Broadband Managing Director Phillip Britt, in response to what he felt was a growing need in the business telecommunications sector. The development of Carbon – and the comprehensive list of features available on the platform – sees Aussie Broadband continue to prioritise the customer experience, this time at the business and enterprise level.
By providing business customers with access to the same systems used by Aussie Broadband staff, the telco saves time not only for customers themselves, but also for its call centre employees and account managers. As with the residential MyAussie app, the Carbon service places an unprecedented level of control directly into customer hands, and takes the frustration out of managing the often complex product structure required to support businesses of varying sizes.
"Aussie Broadband's second Innovation Excellence Award win shows that the telco isn't slowing down when it comes to offering customers new and unique account management options," said Canstar Blue Telco Editor, Tara Donnelly.
"By providing business customers with a free, user-friendly and centralised portal in Carbon, Aussie Broadband makes account management simple and hassle-free. The focus on self-service troubleshooting and product ordering also takes the pressure off Aussie Broadband's customer support centres, making Carbon a win for both customers and employees alike."
Aussie Broadband NBN Plans
The following table shows a selection of published unlimited residential Aussie Broadband plans on Canstar Blue's database, listed in order of standard monthly cost, from the lowest to highest. Use our comparison tool to see plans from a range of other providers. This is a selection of products with links to a referral partner.
What are our Innovation Excellence Awards?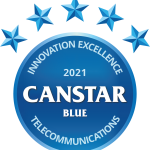 Canstar Blue's Innovation Excellence Awards involve a sophisticated rating methodology, unique to Canstar, which compares submissions we receive from Telecommunications and Energy institutions throughout Australia. Canstar Blue's Innovation Excellence Award winners represent a selected group of innovative products within the Energy and Telecommunications industries over the most recent year which have all been reviewed, assessed and ranked based on the degree of innovation and impact it could have on consumers.
Innovation Awards Methodology available on request.