The best dating apps and sites in Australia for 2022

Fact Checked
Romance is in the air (or rather, in the digital clouds) as app and website developers take up the role of a modern-day Cupid, matching Australians based on similar interests and preferences in a partner. But while many companies attempt to put a true price on love in the form of a weekly, monthly or annual subscription, there area few free options to help you fall in love, and not into debt.
To help you find the best fit for you, we've listed a range of dating apps and dating sites to help you strike a win. But if you're looking to cut to the chase, check out our ratings on dating apps to see which one might make the perfect couple with you.
On this page
Free dating apps
It can be hard to put a price tag on love, but thankfully there are a number of free dating sites and apps that allow you to peruse eligible matches without breaking the bank – allowing you to save more money to spend on the date! Free dating apps and sites available in Australia include:
Tastebuds
Happn
Plenty of Fish
Wingman
Bumble
Tinder
Clover
Zoosk
Silver Singles
Hinge
Coffee Meets Bagel
Grindr
Her
Snack
Facebook Dating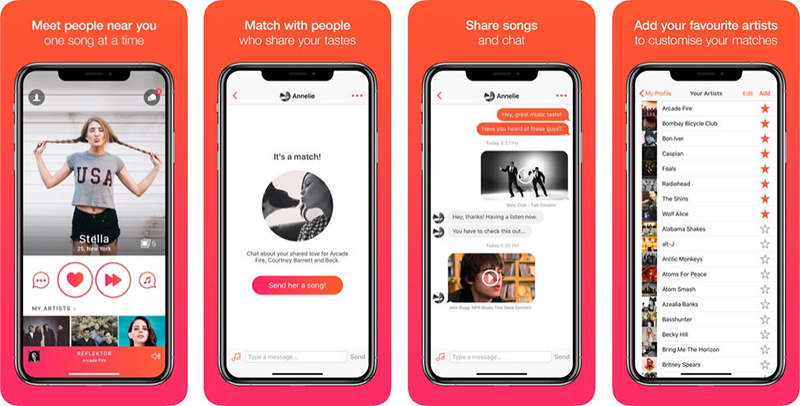 Tastebuds
Honesty is one of the hallmarks of a good relationship, so why not start off strong by finding someone with a music taste as refined as yours. Meet friends and concert buddies, as well as romantic partners, by saving tracks from your Spotify profile and scanning your iPhone music library to see who's singing along to the same tune. You can also send someone a song to break the ice… ice baby.
You will love this dating app if: You want a multipurpose app that goes beyond the world of dating and can be used to build fulfilling relationships in other aspects of your life.
Does this have a Premium or Paid version? No, there doesn't appear to a paid version of the app.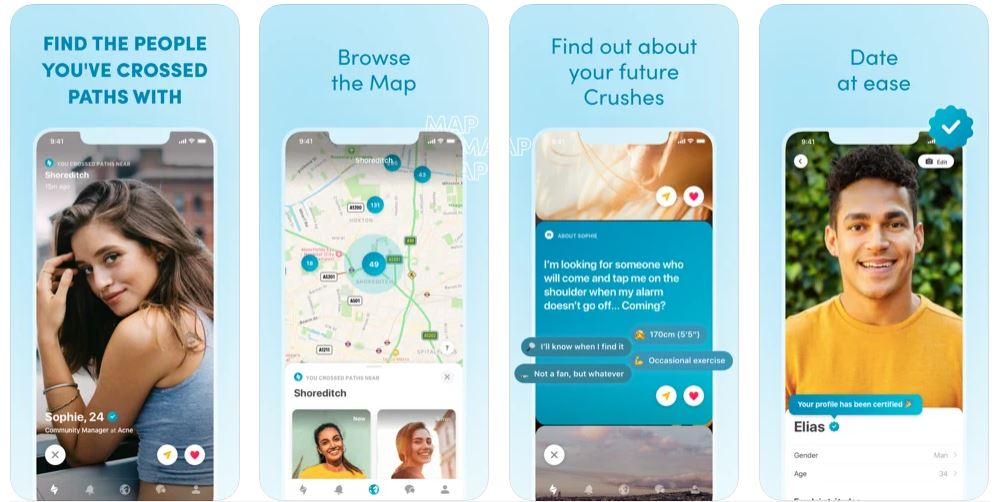 Happn
What if the person you bumped into at the supermarket that one time was your soulmate? Picturing long walks on the beach with your barista after bonding over old Disney movies? Well, it must be fate because there's now a location-based dating app designed to help reconnect people who have crossed paths and want to see what could have been. Happn suggests users you've encountered, or are likely to pass, in real life.
Each person's location is hidden, and only an approximate address of where you two were spotted near each other is saved and tracked on a map only you can view. The number of times you and another user have crossed paths can be seen on their profile. Facebook Connect can also be used to show mutual friends and common interests, as well as prevent fake profiles.
Find someone you fancy, but too nervous to say anything? Like them secretly with the Heart button: they won't find out, unless the interest is mutual. If you want to be noticed, hit them with one of your limited 'Charms' to send them a notification. Is someone blowing you kisses that you would rather swat back? Just click the Cross button on a person you don't like. And don't worry, conversations can only start if both users are interested.
You will love this dating app if: You want to meet people face-to-face and limit searches to people near you.
Does this have a Premium or Paid version? Yes, Happn has a Premium version, with one, six or 12-month subscriptions available. You'll get an ad-free experience, as well as unlimited likes, the ability to add additional information and criteria, as well as get a list of who's liked you.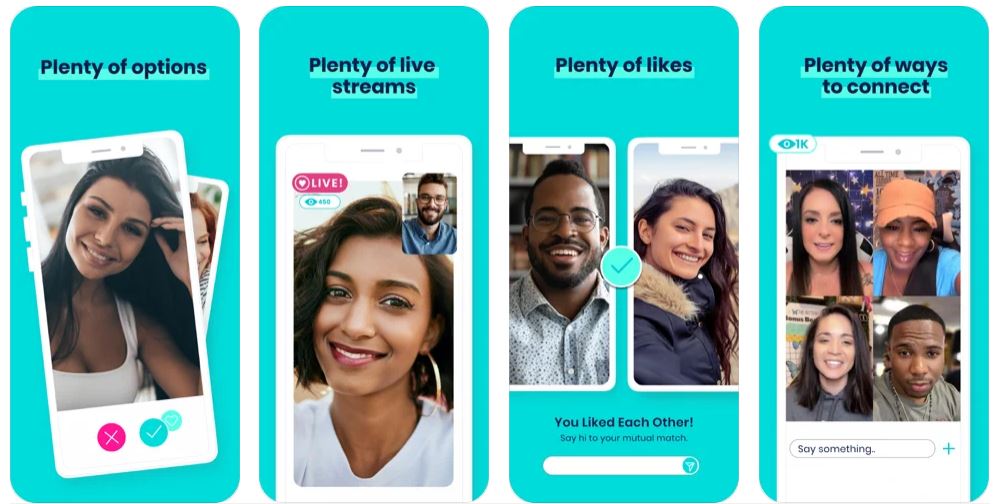 Plenty of Fish — POF Dating
Let's face it – internet dating looks about as friendly as a Jaws film. There may be plenty of fish in the sea, but there's also just as many weeds to swim through. Plus, there's rarely any guarantee that the person on the other side will actually reply. Get back to the basics of dating with Plenty of Fish (POF), a free app which claims to encourage conversation… unlike other online dating services. Upgraded memberships are available to purchase, although POF doesn't fish for paying members as much as certain dating apps.
You will love this dating app if: You're tired of getting matched with interested users who don't end up responding in conversations. It's also recommended for people who want a big pool of singles to choose from and a variety of ways to interact with other people.
Does this have a Premium or Paid version? Yes, POF has an 'Upgrade' option, allowing you to upload more images, find out more about potential matches, know who's viewed your profile and get an ad-free experience. You can alternatively buy Tokens or Live Credits for additional exposure, although POF doesn't list prices on its website.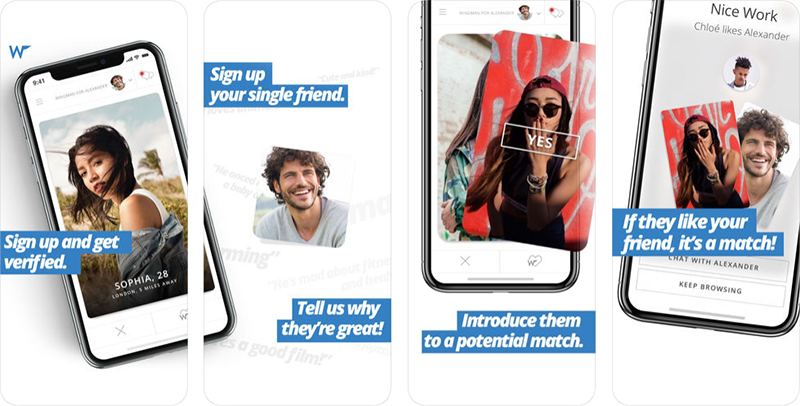 Wingman
Ever think your best mate can do better when it comes to romance? Help your single friend raise their dating game by inviting them onto Wingman by either scrolling through your contacts list or typing in their number. From there, you can create your mate's profile on the free dating app and start browsing the feed to see who the app recommends your friend should check out. Keep in mind that your single friend will need to approve whatever you've written. Once someone has caught your eye, just swipe right to bring the two potential lovebirds together. A match is created when the two single individuals have shown their interest in each other.
If you're the one looking for love, you can introduce yourself or get your wingman (or wingwoman) to step in for you. You can also add multiple people to be your wingman.
You will love this dating app if: You're new to online dating or a bit shy with meeting new people.
Does this have a Premium or Paid version? Yes, Wingman has in-app purchases available as part of a 'Premium' version.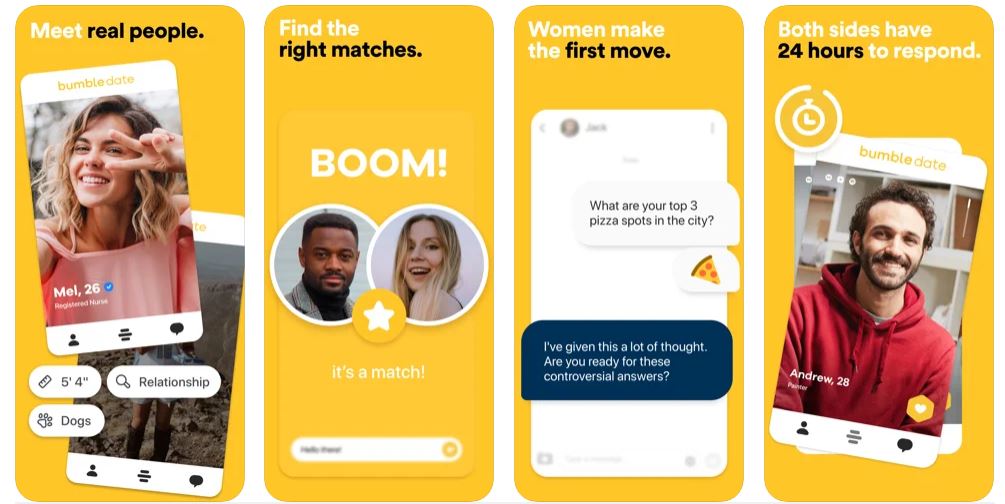 Bumble
Next to Tinder, Bumble is the latest buzzword in the online dating community. The free dating app was one of the first digital matchmaking services to let women call the shots, empowering ladies to build meaningful relationships in what is said to feel like a much safer environment. If you need to take a break from chat up lines and pictures of guys with their dog on Bumble Date, the dating app also offers avenues to build professional relationships and friendships through the Bumble Bizz and Bumble BFF modes. Monthly subscriptions are available.
You will love this dating app if: You're confident with starting conversations and want an app to help you build different types of relationships.
Does this have a Premium or Paid version? Yes, Bumble has a Premium version, as well as in-app purchases such as Bumble Boost, SuperSwipe and Spotlight, allowing you to increase your exposure, get additional swipes, see who likes you, rematch with expired swipes and Travel Mode.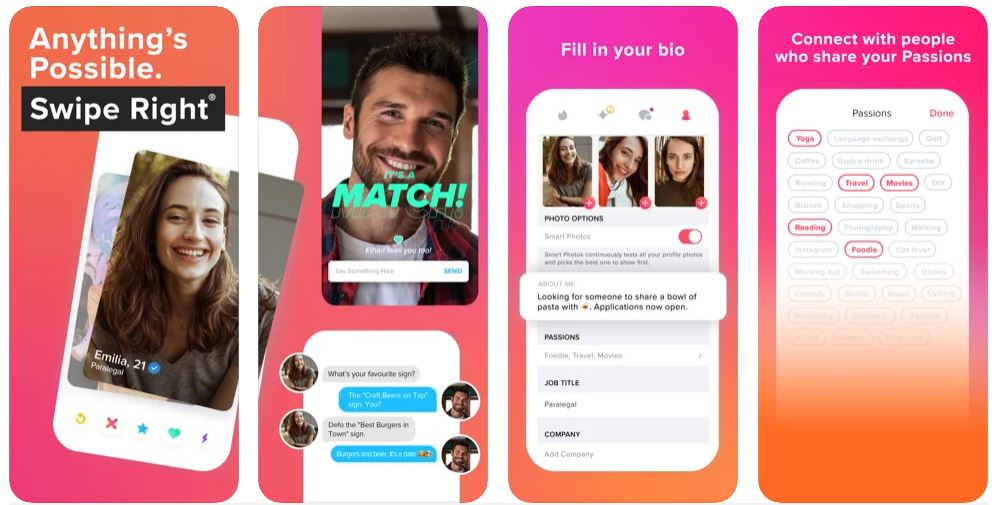 Tinder
This list of dating apps wouldn't be complete without Tinder, the online matchmaker that got 'swipe for love' trending. If you believe in love at first sight, Tinder allows users to pick potential partners based on location and what they believe is their best profile picture. Chat functions only become available if both singles are interested.
But due to the massive popularity of the app and the fact there's no cap on the amount of people a person can show interest in on any given day, Tinder might be a little overwhelming. Only a small ratio of your compatible matches might actually respond, despite showing interest. and not every account is a legitimate suitor.
You will love this dating app if: You want more options to increase your chances at finding 'the one', even if it means coming across serious duds.
Does this have a Premium or Paid version? Yes, Tinder has multiple paid subscriptions, including Tinder Plus, Tinder Gold and Tinder Platinum. Each has an increasing range of features, from unlimited likes to seeing who likes you to even messaging before matching.

Clover
Forget about picking petals to figure out whether "he loves me, he loves me not". Instead, pluck what you want from a partner by filtering everything from age and location, to relationship type, dress style, occupation, job type and personality type. Set up dates with On-Demand Dating, join mixers to meet other singles with common interests, attend parties and online meetups, browse through photos of singles near you. Plus, unlike some dating apps, Clover isn't just limited to straight folks. It's LGBT-friendly and can also be used by anyone looking for bisexual, lesbian or gay dating.
You will like this dating app if: You're attracted to a specific type or person, or have a pretty clear picture of who your dream partner should be.
Does this app have a Premium or Paid version? Yes, Clover offers a weekly, three-month or 12-month subscription, although all prices are listed as USD on the website.

Zoosk
The company uses what is described as Zoosk's Behavioural Matchmaking technology, which is said to learn from all the members who use the service in order to "better deliver matches in real time". Zoosk is available as a variety of apps specifically designed for iPhones, Android devices and Facebook. Users can also use Zoosk messenger to chat up singles.
One unique feature on Zoosk is the fact it actually reviews photos to prevent users coming across inappropriate images or fake accounts, which some dating apps have a reputation for having. There's also the option of revealing the industry you work in and your income on your profile. But basic details you need to give include your postcode, height, ethnicity, body type, whether you have children and smoking status.
You will love this dating site and app if: You want to join a dating site or dating app that's pretty easy to use.
Does this app have a Premium or Paid version? Yes, Zoosk offers four subscription plans, including a monthly, three-month, six-month and 12-month plan, with costs equating to between $14.95 to $34.95 per month depending on the plan.

SilverSingles
If you're over the age of 50 and looking for a serious relationship, SilverSingles is a mature dating site designed for those who would rather not waste time decoding emojis or wait four hours before texting back for the sake of 'playing it cool'. One of the major benefits of SilverSingles is how it offers an online community of singles who the brand claims "understand your stage of life and are looking for a partner to enjoy it with". This service is available in both website and app form, and can be downloaded on iOS and Android devices.
You'll love this dating site if: You are reluctant to getting back into the dating game after ending a long-term relationship.
Does this app have a Premium or Paid version? Yes, Silver Singles has a Premium version, which gives you full access to the features, including unlimited access to others profiles, the ability to create a more detailed profile and a search function. There is a three-month, six-month and 12-month plan available, with costs equating to between $49.95 to $89.95 per month.

Hinge
Are you a firm believer in the motto "don't judge a book by its cover?" Unlike many other dating apps, Hinge actually tries to give you an insight into someone's personality. Aside from their age, height and location, each profile requires six photos and answers to three statements. Some of these questions include: "The hallmark of a good relationship is…", "Weirdest gift I've ever given or received…", "I get along best with people who…", "Biggest risk I've taken…" and "I'm weirdly attracted to…". You can also view a person's Instagram from their profile, but only if the person chooses to link it. Users can similarly choose whether to reveal if they drink, smoke or take recreational drugs, as well as say how often.
Show interest in someone by taping on the 'heart' to like a person's answer or picture. But be warned, unless you're a Preferred Member, you only have a limited amount of 'hearts' to give.
You will love this dating app if: You prefer to get to know someone before deciding they're 'the one'… or not.
Does this app have a Premium or Paid version? Yes, Hinge allows you to upgrade to a Preferred Membership, as well as offers in-app purchases for additional Roses and Boosts. Preferred Membership allows for additional criteria and information to be added to your profile, and an unlimited number of likes.

Coffee Meets Bagel
Have your previous dates seemed a bit… vanilla? Coffee Meets Bagel aims to make the perfect pair by suggesting compatible singles near you. Similar to most dating apps, tap the 'heart' to show your interest or hit the 'x' button to pass. Get to know who's around you with details about someone's height, ethnicity, religion, job title, employer and education.
Unlike a number of dating apps, Coffee Meets Bagel allows you to pick from a general list of local users in Discover or a smaller group of singles recommended by the app. But depending on where you live and the popularity of the dating app in your area, the amount of tailored suggestions may be a bit low and take a while to refresh with a new batch of potential partners.
You will love this dating app if: You want a greater chance of finding someone who is truly interested in you, and avoid matching with someone who plays fast and loose by saying 'yes' to anyone and everyone.
Does this app have a Premium or Paid version? Yes, Coffee Meets Bagel offers a Premium Subscription, which allows you to see all of your likes, a monthly profile boost and other features.

Grindr
Marketed as 'the largest social networking app for gay, bi, trans and queer people', Grindr is often the go-to for gay and bi-men looking for a partner or friendship group. Working similarly to other dating apps by showing users in a close radius, Grindr also allows you to send messages, images and videos once you've matched. You can click on a profile, and 'tap' another member, which allows you to send an emoji reaction to indicate your interest. You can filter the people you see, and use the 'Explore' feature to look for matches in other cities, allowing to plan any meeting in advance if you've got some travel coming up.
You will love this dating app if: You're looking for a gay or bi partner, or are looking for matches in other cities.
Does this app have a Premium or Paid version? Yes, Grindr has an Unlimited Premium account, which features zero ads, unlimited profile views, incognito mode as well as the chance to search profiles from around the globe.

Her
Operating similarly to Grindr, Her is focussed on the gay, bi and LGBTQ+ community for women, and offers 16 sexualities and 18 gender identities to ensure people feel included. And if you're not looking to date, Her also offers a social networking aspect, allowing you to meet people and attend local queer events. You can filter for what you're looking for, with the app's foundation based around inclusiveness and creating a safe space for all.
You will love this dating app if: You're looking for an inclusive LGBTQ+ space for women, or are looking for local queer events in your area.
Does this app have a Premium or Paid version? Yes, Her offers a Premium subscription, with monthly, six-month and 12-month subscriptions available, although prices are listed as USD online.

Snack
Not your average dating app, Snack is part Tik Tok as it is Tinder, with its premise centred around users creating videos to showcase their real self. Marketed as something that your parents wouldn't understand, you don't swipe left or right, instead view your potential matches in a vertical newsfeed, allowing you to 'like' videos and see if you're a match. However, the app is only available on iOS, meaning Android users may miss out.
You will love this app if: You enjoy Tik Tok, or are looking for something different to the traditional 'swipe right/left' market.
Does this app have a Premium or Paid version? There's no indicator on the Snack website as to whether there is a paid version and what, if any, additional features may be included.
Facebook Dating

Yep, you read correctly, the social media site Facebook has a dating side. Already part of the Facebook app, you can create a Dating profile from the Menu, allowing you to use your current Facebook profile as the foundations for your account, and add more information to help you find a match. Don't worry though, your Dating profile is completely separate from your personal profile, meaning there's a bit of privacy involved, with only a slim chance of bumping into someone you already know. While there's currently no desktop version available, Facebook Dating is completely free, ideal for those who only want to dip a toe in the dating market.
You will love this dating app if: You enjoy convenience and aren't looking to download an additional app, and if you already spend a bit of time on Facebook anyway.
Does this app have a Premium or Paid version? No, there is no Premium or upgradable version of Facebook Dating, meaning you get everything from the get-go.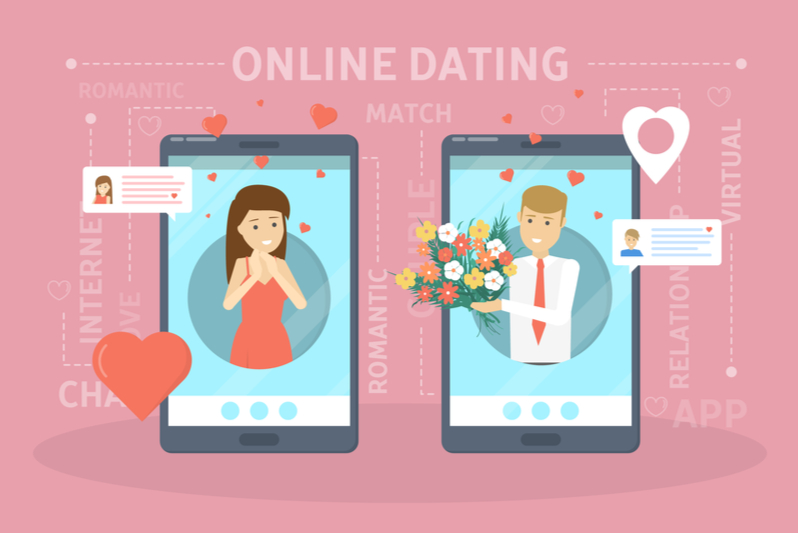 Free dating sites
If you're not a fan of apps, what's the market like for dating sites in Australia? There are a number of dating sites available, many of which have app versions available to help you keep in touch with matches while on the go, but those after a desktop dating site might be interested in:
eHarmony
RSVP
EliteSingles
eHarmony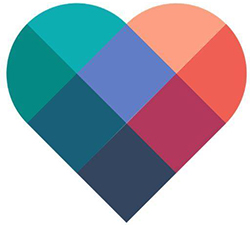 eHarmony says it does its homework to help singles find their ideal partner. The site claims to match people by using supposedly 'decades of research' into long-lasting relationships, plus questionnaires designed to 'learn about you and what you're looking for'. Users can also filter preferences to include things like location, how far you're willing to travel, and whether you would consider moving for the right partner, whether you're comfortable with a smoker and the importance of religious faith.
But while eHarmony is mostly free to use, there are subscriptions available. This allows you to stay in the top spot for 24 hours for all your matches with Spotlight, as well as keep the mystery by turning on Incognito to check of all your matches anonymously. Plus, purchasing the premium service allows you to see who has visited your profile, as well as view photos and send unlimited messages. Although unlike some dating apps, eHarmony claims it won't pressure you into paying for anything.
You will love this dating site if: You're looking for a long-term relationship but have some deal breakers you're not keen on fixing later on.
Does this site have an app? Yes, eHarmony has an app for both iOS and Android operating systems, which is free to download.
RSVP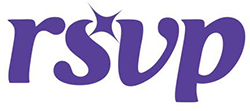 RSVP might just be the Tinder of the dating site world, reserving a spot as one of the original online match-making services since launching on Valentine's Day in 1997. It describes itself as "the largest and most trusted singles site in Australia", and welcomes apparently 30,000 new members every month. The Australian-owned site promises a local customer support service through its live website chat and email seven days a week. RSVP is available as a web app as well as a dating app for iPhone and Android users.
You'll love this dating site if: You want a big database of single users to choose from and don't want to waste time on new dating apps that are still fixing glitches.
Does this site have an app? Yes, RSVP has an app for both iOS and Android operating systems, which is free to download.
EliteSingles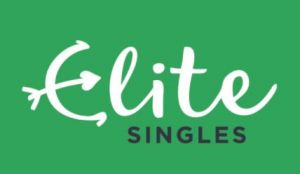 The name might seem a bit snobby, but EliteSingles' premise is that the majority of its database of users have a university-level education, with the matching algorithm also based on a personality test that you take when you first sign up. You rank how important certain factors or situations are, allowing you to hone in on what's crucial for your partner to have, with both a free and Premium version available. The free version allows you to view your personality test results, send smiles and likes, upload photos and receive partner suggestions, while Premium members can see who's visited their profile, send and receive an unlimited number of messages and get more exposure to other potential suitors.
Does this site have an app? Yes, EliteSingles has an app for both iOS and Android operating systems, which is free to download.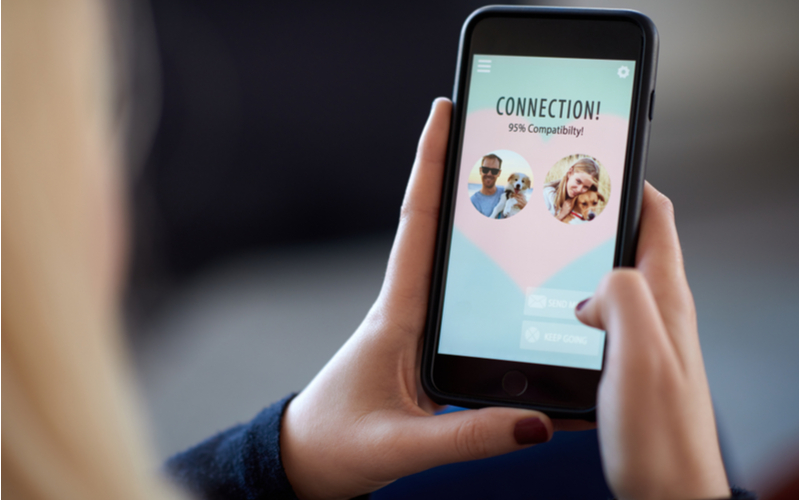 Paid dating apps & sites
They say nothing good comes for free, which might be why many internet dating sites and dating apps rarely shy away from the idea of eventually becoming friends with 'extra' benefits. Paid memberships typically provide so-called 'premium' features that generally remove ads, offer unlimited messaging, and access to features that are usually unavailable to non-paying members. That's why many of these dating apps and dating sites offer free trials or unpaid versions as an alternative. Paid dating apps and sites include:
Happn
Plenty of Fish
Wingman
Bumble
Tinder
Grindr
Her
Clover
Zoosk
SilverSingles
Hinge
Coffee Meets Bagel
Raya
What is Raya?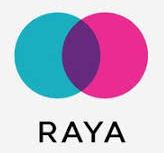 Jokingly referred to as the 'Illuminati Tinder', Raya is a private, membership-based dating app that's primarily known for being a dating app for celebrities and high-profile names. It's an app that you don't just download and set up, you'll have to apply to become a member, and often have to be referred to even join the app, meaning that while technically a dating app, unless you are a celebrity – or you're in with the right crowds – you won't be able to use this app. It's also known for its heavy privacy policy, so even if you can use it, you won't be able to share much from it without having your account investigated and shut down.
Raya was launched in 2015, and can only be currently used on Apple and iOS, and is estimated to cost about $10 per month for users, with optional in-app purchases also available.
Is the Hater app still active?
The Hater dating app doesn't look to be still active, with the app no longer available on the App Store or Google Play, and little word from the company for a few years. The Hater app caused a sensation when people realised that they could bond over something they hated, whether it was selfies, slow walkers or pineapple on pizza. Alas, looks like you'll have to find another way to bond.
What is the best dating app to use?
Finding the best dating app can be like finding your true love – it may take a few trial and errors and a bit of waiting, but testing the waters and trialling a few apps and sites can help you find the best fit for your needs. As dating apps and sites have developed, the majority of apps include similar features, such as conversation prompts, what information you can include and photo limits, while others differentiate themselves by focusing on topics that you enjoy, or in the case of Hater, topics you don't enjoy. And if the free version isn't doing it for you, you have the option to upgrade your account to a premium version on most apps, allowing you to further narrow down the options to find the perfect match.
At the end of the day, the best dating app is the one that you feel comfortable using, and allows you to find what you're looking for, although there's nothing that says you can't try a few apps at the same time either!
About the author of this page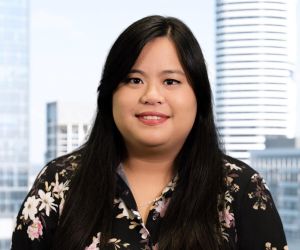 This report was written by Canstar Blue's home & lifestyle journalist, Tahnee-Jae Lopez-Vito. She's an expert on household appliances, grooming products and all things grocery and shopping. In addition to translating our expert research into consumer-friendly ratings reports, Tahnee spends her time helping consumers make better-informed purchase decisions on all manner of consumer goods and services, while highlighting the best deals and anything you need to be aware of.
Picture credits: Ravi_sunlight/Shutterstock.com, Kunturtle/Shutterstock.com, Daxiao Productions/Shutterstock.com and Inspiring/Shutterstock.com