Coles expands Quiet Hour shopping across Australia
Coles is extending its 'Quiet Hour' across the country to help customers get their grocery shop done in relative peace.
Coles' low-sensory shopping experience will now be offered at 256 Coles supermarkets across Australia, more than tripling the number of stores included in the program since it was first launched.
It was first trialled in 2017, after a customer, David Brinkley, reached out to Coles via Facebook with the idea to reduce noise at his local store to make it easier for parents shopping with children on the autism spectrum.
Following the success of the trial, Coles rolled out Quiet Hour to 70 stores nationally, followed by an additional 107 in 2018, and now an extra 79 will offer it every Tuesday between 10.30 and 11.30am.
Coles Accessibility Sponsor, Peter Sheean, said in a statement that the supermarket chain had received an overwhelmingly positive response to Quiet Hour from customers, who said it made a real difference to their shopping experience at Coles.
"At Coles, we are passionate about improving accessibility in our stores. We are always looking at ways we can make life easier for our customers and how we can respond to the differing needs of communities by creating a shopping environment in which our customers and team members feel comfortable," Mr Sheean said.
"We know that it is estimated that one in 70 people in Australia are on the spectrum1 so that's a lot of our customers who find it challenging to come into our supermarket.
"Our goal is to offer Quiet Hour at every eligible Coles supermarket by 2023. Unfortunately, not all supermarkets currently have the ability or technology to offer Quiet Hour at their store due to control of lighting or audio and store locations. However, we are working hard with our store teams to retrofit technology into those stores particularly where we've had feedback that customers want to access Quiet Hour as part of their shopping."
Autism Spectrum Australia (Aspect) National Manager Aspect Practice and Clinical Psychologist, Dr Tom Tutton, said he was pleased to see Coles continuing its commitment to an autism-friendly Australia.
"We know that the types of practices that Coles is implementing as part of their Quiet Hour program can make enormous differences to people on the autism spectrum and their families," Dr Tutton said.
"People on the autism spectrum can have heightened sensory awareness which makes shopping in a store with bright lights, loud music, unexpected voiceovers and the constant noise of cash registers, incredibly overwhelming.
"These small changes make a significant difference and highlight the importance of businesses becoming more aware of their customers' needs."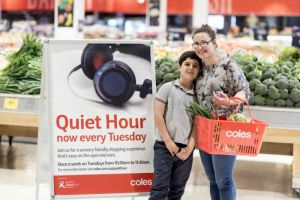 Coles Quiet Hour
The Coles Quiet Hour provides a low-sensory shopping experience to customers that's easy on the eyes and ears by reducing noise, lighting and other distractions in-store to help those who find it challenging to shop in a heightened sensory environment. During the Quiet Hour at Coles:
Lighting will be reduced throughout the store
Coles Radio will be switched off
Register and scanner volumes will be reduced to the lowest level
No trolley collections and roll cages will be removed from the shop floor
No PA announcements (excluding in case of emergencies)
Free fruit will be offered at customer service
Additional trained team members will be available to support customers during the hour
Coles Quiet Hour Participating Stores