Nothing can truly prepare you for the sight of Uluru, with people travelling far and wide to catch a glimpse of one of the most recognisable landmarks in Australia. But while Ayers Rock is one for the bucket list, there's plenty to see and do while visiting the Red Centre, with the vast landscape of the Aussie outback full of mountain ranges, swimming holes and Aboriginal history and culture. So, if you're planning on hitting the outback – or Uluru specifically – where exactly should you go? Find out where to stop in the Red Centre in this Canstar Blue guide.
Best places to visit in the Red Centre
Tick these off your list as you make your way from Alice Springs to Uluru: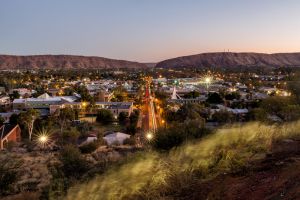 Alice Springs
Kick off your trip by flying (or diving, if you live close enough) into Alice Springs, with a number of providers available to secure a hire car for your trip to Uluru. We'd recommend spending a night here to check out all Alice has to offer, including the Olive Pink Botanic Gardens, a camel ride across the desert, a hot air balloon ride at sunrise, the famous Reptile Centre, and a visit to the Alice Springs Desert Park to see a bilby and learn about Aboriginal culture.
Location: Alice Springs city centre is 14km (approximately 17-minute) drive from the Alice Springs airport.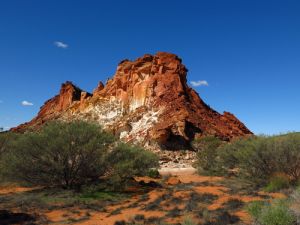 Rainbow Valley
An easy day trip/stop on your Red Centre route is the Rainbow Valley Conservation Reserve. It's renowned for its large sandstone bluffs and cliffs that change colours during different times of the day. Try and catch the main formation glistening from red to orange to purple at sunrise or sunset, with the contrasting smaller granite turning pale yellow to gold late in the day. The entire Rainbow Valley park is full of Aboriginal history, and is registered as a sacred site. More than 40 Aboriginal archaeological sites have been found and recorded, so keep your eye out for petroglyphs (rock carving) and pictographs (painted rock) – but always be respectful of the land.
Location: Rainbow Valley is 105km (approximately 1 hour 20 minute) drive from Alice Springs.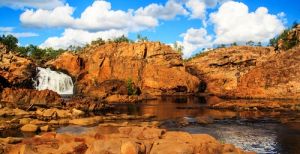 Tjoritja/West MacDonnell National Park
The West MacDonnell National Park is your next big stop – and when we say big, we mean it. We would suggest setting up camp here for at least a couple of nights, with the West Macs jam-packed with must-see famous gorges; Serpentine Gorge, Glen Helen Gorge, Ormiston Gorge, and Redbank Gorge. There's also the spectacular Standley Chasm and Simpsons Gap, along with the popular Ellery Creek waterhole. There are campsites at Ormiston, Ellery Creek, Woodland-Redbank Gorge and the Ridge Top-Redbank Gorge Camping Area, with roofed accommodation available at Glen Helen Gorge.
Location: The West MacDonnell National Park is 109km (approximately 1 hour 20 minute) drive from Rainbow Valley (you will have to go back through Alice Springs).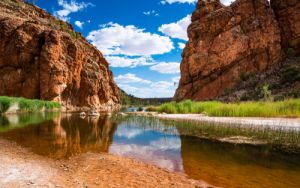 Glen Helen Gorge
Glen Helen Gorge is arguably one of the main attractions of the West Macs – made popular by its spectacular sandstone cliffs, accompanying waterhole (perfect for a dip on a hot day) and as the base for the Larapinta trail. As we mentioned, it's also popular as the only place in the national park with roofed accommodation, making it an ideal base camp location if you're looking to explore the magical West MacDonnell ranges.
Location: Glen Helen Gorge is 85km (approximately 1 hour 10 minute) drive from The West MacDonnell National Park.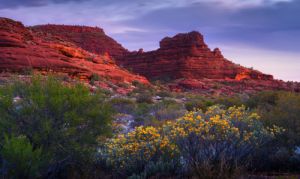 Palm Valley
After you've ticked off the ranges, it's time to head south to Palm Valley in the Finke Gorge National Park, named after the unique and rare Red Cabbage Palm plant. The running valley will blow your mind with its maze of gorges, lookouts and rocky terrain. Although Palm Valley can be enjoyed by all, Palm Valley will gift 4WD fanatics the thrill of driving a challenging track along the oldest river in the world (The Finke River) against a stunning backdrop. However, 2WDers's never fear, as there are plenty of tours departing down the same route, so you won't miss out (and are saved the effort of driving!).
Location: Palm Valley is 134km (approximately 1 hour 45 minute) drive from the Glen Helen Gorge.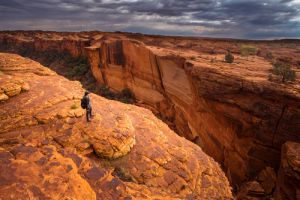 Kings Canyon
We're off to (one of) the biggest attractions of the Red Centre! Kings Canyon, located in the Watarrka National Park, is in a whole category of its own for the jaw-dropping views – especially from the top of the challenging 6km Kings Canyon Rim Walk (Tourism Australia suggests at least 4 hours to complete). You can also take guided walks with an Aboriginal elder, who can teach you about the significance of the area to the traditional owners. And round off a perfect day with dinner under the stars at Kings Canyon Resort.
Location: Kings Canyon is 224km (approximately 2 hours 45 minute) drive from Palm Valley.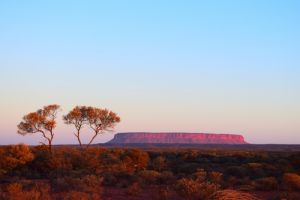 Curtin Springs
You've been driving for a while now, and desperately need a lunch break – or maybe even a full night's sleep – before hitting your final destination. That's where Curtin Springs comes in, an adorable remote cattle station located in between Kings Canyon and Uluru-Kata Tjuta National Park. But the town is more than just a base – it's rich with history, known for its handmade grass paper (which you can see tours of) and is home to 'Fool-uru" a.k.a. Mt Conner, the giant red rock with the flat top that gets tourists excited on their way to Uluru.
Location: Curtin Springs is 217km (approximately 2 hours 20 minute) drive from Kings Canyon.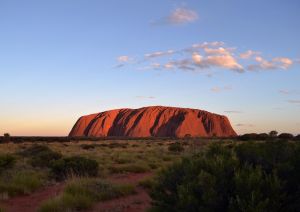 Uluru
You've officially made it to Uluru (Ayers Rock) – one of the natural spectacles Australia has to offer. Uluru is located in the World Heritage listed Uluru-Kata Tjuta National Park, which plays host to both Uluru and Kata Tjuta (a.k.a. The Olga's), and is the sacred land of the traditional owners, the Anangu people. You'll be overwhelmed by how much there actually is to do here, but first thing is to purchase a park pass ($25 for three consecutive days). From there, marvel at the 348-metre-high landmark, take a guided (10.6km) base walk by an Aboriginal elder, visit culture centres and take bush tucker classes to learn more about the Anangu people.
A massive highlight for people is Bruce Munro's art installation 'Field of Light', which sees more than 50,000 solar-powered stems light up at sunset at the base of Uluru and remain twinkling all night long. Make sure you pre-book tours to this as they book out heavily in advance (it's that good).
Location: Uluru is 106lm (approximately 1 hour 15 minute) drive from Curtin Springs.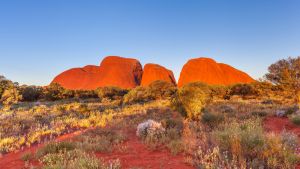 Kata Tjuta/The Olga's
Now that you've set up base in Uluru, you can jet out to see Kata Tjuta, just 45 minutes' drive away from the centre of the national park (which is where we suggest you base yourself). The red rock formations of Kata Tjuta, also known as The Olga's, are another massive crowd pleaser in the Red Centre, and we promise you they're worth it. Named after a Pitjantjatjara Aboriginal word that means "many heads", Kata Tjuta is made up of 36 domes spread over an area of 20kms, the highest point being Mount Olga (named after Queen Olga of Wurttemberg by explorer Ernest Giles). Take your time exploring these incredible rock formations that have sat on Aboriginal land for more than 20,000 years.
Location: Kata Tjuta is 60km (approximately 45 minute) drive from Uluru base centre.
Do I need a 4WD to drive along the Red Centre route?
A 4WD would be ideal, but not necessary, on most of the Red Centre route (barring difficult off-road tracks). For peace of mind, we would suggest hiring a 4WD to ensure your vehicle can handle all trails and routes, as well as unsuspecting weather. Plenty of 2WD and backpacker vans make their way comfortably on the main roads of the Red Centre in dry weather, however if the weather forecast suggests rain, we would recommend sticking to 4WD's.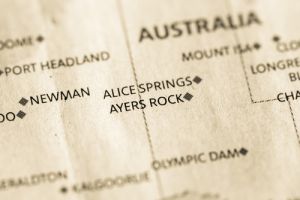 How long will I need to complete the Red Centre?
Five days is suggested as a minimum for completing the Red Centre road trip comfortably and getting the best value of money. If you have the luxury of time, you could spend weeks out in Central Australia and never get bored, meaning how long you stay in the outback is entirely up to you!
Is travelling the Red Centre worth it?
With the never-ending desert, mountain ranges and gorges, swimming holes, rich Aboriginal history and culture and of course, the natural spectacle that is Uluru, the Red Centre should be on everyone's road trip bucket list. And with plenty of spots for camping, the Red Centre could be the ideal trip away from the big smoke you didn't know you needed. That said, getting there in the first place is a huge effort in itself, and flights aren't cheap especially during the holiday seasons. So it's a good idea to book as early as you can, get your flights, accommodation and car booked, then you can plan the specific details of your next big road trip. It'll be a memorable one!
Photo credits: kwest/shutterstock.com, coloursinmylife/shutterstock.com, Marc Witte/shutterstock.com, frerd/shutterstock.com, Keitma/shutterstock.com, Boyloso/shutterstock.com, Elisabeth Smet/shutterstock.com, leodaphne/shutterstock.com, Maurizio De Mattei/shutterstock.com, SevenMaps/shutterstock.com
Original Author: Maddy Morwood