Samsung air conditioners review

Fact Checked
Samsung may be best known for its
flashy smartphones
, but you'll never be too far away from one of its impressive home appliances either, including its GEO split system air conditioners, ducted units and more.
The premium brand offers several types of air conditioners, in fact, so there's bound to be something in there for everyone, and every budget.
Samsung air conditioners review
---
Samsung offers several types of air conditioners available for purchase from various department stores and electronic retailers throughout Australia. These include wall-mounted (i.e. split system and multi-split air conditioners), ducted units, and cassette air conditioners. Prices for some AC units start from as low as $1,200, so let's see what is actually in the range and why Aussies seem to love Samsung for their home cooling needs.
---
Read more: 11 common air conditioner problems & how to fix them
---
Samsung split system air conditioners review
---
The Samsung GEO split systems are designed to offer intelligent airflow control. Capacities range from 2.5kW to 8kW. GEO cooling technology is designed to cool any living space more efficiently and to maintain ideal indoor temperatures, depending on how many people are in the room, air movement, and outside temperatures to minimise energy consumption.
Samsung's range of split air conditioning systems includes (but is not limited to):
Samsung 5kW Wind-Free Geo (AR9500): $1,699 RRP*

Samsung 8kW GEO+ Split System, Indoor Unit: $2,099 RRP*
Samsung 8kW Wind-Free Geo (AR9500): $2,399 RRP*
Samsung 8kW GEO WindFree Split System (AR9500)

This 8kW GEO WindFree Split System (AR9500) is ideal for open-plan living spaces. Its standout feature is, of course, Samsung's WindFree cooling – designed to reduce the feeling of a cold blast on your skin by dispersing cool air through 23,000 micro air holes. The brand says the outdoor unit consumes over 77% less energy in WindFree for cooling mode.
This model also comes with Good Sleep mode said to create a 'still air' environment to maintain your ideal body temperature throughout the three main stages of your sleep, a Tri-Care filter (said to eliminate up to 98.8% of inactivate bacteria in the air), an Auto Clean function and AI Auto cooling that automates various modes based on room conditions and previous usage patterns.
RRP: $2,399*
---
Read more: Split system air conditioners buying guide
---
Samsung ducted air conditioners review
---
Samsung's ducted air conditioners also have inverter reverse cycle technology and give you the option to cool and heat your home with just one system. Models in Samsung's Duct S2 series come with extra fans inside each unit for faster cooling and have a new eco-friendly R32 refrigerant with a low Global Warming Potential (GWP) and a zero Ozone Depletion Potential (ODP) effect. Power capacities range from 10kW to 16kW for most ducted units.
Samsung's S2+ series additionally brings up to 25% more air volume than other standard models and features a splittable indoor unit that separates the fan and heat exchanger section, making it easier to position into tight roof spaces. Both ranges also offer three-way service access for easy maintenance.
Some ducted air conditioners from Samsung include:
Samsung 16kW Duct S2 Split Indoor, R32: prices vary
Samsung 15.5kW Duct S2+ Split Indoor, R32: prices vary
Samsung 20kW, Duct S Split Indoor, R410A: prices vary
Samsung 16kW Duct S2 Split Indoor R32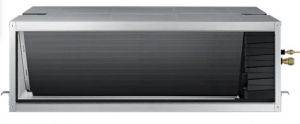 This Samsung 16kW Duct S2 Split Indoor Unit comes with three fans to create more airflow indoors and reduce that feeling of stuffiness when all doors and windows are closed to run the air con. It also has high energy efficiency and a Twin BLDC Compressor which is said to reduce vibrations by 75% and create less noise than conventional compressors.
The indoor unit comes with a colour LCD display with an intuitive user interface, a simple navigational control panel, and a backlight, making this unit easy to use. The wall controller also allows you to monitor your energy usage, as well as set dates, times, and even program running times.
---
Read more: How much electricity does my air conditioner use?
---
Samsung cassette air conditioners review
---
Ideal for rooms or spaces with limited space, Samsung's cassette air conditioners are the perfect solution if you don't have the wall room for a wall-mounted unit, or just want a less visually obtrusive cooling unit. Samsung's cassette air conditioners boast 360° cooling in a circular shape for minimal loss in airflow. This makes them suitable for offices or larger spaces that are tight on wall space for a split system unit.
Samsung's cassette series features a touch screen for ultimate control, along with a smartphone app so you can dial in your preferred temperature even before you get home. This makes it convenient for those long summer days when you can go from car to home and not experience any unpleasantness. As usual, Samsung's cassette air conditioners come with a five-year parts and labour warranty, with a national service network. For serious cooling or heating, Samsung's cassette series represents a viable option.
---
Read more: How much does air conditioning installation cost?
---
Samsung joint multi-system air conditioners review
---
If you can't decide which type of air conditioner you want and have several rooms or spaces that need cooling (or heating), Samsung's Free Joint Multi (FJM) system air conditioners can connect up to five indoor units to a single outdoor unit. This allows you to set up air conditioning in as many rooms as you want, while also giving you the flexibility of picking what cooling unit you want in each separate room. Samsung offers its wall-mounted and ducted air conditioning units to combine in multi-split systems − available in various wattages and outputs. These are of course controllable remotely via wall interfaces, remotes, and the Samsung SmartThings app.
Is a Samsung air conditioner worth the money?
Samsung is a huge appliance manufacturer and makes a concise, yet powerful, range of air conditioners. While you won't find many models in the split system range, you will find a large array of sizes available, suitable for small study rooms, to apartments. For offices, apartments, and houses, ducted 'cassette' systems are available for comparable prices. Samsung is not a cheap air conditioner manufacturer, but what it does provide is powerful cooling with efficiency technology and smartphone compatibility to suit the modern home. If you can budget up to $2,000 or more for an air conditioner, Samsung may be well worth a look.
*Prices taken from Samsung, correct as of November 2022.
About the author of this page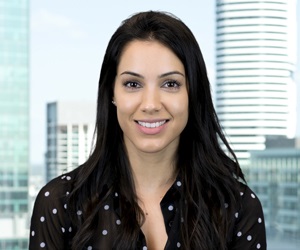 This report was written by Canstar Blue's Home & Lifestyle Content Lead, Megan Birot. She's an expert on household appliances, health & beauty products, as well as all things grocery and shopping. When she's not writing up our research-based ratings reports, Megan spends her time helping consumers make better purchase decisions, whether it's at the supermarket, other retailers, or online, highlighting the best deals and flagging anything you need to be aware of.
What do customers think about Samsung air conditioners?
In 2022, Australian customers gave Samsung air conditioners 3 out of 5 stars for overall customer satisfaction.
Samsung Air Conditioners
Canstar Blue
Award:
Overall Satisfaction