Samsung Air Conditioners Review
Samsung may be best known for its flash new smartphones, but you'll never be too far away from one of its impressive home appliances either, including its washing machines, refrigerators, televisions, vacuum cleaners and of course air conditioners. Comprised of two main types of air conditioners, available at department stores, there's bound to be something in there for everyone, and every budget – so Canstar Blue has had a look at the various air conditioning units offered by Samsung, and the innovative bits and bobs that each one brings to the table.
Samsung Air Conditioners
Samsung has two main types of air conditioner available for purchase at many department and white goods stores throughout Australia. They comprise of wall-mounted (i.e. split system air conditioners) and cassette air conditioners. Air conditioners start from about the $800 mark, so let's see what is actually in the range and why Aussies seem to love Samsung for their home cooling needs.
Samsung Wall Mounted Split System Air Conditioner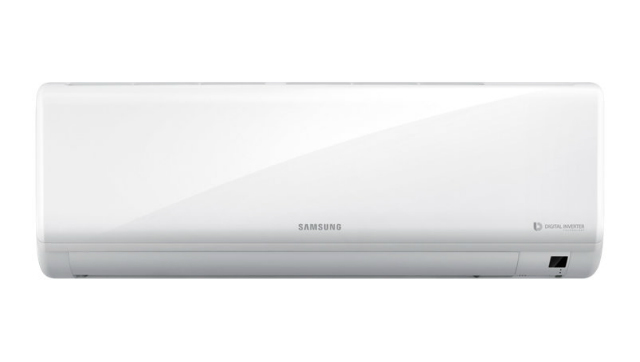 Under this category there is one model – the Boracay AR4500. This has five cooling capacities on offer – 2.5kw, 3.5kw, 5kw, 7kw and 8kw. The biggest model boasts 8kw of cooling power, with 9kw for heating. This size is quite large in the grand scheme of things, and would be best-suited for cooling or heating a small apartment, lounge room or larger bedroom. Other models are more suited to small rooms and home offices. The Boracay series boasts several features to make cooling the home both convenient and effective:
Turbo Mode: Operates the unit at the maximum speed so cool temperatures are quickly reached – good for those hot days when the house has been locked up all day.
Quiet Mode: As the name suggests, this would be good for those times when nodding off to sleep or for really critical quiet scenes in movies.
Fan Mode: If energy efficiency is key the fan mode helps circulate air around without cooling or heating functions. Theoretically you could cool or heat the room for an hour, then use the fan mode to circulate this air.
Good Sleep Mode: This mode automatically adjusts air flow direction and fan speed to provide a comfortable sleep and prevent you from tossing and turning, trying to find ideal sleeping comfort. This mode is adjustable through a preset temperature and operating time for maximum convenience.
The Boracay series also boasts an automatic mode, which selects the ideal mode for surrounding temperatures. This could potentially aid in increased efficiency and for a cool or warm home without the fuss. Samsung also designs its air conditioners with efficiency in mind, cooperating with the 'DRED' system:
DRED: DRED stands for 'demand response ebaled device'. DRED is a system that certain energy companies use to limit power consumption in peak usage times. Samsung has designed its split systems to enable DRED to the levels of DRM1, 2 or 3. If your power company does this, it's best to contact them to find out more.
Notably, Samsung has attached a five year warranty to its Boracay air conditioners, which includes parts and labour should something go awry. Samsung's split system range is short, but sweet; prices start at about $1,000 for the smaller sizes, to over $1,500 for the larger models.

Samsung Cassette Air Conditioners
Ideal for rooms or spaces with limited space, Samsung's cassette air conditioners are the perfect solution if you don't have the wall room for a wall mounted unit, or just want a less visually obtrusive cooling unit. Samsung's cassette air conditioners boast 360° cooling in a circular shape for minimal loss in airflow. This makes it suitable for offices or larger spaces that are tight on wall space for a split system unit.
Power figures start at 7.1kw, up to a massive 20kw. At the upper end this would be large enough to cool a medium-sized office space or a large apartment.
As cassette air conditioners are ducted systems, professional installation is required
Samsung's cassette series features a touch screen for ultimate control, along with a smartphone app so you can dial-in your preferred temperature even before you get home. This makes it convenient for those long summer days where you can go from car to home and not experience any unpleasantness. As usual, Samsung's cassette air conditioners come with a five year parts and labour warranty, with a national service network. Prices for Samsung's cassette range ranges from about the $1,800 mark to over $2,300 for the smaller models. Naturally you can expect to pay a fair bit more for the 20kw behemoths. For serious cooling or heating, Samsung's cassette series represents a viable option.
Samsung Joint Multi-System Air Conditioners
If you can't decide which type of air conditioner you want and have several rooms or spaces that need cooling, then a Samsung Free Joint Multi system might be the thing for you. It allows you to set up air conditioning in as many rooms as you want, but gives you the flexibility of picking what cooling unit you want in each separate room. Samsung offers their wall mounted, cassette, and ducted air conditioning units for use in their multi split systems, in various wattages and outputs. These are of course controllable with wall interfaces, remotes and even smartphones if you so desire.
Is a Samsung air conditioner worth the money?
Samsung is a huge appliance manufacturer and makes a concise, yet powerful, range of air conditioners. While you won't find many models in the split system range, you will find a large array of sizes available, suitable from the small study to an apartment. For offices, apartments and houses, ducted 'cassette' systems are available for comparable prices. Samsung is not a cheap air conditioner manufacturer, as most of its range starts at around the $1,000 mark, but what it does provide is powerful cooling with efficiency technology and smartphone compatibility to suit the modern home. If you can budget up to $2,000 or more for an air conditioner, Samsung may be well worth a look into.
Air Conditioner Reviews & Ratings
About the author of this page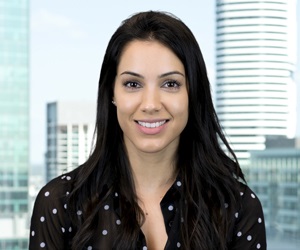 This report was written by Canstar Blue's Home & Lifestyle Content Lead, Megan Birot. She's an expert on household appliances, health & beauty products, as well as all things grocery and shopping. When she's not writing up our research-based ratings reports, Megan spends her time helping consumers make better purchase decisions, whether it's at the supermarket, other retailers, or online, highlighting the best deals and flagging anything you need to be aware of.
What do customers think about Samsung Air Conditioners?
In 2019, Australian customers gave Samsung 3 out of 5 stars for overall customer satisfaction for air conditioners.
Samsung Air Conditioners
Canstar Blue
Award:
Overall Satisfaction