Whirlpool Washing Machines Review
Whirlpool is a name synonymous with household appliances. From everything in the kitchen to washing machines, Whirlpool likely has you covered. It's a brand that's been around for over 100 years and today its focus is on tech-packed and effective washing machines.
Whirlpool is headquartered in Michigan, but its washing machines are made in Italy, and indeed can be found worldwide. To the Australian market it solely makes front loaders – the type of washing machine that generally delivers the best water and energy efficiency.
Washing machines are not particularly interesting, or exciting, but Whirlpool may be able to spark something. Its focus on being technology-forward and efficient has meant it has a pretty interesting range of washing machines, and Whirlpool has proven to be a popular brand in Australia. What does Whirlpool actually offer, and how do its washing machines stack up? Let's take a look.
Whirlpool washing machines: What's on offer?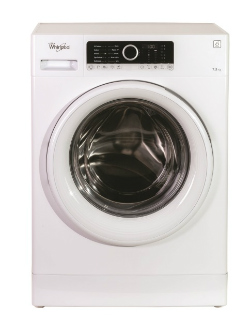 Whirlpool offers Australians a concise range of three front-load washing machines:
5kg capacity (FSCR80410)
5kg capacity (FSCR10420)
10kg capacity (FSCR12420)
With these models you can expect to pay between about $800 and $1,400, which is not bad considering the features on offer. These Whirlpool front loaders generally feature:
European manufacturing: Being made in Italy ensures that both form and function are of huge importance. You also get an impressive design, with Whirlpool washing machines designed to blend in the laundry.
"ZEN Technology" and Sense Inverter Motor: These two technologies help reduce vibrations and grossly sheds the stigma that front loaders are noisy.
"6th sense intelligence": The unit automatically adjusts settings based on the load. Things like cycle movements and speed are adjusted accordingly based on the size of your load. Split cycle pulsing also helps fibres breathe.
"Precision Clean": This is a water jet technology to spray water directly into the clothes as opposed to hitting the drum walls. This results in a more effective and efficient clean, with less chance of soapy streaks on your clothes.
"Soft Move" and "Fresh Care": These are basically soft drum cycle patterns that wash clothes more gently, which helps them hold their shape and retain colour. Fresh Care is also a setting for if you're out and about, and will gently tumble your clothes every now and again to leave them feeling fresher, rather than sitting damp for hours.
A look at the models
7.5kg model
A modest size, this model is perhaps best suited to a smaller household of 1-3 people. It features a max spin speed of 1400RPM, and boasts 10 washing programs so you can dial-in the one that suits you.
It comes with a 4-star WELS water rating, and 4.5-stars for energy efficiency
This translates to 77L per wash, and 220kWh used per year
Energy costs could be around $50 a year. This is based on a 23c/kWh rate, and could vary by how much you use the washing machine, and how your provider charges for electricity
8.5kg model
This mid-range model is probably fit for a smaller household with some more heavy-duty washing needs. Maybe someone plays soccer and needs their kit washed, or perhaps someone who just likes rolling around in mud. Either way, this 8.5kg model represents a good size for most jobs.
It has a 4-star rating for both water use and energy efficiency
This translates to 87L per wash, and 320kWh per year
Energy costs could be around $73 a year
10kg model
This is a model best suited to a fairly large household of 4-5 or more people, or for a household that just goes through a lot of washing. Maybe the whole family plays soccer and likes mud wrestling? Either way, despite this model being large in capacity its efficiency is quite good:
It has a 4-star WELS rating, and 4.5-stars for energy efficiency
This translates to 99L per wash, and 290kWh per year
Energy costs could be around $67 a year, which is surprisingly cheaper than the 8.5kg model. If electricity costs with a large capacity model were your concern, then have no fear!
The pick of the bunch seems to be the 10kg model, as it still features modest water and energy consumption, yet the extra capacity is bound to be useful for a lot of people. The accessible price of around $1400 also makes it fairly price competitive, and Whirlpool crams in a lot of features for this price.
Is a Whirlpool washing machine a good move?
Whirlpool's range of washing machines is concise, but pretty solid value for money. Compared to other European-made rivals Bosch and Miele, Whirlpool's range is often half the price, with similar efficiency ratings and features!
Whirlpool washing machines frequently boast class-leading design, coupled with some impressive features and a cost that isn't too harsh.
One feature that's missing though is the range's apparent lack of including stop-cycle features.
Frequently, other brands are including the ability to pause a cycle and chuck clothes in. This is strongly-desired feature these days, and it'll be interesting to see what Whirlpool does in the future.
Whirlpool's range is definitely not at the budget end of the front loader spectrum. Look elsewhere if you want a cheap and cheerful washing machine. However, Whirlpool makes solid washers with a mid-range price, with impressive water and energy ratings. What you spend upfront, you might find yourself saving down the track in reduced energy and water bills. Overall, Whirlpool offers cost-effective, good quality, European-made washing machines. You can't go far wrong really.
What do customers think about Whirlpool
In 2018, Australian customers gave Whirlpool 3 out of 5 stars for Overall Customer Satisfaction for Front Loader Washing Machines
Whirlpool Front Loader Washing Machine
Canstar Blue
Award:
Overall Satisfaction