Whirlpool Washing Machines Review
Whirlpool is a name synonymous with household appliances. From everything in the kitchen to washing machines, Whirlpool likely has you covered. It's a brand that's been around for over 100 years and today its focus is on tech-packed and effective washing machines.
Whirlpool is headquartered in Michigan, USA, but its washing machines are made in Italy, and indeed can be found worldwide. To the Australian market it solely makes front loaders – the type of washing machine that generally delivers the best water and energy efficiency.
Washing machines are not particularly interesting, or exciting, but Whirlpool may be able to spark something. So, what does the brand actually offer, and how do its washing machines stack up? Let's take a look.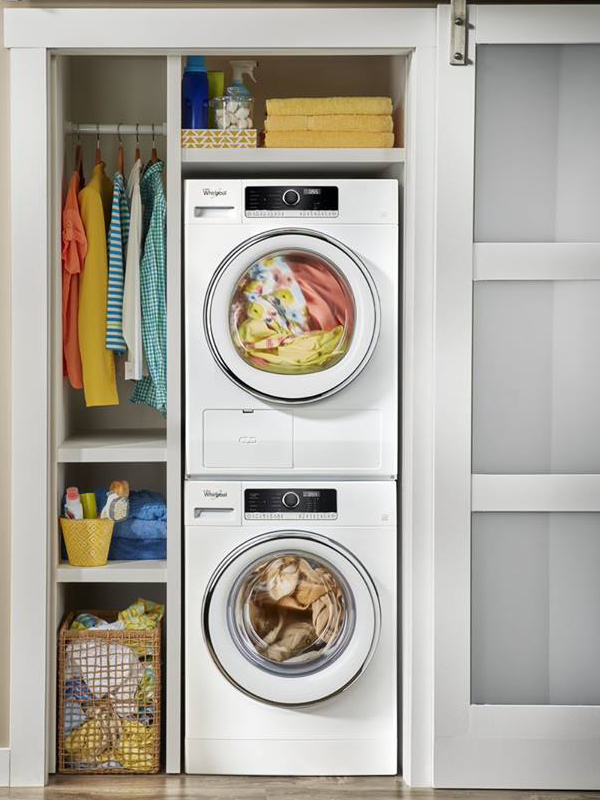 Types of Whirlpool washing machines
Whirlpool offers Australians a few front-load washing machines. Some of these include:
Whirlpool 7kg FreshCare Front Load Washer FDLR70210
Whirlpool 8kg FreshCare Front Load Washer FDLR80210
Whirlpool 6th SENSE Zen Direct Drive Front Load Washer 10kg FSCR12420
What makes Whirlpool washing machines different?
With these models you can expect to pay between about $930 and $1,530, which is not bad considering the features on offer. These Whirlpool front loaders generally have:
European manufacturing: Whirlpool describes its washing machines as Italian-made appliances which impress with both form and function. The design of each model is also said to seamlessly blend in the laundry room.
"ZEN Technology" and Sense Inverter Motor: These two systems apparently help reduce vibrations and wash away the idea that front loaders are noisy.
"6th sense intelligence": Washers with this feature are said to automatically adjust settings based on the load. Things like cycle movements and speed are changed accordingly based on the size of your load. The split cycle pulsing also supposedly help fibres breathe.
"Precision Clean": This is a water jet system that sprays water directly into the clothes as opposed to hitting the drum walls. This is stated to achieve a more effective and efficient clean, with less chance of soapy streaks on your clothes.
"Soft Move" and "Fresh Care": These are basically soft drum cycle patterns that wash the load gently, which helps clothes to hold their shape and retain colour. Fresh Care is also a setting for when you're out and about. It will gently tumble your clothes every now and again to leave them feeling fresher, rather than sitting damp for hours.
Whirlpool 7kg FreshCare Front Load Washer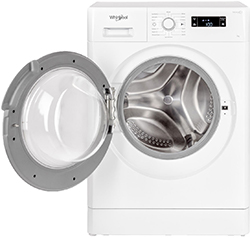 The Whirlpool 7kg FreshCare Front Load Washer is a modest size washing machine that is perhaps best suited for single-person households or small families of three people.
Energy efficiency rating: 4 stars
Water efficiency rating: 4 stars (consumes 72L/cycle)
Spin speed: 1200RPM
Size (HxWxD): 845mm x 595mm x 575mm
A key feature of the Whirlpool FDLR70210 front loader is FreshCare. This is said to prevent creasing and apparently minimise the chances of finding wrinkles when unloading everything from the washer. The brand claims this effect can last for up to six hours because FreshCare keeps the items in a supposedly fresh state, ensuring the load feels as if it has just been taken out of the washer and hasn't been sitting inside the tub for half the day.
Whirlpool 8kg FreshCare Front Load Washer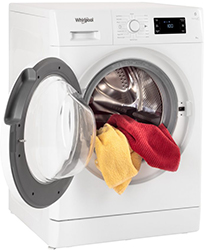 For small households with big heavy-duty washing needs, consider checking out this Whirlpool 8kg FreshCare Front Load Washer. It boasts 14 programs, so you can choose the one that suits your load best including Cotton, Mixed, Sport, Delicates and Jeans just to name a few.
Energy efficiency rating: 4 stars
Water efficiency rating:5 stars
Spin speed: 1200RPM
Size (HxWxD): 845mm x 595mm x 630mm
The main feature of the Whirlpool FDLR80210 front load washing machine is its 6th SENSE technology, a function which automatically picks what the appliance considers to be the best washing cycle based on the amount of laundry it detects.
Whirlpool 6th SENSE Zen Direct Drive Front Load Washer 10kg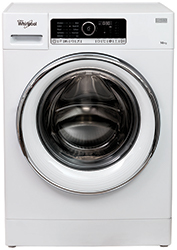 Maybe you're a family of soccer players who also like mud wrestling? The Whirlpool 6th SENSE Zen Direct Drive Front Load Washer is best suited to fairly large households with four or more people, or for households that just go through a lot of washing.
Energy efficiency rating:5 stars
Water efficiency rating: 4 stars
Spin speed: 1400RPM
Size (HxWxD): 850mm x 595mm x 700mm
This FSCR12420 model features 10 programs, including Eco Cotton, Cotton, Mixed, Synthetics, Delicates, Wool, Colours Rapid 30', Rinse & Spin and Spin. It also has a number of washing options such as Bio Stains 15°, Heavy Soil, Intensive Rinse, Hot Finish and Colours 15°.
Is a Whirlpool washing machine worth the money?
Whirlpool not only keeps its products range short and sweet, but it seems the brand might also provide solid value for money. Compared to other European-made rivals Bosch and Miele, Whirlpool's range is often half the price, with similar efficiency ratings and features. The brand is also said to boast class-leading designs, coupled with impressive functions and a cost that may not necessarily be too heavy on your hip pocket.
But one common feature missing from Whirlpool models is any type of stop-cycle system. Other brands typically allow you to pause a cycle and chuck clothes into the tub mid-wash. This is a strongly-desired function these days, and it'll be interesting to see what Whirlpool does in the future.
Whirlpool's washing machines might steer towards the higher end of the front loader price spectrum, so you might want to also consider other brands if you want a more affordable washer. But that's not to say the brand's list of mid-range priced options doesn't impress, especially with the modest water and energy efficiency ratings. So, despite what you spend upfront, you might find yourself saving money down the track in reduced energy and water bills.
For more information about Whirlpool washing machines and washers from other brands, don't forget to check out our ratings and reviews via the link below.
Front Load Washing Machine Reviews
About the author of this page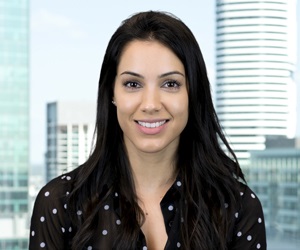 This report was written by Canstar Blue's Home & Lifestyle Content Lead, Megan Birot. She's an expert on household appliances, health & beauty products, as well as all things grocery and shopping. When she's not writing up our research-based ratings reports, Megan spends her time helping consumers make better purchase decisions, whether it's at the supermarket, other retailers, or online, highlighting the best deals and flagging anything you need to be aware of.