Fact Checked
Purchasing a new appliance can have anyone in a sweat, so finding the right appliance without emptying your bank account is ideal. Searching for a new dishwasher can have its challenges and price can create a big one. We've put together this Canstar Blue price guide to help get you on the right track to find a new dishwasher. 
Types of dishwashers
There are a wide variety of dishwashers available to purchase, each with their own pros and cons, as well as prices! Types of dishwashers include freestanding, benchtop, built-in, semi-integrated and fully integrated, with the model types detailed below.
Freestanding dishwashers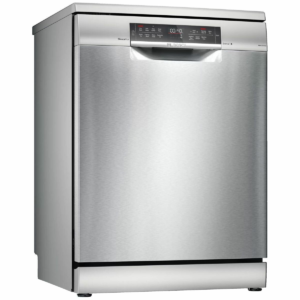 Freestanding dishwashers generally cost between $400 and $2,000, or more for high-end models from major appliance brands like Smeg and LG. Retail prices will generally start from $600 to just over $700, but most models tend to cost closer to $1,000. If you're looking for variety, it seems more brands are dishing up a few more freestanding options than any other type of dishwasher.
Freestanding dishwasher features
Some of the most notable features freestanding dishwashers boast include load sensing technology to optimise water usage, multiple wash settings including a speed wash and dosage assist to maximise the effectiveness of detergent tablets. Most entry level models will have a standard four to six wash settings, extra dry options and a machine care wash. 
Benchtop dishwashers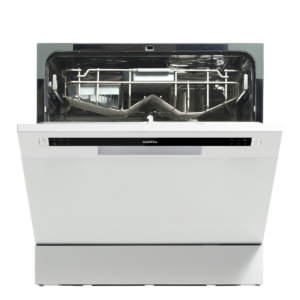 Compared to other types of dishwashers, the selection of benchtop dishwashers currently available in Australia is as compact as the dishwashers themselves. Retail prices range between just below $250 for affordable models and can run closer towards $1,000 for higher end alternatives. The gap in cost means there's usually an option to suit families with a smaller budget as well as those looking to spend a bit extra on a higher-end option.
Benchtop dishwasher features
The convenience and smaller size of benchtop dishwashers doesn't mean they necessarily lack in features. You can expect a generous six wash programs including a heavy load and speed wash, delay start timer and an easy connection to your kitchen tap. 
Built-in dishwashers
Built-under dishwashers typically come with a higher price tag, between $1,500 to just over $2,100. Cheaper underbench dishwashers usually provide up to 11 place settings, although there are models that offer 14 place settings for less than the average starting retail price.
Built-in dishwasher features
Built-in dishwashers offer a seamless look in any kitchen and have the features to match. With load sensing technology, noise reduction technology and an aqua sensor for even dish cleaning, they can be an ideal choice. Other features include a time saver option for those constantly on the run and adjustable shelving to suit how you want to stack your dishes for cleaning.  
Semi-integrated dishwashers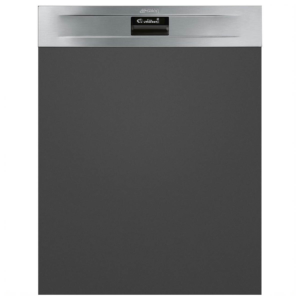 Semi-integrated dishwashers and fully-integrated dishwashers share many similarities with the built-under option, with the lack of a front cover being the main difference. The price range is generally the same, although there are a few more lower cost semi-integrated dishwashers available. Models start retailing from $900 and can reach up to $4,000, although higher-end models tend to vary closer to the $2,000 mark. But keep in mind that if you prefer to have an integrated dishwasher match your kitchen cabinetry, you'll need to spend an additional amount for a personalised front door panel to be made.
Semi-integrated dishwasher features
Many semi-integrated dishwashers boast features such as an auto door that opens when it's finished for quick drying, six to eight wash programs and noise reducing technology. Semi-integrated dishwashers also allow the luxury of selecting the façade of the appliance to suit your kitchen's décor. 
Fully-integrated dishwashers
There are a variety of fully-integrated dishwashers available at different price points, catering to a wide range of budgets, starting from $800 and reaching up to $5,500. Compared to built-under dishwashers, this type of unit tends to offer extra space with usually 14 or 15 place settings. But you don't necessarily need to spend big bucks for the bonus room. If you're prepared to spend extra on building or renovating your dream kitchen, high end models retail at nearer the $3,600 mark.
Fully-integrated dishwasher features
Fully-integrated dishwashers being the more expensive option means they tend to have more advanced features. For some models you can expect a generous 14 place settings, an intensive cleaning zone for larger pots and pans and Wi-Fi connectivity via your mobile for remote access. 
---
---
Purchasing a dishwasher
When it comes to purchase time there are a few factors to consider when buying a dishwasher. Firstly price will come into play in a big way but the type of dishwasher you choose will also come down to the design and space in the kitchen. If you're doing a new build or renovation a built-in, fully or semi-integrated dishwasher may suit. Whereas for a model that can slot anywhere a freestanding dishwasher may be ideal. If you're still tossing up a dishwasher purchase, compare brands below to help get you started. 
Picture credits: Leszek Glasner/Shutterstock.com
Original Author: Tahnee-Jae Lopez-Vito