EnergyAustralia has launched a new power-saving campaign that rewards customers for cutting down on their energy usage during periods of high demand.
The 'PowerResponse' initiative sees EnergyAustralia customers earn bill credits if they manage to reduce household energy consumption by more than 20% once prompted.
The move is the latest from a major energy retailer to help take the pressure off the energy grid when electricity supply struggles to cope with demand, such as hot summer evenings.
According to EnergyAustralia's website, the purpose of PowerResponse is to get Aussies involved and make a collective difference in relieving the grid of pressure during peak demand, which could avoid or defer costly upgrades to network infrastructure.
"Most of the time there is enough electricity for everybody. But sometimes the grid is stretched to its limits when demand is really high. Like when we all turn on our appliances when we get home from work, or when there is a disruption in supply. This puts pressure on the grid to meet the increased need for power," explains the EnergyAustralia website.
The initiative is open to households in Victoria, New South Wales and South Australia, but properties must have a smart meter installed.
Customers will need to register their interest in taking part in the campaign, and will be sent an SMS to their nominated mobile phone number to notify them of an upcoming 'event'.
This will be up to 24 hours prior to the event and will advise when the event will start and how long it will go for.
"We try to give as much notice as possible but if there is an emergency (such as an extreme weather event) the notice may be short. On some occasions the notice could be as little as a few minutes prior to the event. As always, you can choose whether you participate or not, so if it's not convenient for you, that's OK," the retailer explains.
The conclusion of an event – expected to last for between one and four hours – will also be reported with an SMS, so customers know they can return to their normal energy usage.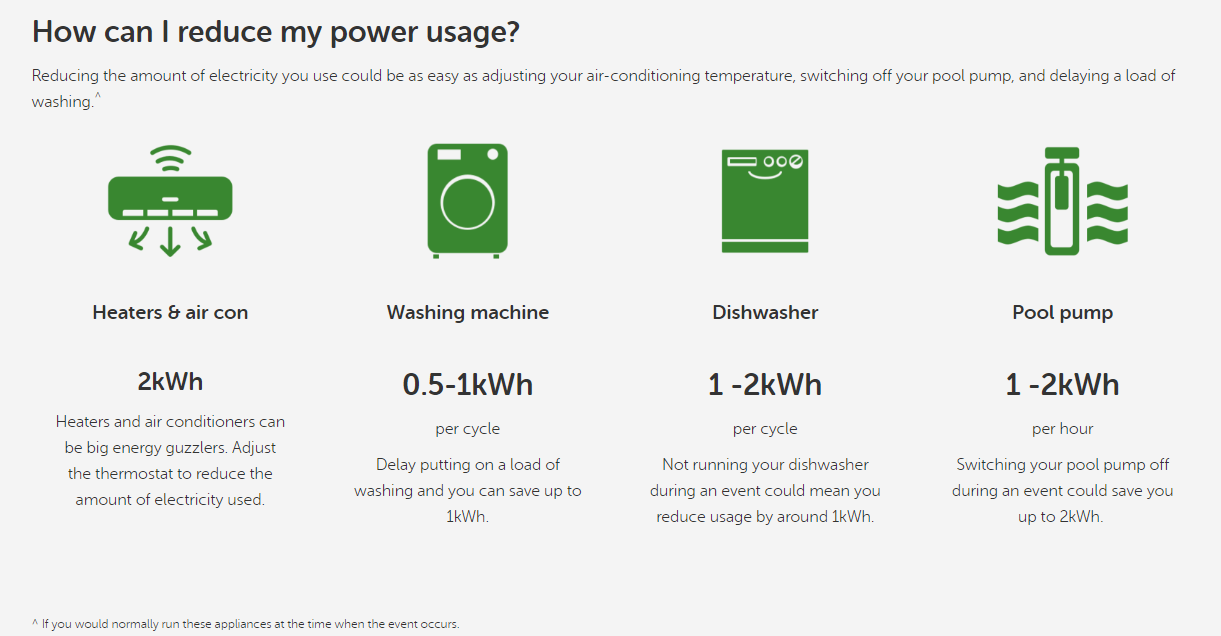 What's in it for bill-paying customers?
Incentives on offer include a $10 reward for decreasing energy usage by 20-49%, a $20 reward for reducing usage by 50% or more, as well as a $5 bill credit for completing a survey once the campaign has finished. The reductions in power usage will be compared to each customer's normal household energy consumption.
Canstar Blue Editor-in-Chief, Simon Downes, explained that EnergyAustralia's newest initiative may benefit customers financially, but could be challenging for some households.
He said: "It's a sorry state of affairs that a wealthy country like Australia needs to worry about its power source dropping off when it gets hot, nonetheless it's still a great idea and there are some decent savings on offer. Once you get the text message, go outside and enjoy the sunshine instead of staying inside with the air conditioner on.
"I wonder if it might be hard for some households to drop their usage to the extent they'll have to, but it's worth trying and is a good way to get people thinking about energy efficiency at home.
"Don't just cut down on power because your energy retailer tells you to, do it because you'll save money."