Fact Checked
ALDI Farmdale 'moo-ves' to #1 as best-rated long life milk
Stocking up on long life milk in the fridge or pantry can be a lifesaver. Whether it's for the family camping trip, 'forgot to buy milk' emergency, or a specific dietary requirement, the long life milk aisle at your local supermarket most probably has you covered.
To find out which brands Aussies 'cow' about, we surveyed more than 550 consumers for their feedback on the different brands of long life (UHT) milk they've purchased from a supermarket or grocer and consumed, within the last three months. Survey respondents reviewed brands on their taste, texture, ease of use, value for money, packaging design and overall satisfaction. Brands that met the minimum required survey sample size of 30 responses are included in the final results.
ALDI Farmdale returned to the top spot as best-rated long life milk, after receiving five-star reviews in five out of six research categories, including overall satisfaction! The supermarket brand previously topped our ratings in 2017, 2018, 2019, and 2020.
Best Long Life Milk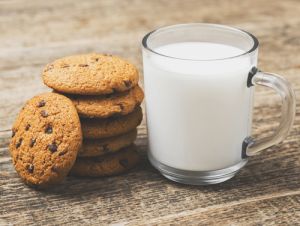 Here are the best long life (UHT) milk brands in Australia, as rated by consumers in Canstar Blue's latest review:
ALDI Farmdale
Devondale
Coles
Sanitarium So Good
Woolworths
Dairy Farmers
ALDI Farmdale was rated best with five-star reviews for taste, texture, ease of use, value for money and overall satisfaction. Former winners Devondale and Sanitarium So Good also managed to achieve full marks for taste, texture and ease of use, with Sanitarium So Good additionally rating best for packaging appeal. Fellow supermarket Woolworths saw the same result for texture and consistency.
What is long life (UHT) milk?
UHT stands for 'ultra-high temperature processing' and is a method of food sterilisation. The milk is heated to higher than 135°C for a few seconds to kill off spores. After this, the milk is 'flash' cooled and homogenised to give it long shelf life. While it provides largely the same nutritional value as fresh milk does, UHT milk can fall short in certain areas, such as having less folate and B-vitamins. Nevertheless — it's cheap, has a long shelf life, and is readily available in times of need, such as power outages.
UHT milk is also convenient for its variety, be it cow's milk, soy, lactose-free, or otherwise. Our latest survey found that the majority of Aussies (74%) purchase long life milk for the convenience of its generous shelf life, followed by taste (17%) and dietary reasons (6%).
Top Long Life Milk Brands
ALDI Farmdale

One of many homebrand ranges from ALDI, Farmdale offers a range of dairy products including thickened cream, sour cream, and flavoured and powdered milk. Its long life milk line offers full cream, light, lactose-free, almond, rice, and soy options which come in either 1L or 2L sized cartons. Here is a sample selection from ALDI's long life milk range:
ALDI Farmdale Lactose-Free Full Cream Milk
ALDI Farmdale Full Cream Milk Powder
ALDI Farmdale Skim UHT Milk
Prices for ALDI Farmdale long life milk start from $1.35 for a 1L carton and reach up to $2.59 for 2L.
ALDI Farmdale scored five stars for taste, texture and consistency, ease of use, value for money and overall satisfaction. It got four stars for packaging appeal.
Devondale

Devondale's philosophy is that dairy is with you from childhood to adulthood. Marketed as natural and great tasting, 'just as nature intended', the range includes fresh and long life milk, cheeses, butter and spreads. Here are a few long life milk options you can find from the brand:
Devondale Long Life Milk – Full Cream
Devondale Skim Long Life Milk – Extra Light
Devondale Semi Skim Long Life Milk – Light
A 1L carton of Devondale long life milk can cost between $0.90 and $1.35 at most supermarkets.
Devondale earned five stars for taste, texture and consistency and ease of use. It scored four stars for value for money, packaging and overall satisfaction.
Coles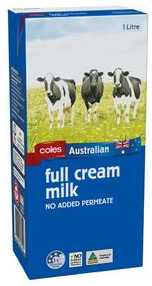 Coles also has its private label selection of 'great-value' household and pantry essentials. The supermarket offers a wide range of dairy products such as cheeses, cooking creams, butter and of course various milk products, including fresh, flavoured, and powdered options. Similar to other major brands, Coles stocks up on a variety of long life nut milk, soy milk, coconut milk as well as skim and full cream options. Some include:
Coles Australian Skim Long Life Milk
Coles Australian Lite Long Life Milk
Coles Full Cream Long Life Milk
Prices for Coles UHT milk start from $1.35 on average for a 1L carton.
Coles scored four-star reviews in the majority of the categories, such as taste, texture, ease of use, value for money and overall satisfaction. The only exception was packaging appeal, where it got three stars.
Sanitarium So Good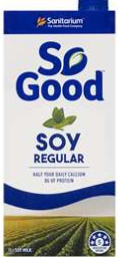 So Good is Sanitarium's range of long life non-dairy products, including a variety of oat milk, nut milk, soy milk and dairy-free frozen desserts. According to the brand, living well isn't about cutting down on what you like, but about discovering new products that are 'so good' for you. Here is a product selection from the So Good range:
Sanitarium So Good Oat Milk – No Added Sugar
Sanitarium So Good Barista Edition Almond Milk
Sanitarium So Good Long Life Vanilla Bliss Soy Milk
Prices for So Good long life milk start from $1.90 for a 1L cartoon in most supermarkets and reach up to $4. You can also grab smaller 250ml milk cartons in a three-pack for $4.50.
Sanitarium So Good got five-star reviews for taste, packaging appeal, ease of use and texture. It scored four stars for overall satisfaction and three stars for value for money.
Woolworths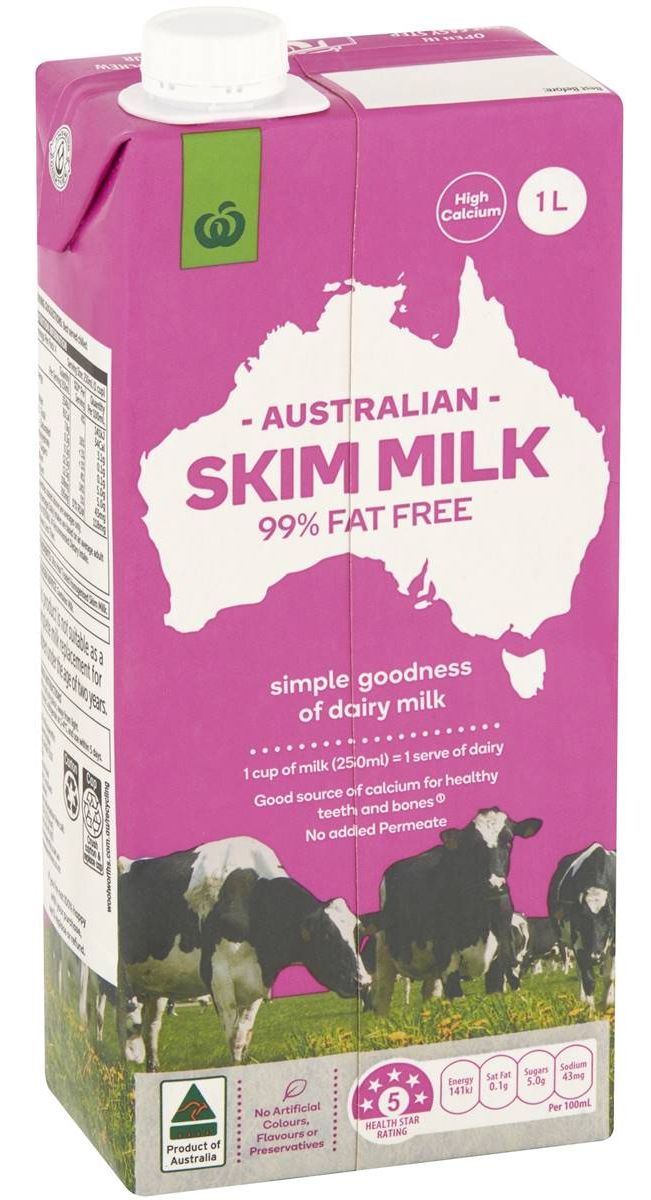 Woolworths is another supermarket stocking up on its homebrand line of 'low-price' everyday essentials for your home and kitchen, bearing the trademark 'fresh food people' logo. The range offers a variety of dairy products from cheese and thickened cream, to butter and milk products, including fresh, long life and powdered options. Its long life milk product range includes:
Woolworths Soy Milk
Woolworths UHT Lite Milk
Woolworths UHT Skim Milk
Woolies' long life milk costs on average $1.15-$1.35 for a 1L carton, exclusive to the supermarket. You can alternatively find Woolworth's Free From Lactose range for $1.60.
Woolworths earned a five-star review for texture & consistency and landed on four stars for taste, value for money and ease of use. It got three stars for packaging appeal and overall satisfaction.
Dairy Farmers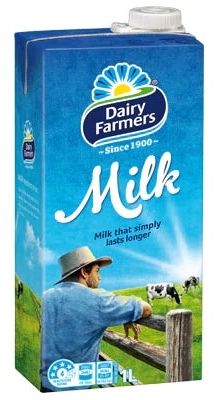 Dairy Farmers' range of long life milk is described by the brand as 'milk that simply lasts longer'. The products are claimed to have been heated at a high temperature so you can store unopened cartons for a longer time. Dairy Farmers milk is also said to be rich in calcium and a good source of protein, and does not contain any artificial additives or preservatives. These are additionally certified by KAUST as Kosher Dairy. Available in 1L cartons, Dairy Farmers long life milk options include:
Dairy Farmers Long Life Full Cream Milk
Dairy Farmers Long Life Skim Milk
You can find Dairy Farmers milk at the supermarket for $2.69.
Dairy Farmers was rated four stars for texture and ease of use and three stars for overall satisfaction and everywhere else.
What's the difference between fresh milk and long life milk?
The difference between fresh milk and long life milk (or UHT milk) is the processing method. Pasteurised (fresh) milk is heated to 74°C for 15 seconds, while long life milk is heated at temperatures over 135°C for just two seconds.
Compared to fresh milk that undergoes regular pasteurisation, long life milk is treated using a higher temperature to remove more bacteria and heat-resistant enzymes. This is why long life milk has a longer shelf life and can usually be stored unopened for up to six months in a pantry.
How long does long life milk actually last?
Unopened cartons of long life milk can typically be stored in the pantry for up to six months but must be refrigerated once opened. Similar to fresh milk, long life milk needs to be consumed within seven days once opened.
The bottom line on long life milk
Our survey found that almost a quarter of consumers (24%) buy whichever brand of long life milk is the cheapest, indicating there are other factors involved when it comes to choosing milk. In recent years, there's been a push towards supporting dairy farmers, with supermarkets running different initiatives to shore up additional proceeds from sales to support the dairy industry. Our research found half of those surveyed (57%) believe dairy farmers should receive fair payment for the milk they sell to supermarkets and are willing to pay more per litre to support farmers. Nearly one in four (24%) said they would be happy to pay 10c extra per litre, while shoppers who purchased supermarket homebrand milk were willing to pay 10c (29%) or 20c (21%) per litre more. If you're concerned as to which brands support Australian dairy farmers, it's important to do your research to ensure you choose a brand you're happy with.
About the author of this page
This report was written by Canstar Blue's home & lifestyle journalist, Tahnee-Jae Lopez-Vito. She's an expert on household appliances, grooming products and all things grocery and shopping. In addition to translating our expert research into consumer-friendly ratings reports, Tahnee spends her time helping consumers make better-informed purchase decisions on all manner of consumer goods and services, while highlighting the best deals and anything you need to be aware of.
Online Grocery Shopping Reviews
Picture credits: Zadorozhna Natalia/ Shutterstock.com, / Sea Wave/ Shutterstock.com.