Optifast Weight Loss Shakes Review & Guide
A weight loss journey can feel pretty overwhelming, especially when you're first starting out. It can seem like there's so much to remember, from calorie counting to workouts, to knowing if you're on track towards achieving your goal. That's why the team at Optifast created what it claims to be a range of specially formulated products that are designed to help those with serious weight loss needs. So, if you're looking for results and a helping hand along the way, Optifast might be the answer you've been looking for.
What is OPTIFAST?
The OPTIFAST VLCD Program is a very low-calorie diet (VLCD) designed to help people who are obese or severely overweight. A VLCD is described as a 'low carbohydrate, total diet replacement for the dietary management of obesity'. It's also sometimes referred to as VLEDs (Very Low Energy Diets). This allows up to 800 calories per day, which includes what's described as a 'sufficient' amount of protein, fatty acids, carbohydrates, vitamins and minerals for 'safe and fast weight loss'.
Optifast also claims some people on a VLCD have additionally gained improvements in other areas, including:
Insulin sensitivity
Blood pressure
Triglycerides
Sleep apnoea
Blood sugar levels in adults
How does the OPTIFAST diet work?
Optifast's 'total weight loss program' is split into four levels. These include:
Intensive Level
Active 2 Level
Active 1 Level
Maintenance Level
Each stage incorporates different Optifast products and a variety of meal replacements, including shakes, snacks, desserts, soups and bars. These items are said to be specially formulated to provide patients with their daily requirements of vitamins and minerals.
According to the Optifast website, all products contain the recommended daily requirements for vitamins, minerals, trace elements and fatty acids. The products are also stated to follow the Codex Alimentarius International Standards for VLCD/VLED. But because this is a VLCD program, it's always recommended that you speak with your doctor before starting this program or any other VLCD weight loss program.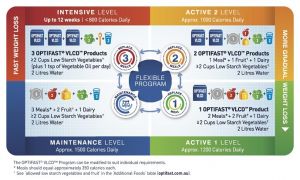 What do you eat on OPTIFAST?
OPTIFAST Level
The Intensive Level is the Very Low-Calorie Diet (VLCD) aspect of the OPTIFAST VLCD program and the first stage of the process. It's a total diet plan replacement program that allows up to 800 calories per day, and individuals are recommended to stay on this level for no longer than 12 weeks. You can find a useful list of the allowed foods on the Optifast website.
The daily meal plan includes:
Three OPTIFAST VLCD products
Two cups of low starch vegetables (i.e. leafy greens, cucumber, etc.)
One teaspoon of vegetable oil
Two litres of water
Optifast states the Intensive Level aims to help people achieve a large initial weight loss whilst preserving lean body mass. It's also designed to induce mild ketosis (a metabolic state in which your body uses fat and ketones instead of glucose (sugar) as its main fuel source) to assist with weight loss. But keep in mind that for the first few days, you might experience side effects like fatigue, hunger, lack of concentration, nausea and headaches due to the massive change in your diet during the transition.
OPTIFAST Active 2 Level
The Active 2 Level on Optifast's weight loss program involves a total food intake of 1,000 calories per day by replacing two meals with OPTIFAST VLCD products. This diet also requires having one healthy, low-calorie meal, which contains approximately 350 calories. Other daily requirements include:
Two or more cups of low starch vegetables
At least two litres of water or calorie-free fluids (i.e. black coffee, tea, etc.)
One serve of fruit (70 calories)
One serve of dairy (100 calories)
When combined with exercise, this phase can support patients in losing approximately 1-2 kilos per week, which is said to be a healthy and sustainable weight loss rate. However, if you'd prefer to skip the Intensive Level, the Active 2 Level is said to be appropriate for people who have a Body Mass Index (BMI) of 25-30kg/m2 or who find the Intensive Level too restrictive. This stage is alternatively suitable for those advised by a healthcare professional.
OPTIFAST Active 1 Level
If the Intensive Level isn't suitable for you, Optifast says the Active 1 Level can be used as a meal replacement program for those with a BMI of 25-30kg/m2. The Active 1 Level of the OPTIFAST VLCD Program involves dieters consuming approximately 1,200 calories per day. The length of time you stay on this level depends on your weight loss goals and lifestyle.
Your diet will involve:
Replacing one meal with an OPTIFAST VLCD product
Two low-calorie meals (350 calories each)
Two or more cups of low starch vegetables
At least two litres of water or calorie-free fluids
Two serves of fruits (70 calories each)
One serve of dairy (100 calories)
OPTIFAST Maintenance Level
The Maintenance Level of the Optifast dieting program is as the name suggests, a weight maintenance diet, where patients should continue tracking their weight and food intake weekly. This level also requires moderate exercise to maintain a patient's goal weight and to prevent any kilos lost creeping back.
The OPTIFAST Maintenance Level includes three meals of approximately 350 calories each, allowing you a total calorie intake of around 1,500 calories per day.
Your daily diet could include:
Two cups of low-starch vegetables
Two serves of fruits
One serve of dairy
Two litres of water
Range of Optifast products
OPTIFAST VLCD Bars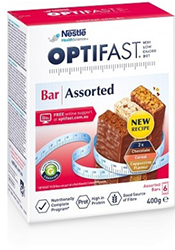 The ready-to-eat OPTIFAST bars can be used as snacks or meal replacements, with each bar supposedly high in protein and fibre. Each box contains six 65g bars in flavours such as:
OPTIFAST VLCD Chocolate Bar
OPTIFAST VLCD Cappuccino Bar
OPTIFAST VLCD Berry Crunch Bar
OPTIFAST VLCD Assorted Bar Pack
OPTIFAST VLCD Cereal Bar
OPTIFAST VLCD Shakes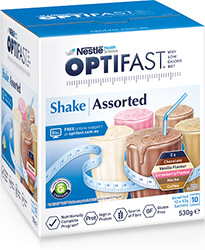 The OPTIFAST weight loss shakes are said to be high in protein and fibre, to help you stay fuller for longer. Most Optifast shakes are available in boxes that include either 10 or 12 sachets, each containing 53g worth of product. Although products like the OPTIFAST VLCD Chocolate Flavour Shake and OPTIFAST VLCD Vanilla Flavour Shake 18 Pack provide a larger selection with 18 sachets. Different flavours include:
OPTIFAST VLCD ProteinPlus Chocolate
OPTIFAST VLCD ProteinPlus Vanilla
OPTIFAST VLCD Chocolate Shake
OPTIFAST VLCD Caramel Shake
OPTIFAST VLCD Vanilla Shake
OPTIFAST VLCD Coffee Shake
OPTIFAST VLCD Banana  Shake
OPTIFAST VLCD Strawberry Shake
OPTIFAST VLCD Chai Shake
OPTIFAST VLCD Vanilla Shake 18 Pack
OPTIFAST VLCD Assorted Shake Pack
OPTIFAST VLCD Soups
The OPTIFAST VLCD soups are available in packs of eight 53g sachets, with one sachet equal to one meal. These soups are claimed to be full of protein and come in various flavours, including:
OPTIFAST VLCD Vegetable Soup
OPTIFAST VLCD Chicken Soup
OPTIFAST VLCD Country Style Tomato Soup
OPTIFAST VLCD Desserts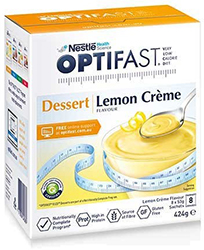 For anyone with a sweet tooth, Optifast provides a small selection of dessert options. Each box provides eight 53g sachets, and each treat must be prepared in advance and set in the fridge before eating. Flavours available include:
OPTIFAST VLCD Chocolate Dessert
OPTIFAST VLCD Lemon Crème Dessert
OPTIFAST VLCD ProteinPLUS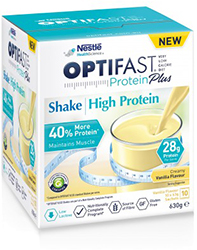 The OPTIFAST VLCD ProteinPlus is an alternative option to the regular Optifast shakes and can be used on any level of the weight loss program. The flavours available include chocolate and vanilla. This range is said to have similar side effects to the brand's standard line of weight loss shakes.
How much does OPTIFAST cost?
Optifast's meal replacement products and snacks cost around $3.75 – $5.00 RRP per serve. This means that when it comes to groceries, the only other foods you'll need to buy while on this program are fresh vegetables and some fruit. The Optifast program recommends low starchy vegetables such as broccoli, mushrooms, leafy greens like spinach and kale, eggplant and zucchini. Optifast's products are available in pharmacies, hospitals or through its website.
What are the benefits of OPTIFAST?
The Optifast ethos is all about support, so the team at Optifast has put together a comprehensive online support program, specifically designed to provide customers with a personal experience while on their weight loss journey. The online program assists customers to plan and track their progress – from their food to their training and of course – results.
Tracking results is a key factor in any successful weight loss journey, as it not only provides encouragement but can be empowering as you witness your hard work paying off. The online OPTIFAST VLCD program also enables you to connect with an accredited OPTIFAST VLCD healthcare professional, not to mention the support from other Optifast members who are on the journey with you.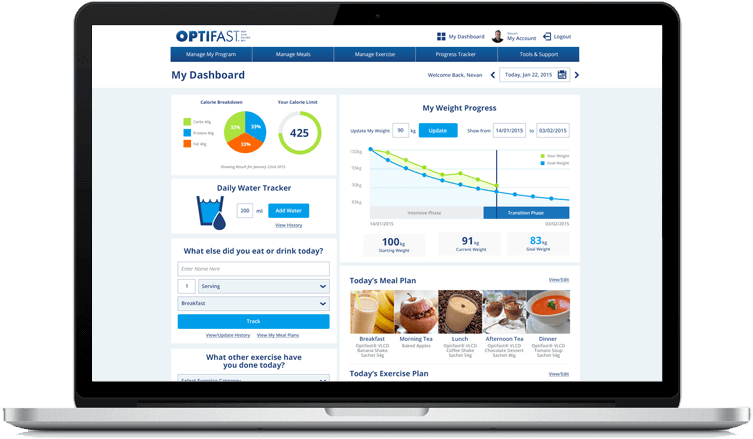 Am I allowed to use the OPTIFAST VLCD program?
The OPTIFAST VLCD is a weight loss program designed to manage obesity and must only be used under the supervision of a healthcare professional. So, make sure to first ask your doctor if the program is suitable for you.
Keep in mind that it's not recommended for everyone. Some of these groups are listed below.
Normal weight (BMI <24kg/m2)
Optifast warns that individuals with normal weight should never use the VLCD or the Intensive Level of the VLCD Program because it can result in losing too much lean body mass. This includes people who have a BMI less than 24kg/m2. Instead, the brand recommends chatting with an Accredited Practicing Dietitian for a suitable weight management plan.
Pregnancy
The OPTIFAST VLCD Program should not be used during pregnancy, due to the possibility of elevated levels of ketones in the blood and the potential effect(s) on the fetus. Plus, the OPTIFAST VLCD Program isn't suited to provide all the nutrients needed for a healthy pregnancy.
Optifast also recommends pre-menopausal women consider taking appropriate contraception if on the Intensive Level of the OPTIFAST VLCD Program.
Breastfeeding
The Intensive Level of the OPTIFAST VLCD Program is not recommended for women who are breastfeeding. Active 2 or Active 1 Levels may be used, but it's best to consult your healthcare professional first to check your eligibility for the program.
Children under 18 years of age
Optifast advises that children under the age of 18 should not use the OPTIFAST VLCD Program.
Pre-existing conditions
Optifast warns against using the VLCD Program if you have a liver or renal disease, or have some level of porphyria. It's also not recommended for people who have recently suffered a Myocardial Infarction (heart attack) or have been diagnosed with Unstable Angina (chest pain).
Other groups of people this product is not recommended include those who:
Are aged 65 years and older
Have pancreatitis
Have gout
Have fertility issues
Have cholelithiasis or past history of gall stones
In any case, you should always check with your doctor to see if the OPTIFAST VLCD Program is safe for you to use.
Does Optifast have gluten-free or lactose-free options?
All OPTIFAST VLCD products are said to contain some level of lactose and soy-based ingredients. If you have coeliac disease or a gluten intolerance, be aware that items such as some OPTIFAST VLCD bars are manufactured on equipment that also processes oats. So, while these bars are not made with ingredients that contain gluten, they may still contain traces. OPTIFAST bars are also made on equipment used to make products involving tree nuts and peanuts. OPTIFAST shakes, desserts, and soups are similarly made on equipment which makes products containing egg.
Is Optifast worth the money?
The OPTIFAST VLCD Program is intended for patients deemed overweight or obese, those medically at risk of developing weight-related conditions, and anyone just looking to maintain a healthy weight.
If you're worried about having to stick to drinking the same weight-loss shake each day, OPTIFAST serves up a variety of other meal replacement options such as soups, desserts, snacks and bars. These are available to buy in pharmacies, hospitals or via the Optifast website.
To see how other brands fare in helping Aussies trim the fat, don't forget to check out our weight loss shakes review by hitting the link below.
About the author of this page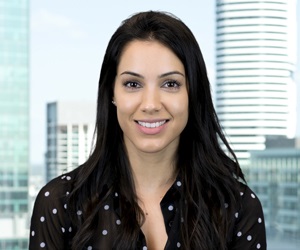 This report was written by Canstar Blue's Home & Lifestyle Content Lead, Megan Birot. She's an expert on household appliances, health & beauty products, as well as all things grocery and shopping. When she's not writing up our research-based ratings reports, Megan spends her time helping consumers make better purchase decisions, whether it's at the supermarket, other retailers, or online, highlighting the best deals and flagging anything you need to be aware of.
Picture credits: P-Kheawtasang/Shutterstock.com.