Siemens-Signia Hearing Aids Review & Guide
Hearing loss is a gradual process that affects many Australians. But thanks to technology, hearing aids are constantly evolving to help you find a perfect fit.
From difficulties communicating with others to depression, hearing loss impacts people in different ways. This is why brands like Siemens-Signia provide a wide range of devices and accessories that listen to your needs. And just because you may have trouble hearing, doesn't mean you can't enjoy life to the fullest. Most of the products available can stream phone calls, music and audio from television directly to your hearing aids. Many of the models also feature functions which tune out background noise sound so you can focus on what's important.
To help you figure out what's best for you, we've compiled a list of the different hearing aids on offer and listed their features.
Siemens-Signia Hearing Aids
Siemens-Signia offers a wide range of hearing aids to suit a variety of hearing concerns. The products range includes:
Pure Charge&Go Nx
Pure 10Nx
Pure 312 Nx
Pure 13Nx
Motion 13Nx
CROS Nx
There are also several collections, including:
Ace
Pure 13BT
Pure
Carat
Cellion
Motion
Silk
Insio
Siemens-Signia Pure Charge&GO Nx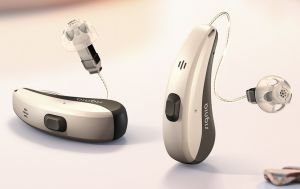 Want to bump up your hearing and listen to your favourite music or podcast on-the-go? Siemens-Signia's Pure Charge&Go Nx is a rechargeable hearing aid which allows you to directly stream calls, music and television.
Suitable for people with mild to severe hearing loss, the model blends the natural sound of your own voice with surrounding sounds to make sure what you hear isn't too loud, or seem unnatural. It also features a 3D Classifier, which is said to provide automatic control so you can adjust your device for a more comfortable experience.
If you're out and about, the settings on the hearing aid can be changed using the motion data on the myControl App. Alternatively, you can use the miniPocket remote which can be conveniently attached to your keys.
Unlike some devices, the Pure Charge&Go Nx uses Lithium-Ion battery. This is claimed to help your hearing aid last longer and offer faster charging speeds. The device can be charged for three hours, and is said to last around 19 hours, or 17.5 hours if streaming through Bluetooth. If you don't have time to make a full charge, a 30-minute charge time will last a bit longer than six hours.
Siemens-Signia Pure 10 Nx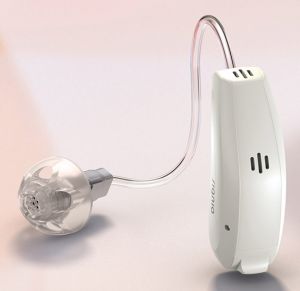 Sometimes we don't need all the fancy bells and whistles to enjoy the simple things in life. With the Pure 10Nx, you can do just that.
The super compact device aims to help you achieve a true, life-like hearing experience by mirroring the way you would naturally hear sound. It similarly filters background noise so that you can focus on what's important.
The Pure 10Nx is also button-free and can be adjusted using the touchControl App on your phone. This allows you to adjust the volume, bass and treble right from your fingertips.
Siemens-Signia Pure 312 Nx
The Pure 312 Nx is a small device which packs big features. Similar to the Pure Charge&Go Nx, this hearing aid allows you to stream audio from your smartphone and TV. It can be similarly controlled via your smart phone or manually.
Siemens-Signia Motion 13 Nx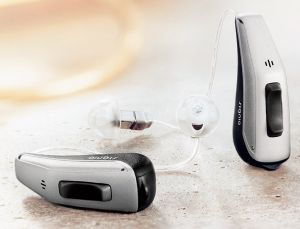 The Pure 13Nx is designed to provide long wear time and great connectivity to help you easily stream from your smartphone and TV. Suitable for all levels of hearing loss, this model is claimed to offer the longest audio stream time in its class. It is also said to featutes/74/2016/02/Ace-primax_hearing-aids-beach_950x700px.jpgre high hearing performance and create life-like sound.
Like many of the items available from Siemens-Signia, the settings on the Motion 13Nx can be adjusted using the touchControl App on your smartphone. You can alternatively use the miniPocket remote control.
Siemens-Signia CROS Pure 312 Nx
If you have unaidable hearing loss in one ear, the CROS Pure 312 from Siemens-Signia's CROS Nx collection may be the perfect answer. The compact hearing aid is the first CROS accessory that allows you to directly stream music and phone calls to your hearing aid without another device. The settings can also be adjusted through the brand's myControl App on your smartphone. A rocker switch is similarly available on the hearing device.
Siemens-Signia Ace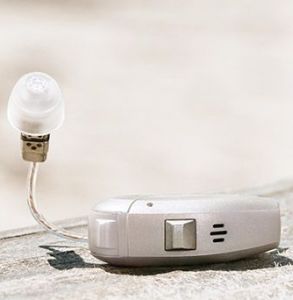 If you're looking for a hearing aid to fit your active lifestyle, the Ace model is a super discreet model said to resist any moisture, sweat, dust and dirt. It also includes an automatic SpeechMaster function to filter unwanted noise and help you focus on what's important. The device similarly uses the SoundSmoothing function to minimise any distracting background sounds.
To help you enjoy the world around you, the Ace hearing aid even applies the eWindScreen function to reduce the impact of the breeze on your device. If you're a singer or just simply love to sing-along to your favourite song, the Ace hearing aid has a HD Music program to give you a clear and crisp sound.
Siemens-Signia Pure 13BT
If you're a fan of Apple, the Pure13BT is especially made for the iPhone. Unlike some other devices, this model is designed to help you care for your ear health by building a personalised sound profile over time based on noise exposure. It can also stream music, phone calls and audio from your television directly into your hearing aid.
Siemens-Signia Pure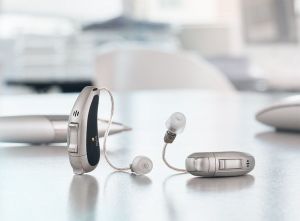 If you're tired of changing the batteries on your hearing aid, the Pure model uses the eCharger to keep things going. It's also Ip67-rated, which is said to ensure that your device stays moisture and dirt free. Similarly to Siemens-Signia's other hearing aids, the Pure includes SpeechMaster and the eWindScreen binaural function to minimise window noise.
Accessories like the easyTek technology is available to help you conveniently adjust the volume, answer calls, change listening programs or transition between music players and television.
Siemens-Signia Carat
Focusing on convenience, the Carat hearing aid is claimed to feature larger battery packs to give you longer performance and remove the need for batteries. Like many of Siemens-Signia's devices, Carat also includes the SpeechMaster function to filter distracting background noise.
Accessories, such as easyTek and VoiceLink are available to help you manage a more comfortable hearing experience in different situations.
Siemens-Signia Cellion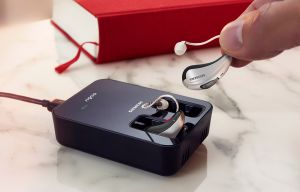 Featuring a unique OneShell design, Cellion replaces batteries with a lithium-ion power cell to give you up to two days of use on just a single wireless charge. The hearing device automatically turns on once it's removed from the charger to provide unlimited streaming. If your battery needs a quick pick me up, a 30-minute charge is said to allow your device to continue for seven hours.
Siemens-Signia Motion
If you're searching for a hearing device that can keep up with your busy lifestyle, Motion may be what you're looking for. Like the Ace and Pure models, this hearing aid is IP67-rated and said to stay moisture, dirt and dust free. You can also use an earhook or a ThinTube for a more comfortable experience.
Siemens-Signia Silk
Designed to provide silky smooth comfort, the Silk is a small hearing made from flexible silicone. Unlike most of Siemens-Signia's products range, this sits inside the ear canal.
These super small hearing aids are full of features aimed to give you high sound quality. It includes a unique binaural OneMic technology, which is said to improve the ear's natural focus on certain sounds while filtering background noise. Wireless connectivity is also available to you can stream audio directly to your device without needing to reach for a remote.
Siemens-Signia Insio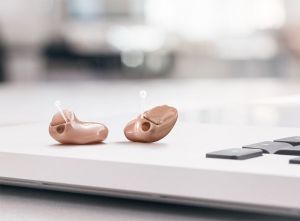 The Insio range includes a selection of small hearing aids tailored to provide a comfortable fit. The different styles include the Insio IIC, Insio ITC, Insio ITE and Insio CIC.
If you have tinnitus, the Insio ITE, Insio ITC and Insio IIC allow you to switch between five static noise types and four ocean wave signals. People who use only one microphone can also enjoy the OneMic technology in the Insio CIC to achieve improved directional hearing.
Each model includes a vent to promote airflow and a waxguard to keep the hearing aid clean.
Does Siemens-Signia have the right hearing aids for me?
Siemens-Signia says it focuses on delivering life-like sounds to ensure a comfortable, natural hearing experience. The brand tackles the challenges of hearing loss through high-tech solutions, offering unique functionalities to suit different needs and different levels of hearing loss. These are available in a broad range of styles, colours, and fit. Accessories like the Streamline TV, easyTek and VoiceLink are also available to help make the hearing aids to fit your lifestyle.
Most of the devices are worn behind the ear. Many items in the products range can also be controlled either manually or via the miniPocket remote. The touchControl App and myControl App are also available for people who prefer to use their smartphone.
If you're searching for a discreet design, the Silk series contain in-ear hearing aids made from flexible silicone. People with tinnitus can also choose between the Insio ITE, Insio ITC and Insio IIC for a selection of hearing aids that include several ocean wave signals and noise type options.
There are also battery-free options such as the Cellion series, Carat or Pure Charge&Co Nx which use lithium-ion instead of batteries. These are perfect for those looking for longer performance and want something durable and hassle-free.
We know finding the right hearing aid can be a struggle. This is why we have plenty of reviews and ratings on our website to help you decide what's perfect for you.
About the author of this page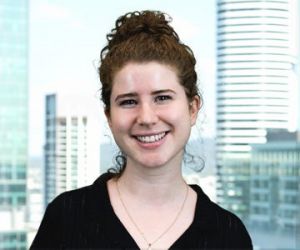 This report was written by Canstar Blue's Content Producer Luciana Lawe Davies. She writes about streaming, appliances and consumer products and services. Luciana enjoys bringing readers the best in what's on TV and at the shops, including the best deals and latest reviews.