Review of ALDI laundry powder and liquid
ALDI continues to rise high in popularity among consumers thanks to its record of providing good-value products without compromising on quality. But with so many different players in the laundry detergent game, what makes this outside competitor so successful? Find out with Canstar Blue's review of ALDI laundry powders and liquids.
ALDI laundry detergents
ALDI produces three different laundry detergent brands, at different price points, each with both liquid and powder varieties. They cover a range of different laundry needs, from leaving your clothes smelling great, to products with minimal irritants for sensitive skin.
There are a few features that remain consistent across all ALDI laundry brands. All contain no added phosphorus, with any present in quantities below 0.5%. They're also suitable for both top loader and front loader washing machines.
ALDI Trimat
Arguably ALDI's highest-regarded (and highest priced) laundry brand is Trimat – a utility-focussed detergent. The brand has three different varieties:
Regular (powder & liquid)
Colour (powder only)
Sensitive (powder & liquid)
Trimat Advanced Laundry Liquid
Trimat laundry liquids are said to use 'triple action technology' (three active surfactants) for optimal stain breakdown and removal. The Trimat Advanced Sensitive liquid is dermatologically tested to be gentle on skin. Both the Trimat Advanced Regular and Sensitive liquids contain pre-treaters for sharper colours and brighter whites, so you don't feel the absence of a colour laundry liquid. As a double concentrate formula, you can get twice as many washes out of a bottle compared to standard concentration laundry liquids.
At time of writing, ALDI prices Trimat laundry liquids at $3.99 for a 1L bottle.
Trimat Advanced Laundry Powder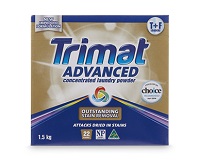 The Trimat Regular powder is touted as targeted towards dried in and tough stains, such as dirt and grass, pasta sauce, blood, coffee, makeup, sweat, baby food and fruit. Trimat Colour Care contains pre-treaters which apparently help sharpen colours and brighten whites, so you don't get fading or discolouration. Trimat Sensitive is dermatologically tested for safety and comfort for those with sensitive skin and contains no dyes or perfumes to reduce any triggers for skin irritation.
At time of writing, ALDI prices Trimat laundry powder at $5.99 for a 1.5kg box. One box of laundry powder will clean 22 standard laundry loads.
ALDI Almat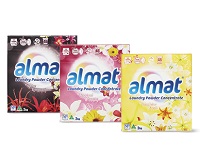 ALDI's range of scented laundry detergents doesn't miss out on the practical needs of families. Like with Trimat, Almat uses three enzymes to get into fabric fibres and lift out soiling and stains in both hot and cold water. It's claimed to put up a winning fight against stains like blood, milk, ink and food oil. Almat also contains optical brighteners that keep colours and whites bright.
Almat comes in four different scents – Spice Temptations, Arctic Breeze, Sunshine Fresh and Tropical Breeze. These fragrances are created from essential oils for a family-friendly wash which leaves clothes smelling fresh.
Almat laundry powder comes in 2kg (46 standard laundry loads) boxes, priced at $5.29, or 4kg (92 normal washes) boxes. Almat laundry liquid comes in 2L bottles priced at $5.69.
ALDI Laundrite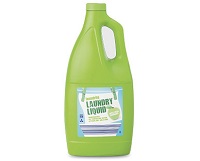 At the proper budget end of ALDI's laundry brands, Laundrite keeps it cheap and very simple. The laundry liquid has a deliciously-sounding apple fragrance for an incredibly low price of $1.49 for a 2L bottle. The laundry powder likewise has a bright fruity lemon fragrance, priced at $3.69 for a 4kg box.
Should I use ALDI laundry detergent?
ALDI has been quite successful at disrupting Australia's supermarket duopoly as it tends to manage the balance between low prices and quality products in a way that has drawn in swaths of customers. Its laundry detergents have been at the heart of ALDI's success.
Despite being priced well below much of their competitors, ALDI's laundry brands are widely considered to do just as good a job, if not better. Almat in particular has consistently rated highly in Canstar Blue's annual review of laundry powders, while Trimat has been a standout performer in our laundry liquid comparisons. All in all, ALDI appears to have struck a winning balance between product quality and price.
About the author of this page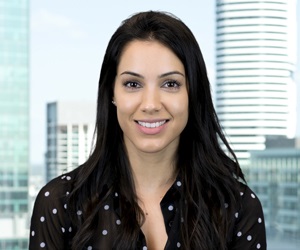 This report was written by Canstar Blue's Home & Lifestyle Content Lead, Megan Birot. She's an expert on household appliances, health & beauty products, as well as all things grocery and shopping. When she's not writing up our research-based ratings reports, Megan spends her time helping consumers make better purchase decisions, whether it's at the supermarket, other retailers, or online, highlighting the best deals and flagging anything you need to be aware of.