Everdure BBQs Review
Everdure offers a number of products from heaters to kitchens and BBQs. Its BBQ range covers the full spectrum, producing portable BBQs as well as built-in outdoor kitchens. We review all the specs and features of each model to provide you with an insight of which Everdure model may be right for your barbecuing needs.
Everdure Classic BBQ Series
Flinders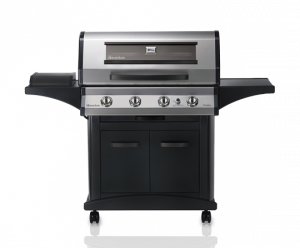 The Flinders model is an LPG type BBQ with electronic ignition. It is equipped with 4 x 15MJ burners, triple ring wok burner and a temperature gauge. An important factor when considering BBQs is their durability and similarly across all Everdure BBQs, the brand uses 304 grade stainless steel materials for the fascia and front hood. Everdure has also designed its hood with a viewing window and a roll back feature for easy glide handling and to help fit it into tight areas like balconies and small backyards.
It provides a fairly large cooking area – 800 x 475mm – and has a matte vitreous cast iron hot plate, grill plate, warming rack as well as a vaporiser. The trolley has a black Onyx high temperature powder coated design. An optional rotisserie can be purchased additionally and installed to this BBQ. One feature not available with this model is an LED light inside the hood.  It has a 5 year warranty.
Ashburton eSee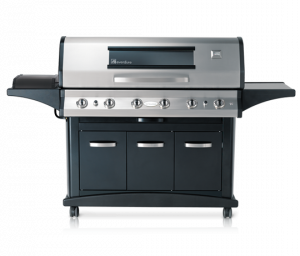 A slightly larger BBQ model compared to the Flinders BBQ, the Ashburton eSee has an additional hood lighting feature, giving you the convenience to view your food as well as cook in the dark. Similarly, it has a sleek design with an enamel BBQ body, a steel frame and metallic black storage cupboards with three doors. The 304 grade stainless steel hood and fascia panel are aimed to provide you with long term durability.
You will find 6 burners with this model, giving you 90MJ of heating power. It uses an electronic ignition and a 16MJ triple ring brass wok burner with a lid. It has a temperature gauge, warming rack and a roll back roasting hood, which is claimed to require minimal clearance when the BBQ is positioned against a wall. It features a front slide out fat drip tray for easy maintenance. Some additional features include an enamel hot plate, grill plate, baking dish and vaporiser. A rotisserie can be installed but is not included with the BBQ.
Everdure Neo BBQ Series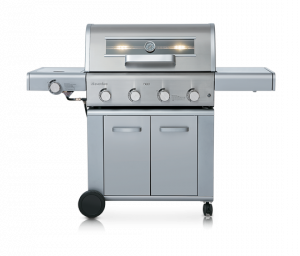 The Neo BBQs all have ergonomic gas knobs, a wok burner and temperature gauge. There is a 3 year warranty on this range.
Neo Argento eSee – has an under the hood lighting system to put your skills under the spotlight. It has stainless steel features, 4 cast iron burners for grilling and a flat plate for cooking or roasting. It has been designed with rotary ignition, which means you simply turn the knob to ignite the burners.
Neo Curva – has a sleek black design with a two door storage compartment. It is equipped with a roll back roasting hood but doesn't feature hood lighting or a viewing window.
Neo Figura eSee – claimed to be compact, smart and economical. It features hood lighting, viewing window and 4 x 15MJ cast iron burners. It is designed with 304 grade stainless steel roll back roasting hood and warming rack. Despite its compact design, it provides storage with two cupboard doors.
Neo Grande eSee – equipped with 6 x 11.66MJ cast iron burners. It is a larger version to the Neo Figura eSee and includes a hot plate, grill plate and backing dish.
Neo Vista eSee –also designed with 6 x 11.66MJ cast iron burners but has a complete stainless steel look. It uses a roll back roasting hood and viewing window, warming rack and slide out drip tray for easy cleaning. You can install a 240V optional stainless steel rotisserie.
Outdoor Kitchens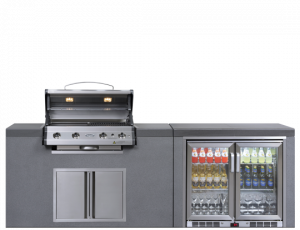 For built-in BBQs, Everdure provides UV protected outdoor kitchens with a minimalist design. You have the option of either a 4 burner or 6 burner option, depending on how many people you wish to use the barbecue for. The BBQ itself is equipped with hood lighting and a roasting hood. It has a metal framing and porcelain tile workbench. The 6 burner model is equipped with an additional sink, tap and chopping board, giving you some great tools to entertain. If you are serious about your outdoor cooking, this may be an option for you.
You may also be interested in:
Everdure Portable BBQs
This series has been designed with portability in mind. There are several ranges including E2GO, Neo Buddy and Echurrasco.
e2go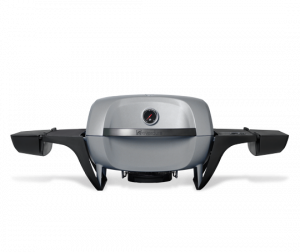 The E2GO Grill has a cast aluminium body with a temperature gauge, trolley stand and centralised fat drainage for easy cleaning. It is claimed to be big enough for roasting 2 legs of lamb or a small turkey with its 2 open matt vitreous grill plates. It has a lightweight cast aluminium construction, in order to maintain its portability and is also equipped with quick snap serveries to store any condiments, which are dishwasher-safe for easy cleaning.
There is also a Red E2GO version, which is quite similar but has one open matt vitreous grill plate and one matt vitreous cast iron cooking plate. All other design features are the same.
Neo Buddy
Neo Buddy – has a compact design with a temperature gauge and trolley stand. It has a 9.5MJ stainless steel ring burner and non-stick cast aluminium "Comb-e-Plate", which encompasses a grill and flat plate cooking area. Everdure boasts a patented design for healthy grilling with this model through its central fat drainage system, which incorporates a disposable aluminium and fat collection tray. Its gross weight is 16.8kg, giving you easy portability whether you prefer to keep it on your balcony or take it with you camping.
Neo Buddy Grill – is similar to the Neo buddy in terms of size but has a different cooking plate, which is designed with a matt vitreous open grill instead of non-stick cast aluminium. For grease management, it has a front slide-out drip tray, giving you an easy cleaning feature.
Echurrasco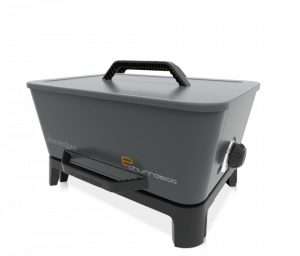 This model is aimed to combine the flavour of charcoal barbecuing with the speed of gas ignition. It features a trolley stand with easy-wheeling and a cold rolled flat lid, which can also be useful as a wind shield. It has 1 cast iron, patent protected H shape design and a furnace body with a heat resistant nylon base. For easy cleaning, it is equipped with a front slide out waste tray.
The Echurrasco uses a chrome cooking grill and has optional accessories that can be purchased and installed such as a rotisserie, fish basket and sizzling plate. Its total weight is 21.3kg and provides 22.5MJ of heating power. There is a one year warranty on this BBQ.
Everdure by Heston Blumenthal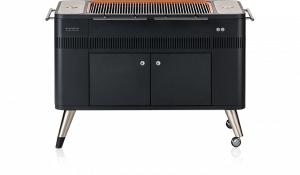 This range has been created by the popular celebrity chef, Heston Blumenthal. He envisioned a BBQ with style, and his range certainly is a designer's dream with a number of different coloured BBQs that add a contemporary feature to the backyard. Everdure boasts efficient heat up with these BBQ, claiming to get your charcoal burning in just 10 minutes with an electronic "set and forget" control.
Hub – provides a charcoal experience with a built-in 40kg rotisserie system. It has a storage area with two double-lined doors and a porcelain enamel firebox. It has chrome grills with cool-to-the-touch handles and 1.5m power cord.
Fusion –a slightly smaller model with a 15kg capacity rotisserie system. It comes with a pedestal stand and a 1.5m power cord. You can also purchase the Fusion without the pedestal stand.
Cube –for a charcoal BBQ on the go, this portable model is claimed to be lightweight and equipped with a food-grade storage tray and bamboo prep board.
Furnace – a 3 burner gas BBQ, which is claimed to be ready to cook in 5 minutes. It uses vitreous enamel coated grill plates and a die-cast aluminium body. There are four colours to choose from.
Force – a smaller BBQ version of the Furnace, equipped with 2 burners. If you will be using the BBQ mostly for the family, 2 burners should suffice.
Is Everdure your new backyard buddy?
From celebrity style BBQs to your easy portable Neo Buddy Grills, Everdure has plenty of choice to provide you with some additional backyard entertainment. Depending on how you intend to use your BBQ, a small 2 burner BBQ is sufficient for grilling up a Sunday night dinner for the whole family. But if you're after entertaining extended family and friends, you can opt for a 6 burner Ashburton eSee BBQ with a roll back roasting hood.
When deciding which BBQ is right for you, consider its size, material build as well as extra features such as an additional rotisserie if you want to impress your friends with your BBQ. You may like to consider online ratings via the link below to help with the decision.
About the author of this page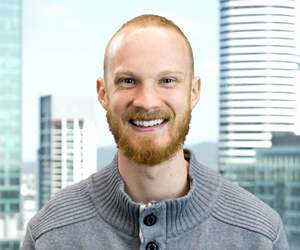 This report was written by Canstar Blue's Content Projects Lead, Dean Heckscher. He's our resident expert on all things automotive, health & fitness, streaming and more. Dean is also one of Canstar Blue's customer research report producers, helping to turn complicated subjects into easily-digestible information for our readers. He's passionate about helping consumers make better-informed purchase decisions on all manner of consumer goods and services.