Tempur Mattress Review & Guide
Tempur boasts its start with NASA in the 1970s providing cushion and support for astronauts. It now has a wide range of mattresses that are claimed to provide weight distribution and pressure relief, leaving you feeling weightless just like in space. Since mattresses are a long-term investment and there is plenty of choice in the market – we provide a concise review of each mattress range that Tempur offers.
Tempur Mattresses
The full Tempur mattress line is made in Denmark. The company offers single sided mattresses so these don't require flipping and come with a 10 year guarantee. It boasts mattresses developed in partnership with an in-house design team along with a global team – IDEO.
Across the full range you will find tailored covers with a bright trim. The labels on each range are colour-coded so it makes it easy to distinguish which line the mattress belongs to. Two main systems in place across the mattresses are:
Tempur CoolTouch Technology: the fabric is claimed to keep your cover feeling cool and absorb heat (this technology is available on selected mattresses and exclusive to Harvey Norman stores).
Tempur QuickRefresh Cover: a machine washable cover that can be unzipped and washed with replacement covers also available for the Elite and Luxe mattresses.
Tempur Original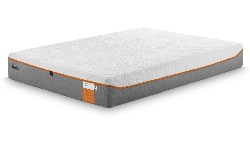 The core range is designed for a firmer feel. It boasts space technology for weightless comfort and body contouring. The main difference between each mattress in this range is its layers. The Tempur Original Elite with Soft-Touch mattress has a Tempur Quilted Extra soft material at the top for comfort. One layer down you'll find the Tempur Comfort Material, which is designed to provide a firm feel. The next layer is the Tempur Support Material, which is boasted to provide pressure relief. At the bottom you'll find two layers of DuraBase technology for support.
Tempur Hybrid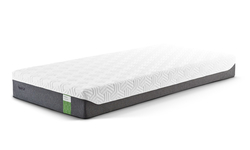 The Tempur Hybrid line of mattresses is claimed to have the latest innovation with pressure relieving benefits and responsiveness of springs. The Hybrid range is boasted for dual layers of Precision MicroCoils, claimed to react to movement and be responsive.
The Tempur Hybrid Luxe with CoolTouch mattress features the Advanced Tempur Material at the top of the mattress, which is designed to help relieve pressure points. The second layer consists of the Tempur Dynamic support technology and the bottom layer uses the Tempur DuraBase technology. This layer structure can be found on most mattresses in the Hybrid range with slight alterations between each model.
You may also be interested in:
Tempur Cloud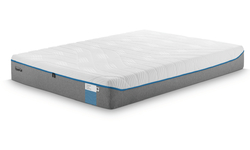 If you're after a soft feel mattress, you may like to consider the Tempur Cloud range. Its top layer is claimed to have soft material to help instantly cushion the body while maintaining support. The other layers found in these mattresses include the Tempur Quilted Extra Soft Material for a luxury feel, Tempur Extra Soft Material and Tempur Comfort Material with the DuraBase Technology. It's claimed to give a soft initial feel along with the support required for a comfortable sleep.
Others in the range such as the Tempur Cloud Plus mattress features an antibacterial treated cover and memory foam to help relieve pressure points. The top layer is also claimed to cushion and contour the body similarly to the other mattresses in the Cloud range.
Tempur Sensation

The Tempur Sensation range is designed for ease of movement while providing weightless comfort. One of the mattresses in this line is the Tempur Sensation Luxe with CoolTouch. Its layers consist of the Tempur Comfort Material at the top, boasted as a 'luxurious' layer to conform to the body and provide pressure relief, the Dynamic Support technology, claimed to guarantee ease of movement as well as provide full body support, and two layers of the DuraBase technology at the bottom. Similarly to the above ranges it features the CoolTouch technology to maintain a cool sleeping surface.
Should I go home with a Tempur mattress?
Most Tempur mattresses sit between $3,000 and $6,000, so it would be wise to not take the decision lightly. With an extensive mattress range, Tempur gives plenty of choice for Aussie consumers. Whether you're looking for additional firmness or a softer feel, Tempur may have a mattress for you.
All Tempur mattresses are equipped with the CoolTouch Technology and come with a zip-off washable cover, giving you the convenience of an easy wash. The Hybrid range boasts responsive springs to react to movement and provide pressure relief.
In Australia, you can find Tempur mattresses in Harvey Norman, Snooze, Domayne and Bedshed. You may like to consider online ratings – such as ours – to see how Tempur mattresses compete with other brands before you make your purchase. You can find the ratings via the link below.
About the author of this page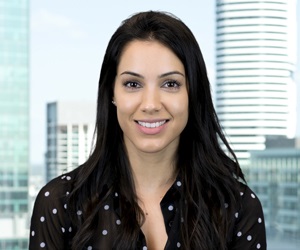 This report was written by Canstar Blue's Home & Lifestyle Content Lead, Megan Birot. She's an expert on household appliances, health & beauty products, as well as all things grocery and shopping. When she's not writing up our research-based ratings reports, Megan spends her time helping consumers make better purchase decisions, whether it's at the supermarket, other retailers, or online, highlighting the best deals and flagging anything you need to be aware of.