Hire cars are a handy option for the traveller, whether you're on a business trip or a well-deserved holiday, allowing you to go on adventures while leaving your own set of wheels at home. However, when it comes to deciding which hire car provider to go through to begin your journey, it can quickly become a roadblock, with plenty of options to narrow down.
In this guide, Canstar Blue lists car hire companies in Canberra, as well as pick-up and drop-off locations and what vehicles and services you can expect, helping you to enjoy your time on the road.
Car Rental in Canberra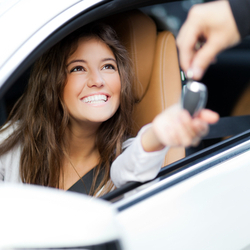 If the nation's capital city is your next destination, renting a hire car may prove to be worthwhile. Here is a list of hire car companies that operate in Canberra:
Europcar
Hertz
Avis
Budget
Thrifty
Enterprise
Redspot
National
Sunny Cars
Firefly
Alamo
Dollar Car Rental
Car Rental at Canberra Airport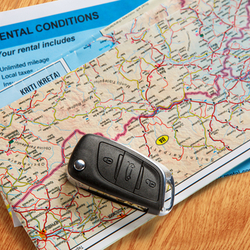 Chances are you'll be landing at Canberra airport and need to line up a set of wheels to take you on the next stage of your journey. Here's a list of hire car companies with a presence at Canberra International and Domestic airport:
Thrifty
Europcar
Avis
Hertz
Redspot
Budget
Pick-up and drop-off locations in Canberra
While it may not be the biggest of cities to explore, location can still play a big part in your decision-making process when it comes to finding a suitable car hire provider in Canberra. Some providers will have a vehicle waiting for you at the airport, while others may be a bit further afield, meaning you'll have to sort out transport to and from your pick-up or drop-off location.
Similarly, while most providers will offer the ability to select where you pick-up and drop-off your rental car from, some companies may only allow you to deal with the one location, meaning you may have to work your schedule around your car hire provider when it comes to returning the keys.
Cheapest Car Rental in Canberra
In addition to location, price is also a key factor when it comes to choosing a hire car provider, particularly if you're hoping to travel on a budget. While your final bill will come down to which vehicle, extras and cover you decide to drive away with – and whether or not you've returned your ride scratch free – looking into all of your options, including the smaller providers, may help you find something that will suit your bank balance.
In addition to which car you decide to get behind the wheel of, prices will be influenced by how far in advance you book your ride, with bookings closer to your pick-up date likely to be more expensive than those booked well in advance. However, most providers offer discounts or promotions if you keep your eyes peeled, allowing you to have more spending money for your trip.
Luxury Car Hire in Canberra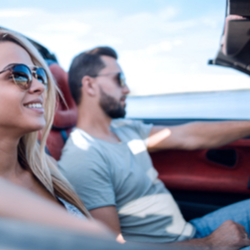 If you're looking to arrive in style while in Canberra, a luxury car rental may be just the ticket for your next trip. If you're looking to get behind the wheel of something exciting or exotic, here is a list of car rental companies with luxury cars for hire in Canberra:
Thrifty
Europcar
Enterprise
Hertz
Avis
Alamo
Sixt
National
About Hire Car Companies in Canberra
Europcar Car Rental Canberra
Available in more than 140 countries around the globe, Europcar is well-known within the hire car scene, with over 100 locations in Australia. Bookings can be made online, or through the Europcar app, making it easy if you've left it to the last minute. With a fleet that consists of small cars, sedans, as well as 4WDs and vans for all your transport needs, Europcar offers a number of extras to help make your time behind the wheel more enjoyable, including GPS and child seats.
Europcar allows for separate pick-up and drop-off points, making it easier to organise around your trip. Opening hours, as well as pricing quotes are available on the website, allowing you to budget both your money and time before you set out. Loyalty programs and rewards are also available for those who are constantly travelling and using Europcar.
Europcar Locations in Canberra
Canberra Airport
Canberra City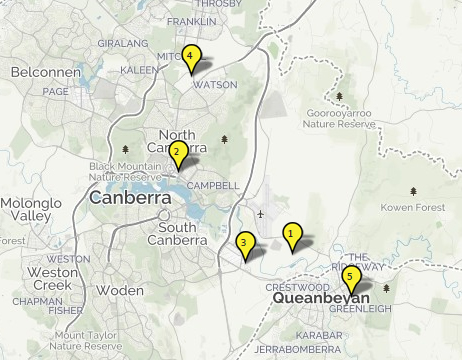 Hertz Car Rental Canberra
With more than 200 locations around Australia, Hertz is a popular option for those looking for a hire car or truck. Hertz provides online check-in to speed up the process, allowing you to partly fill-in your details before you arrive at your designated pick-up area, meaning you can get your journey underway quicker. You can also use the Pre-pay option to save time at the checkout, although this is available at only select locations. In addition, you can organise to drop your rental car off at a different place, making it easy for those on a one-way trip, or those whose plans change halfway through their trip.
Prices for Hertz car hire can be found once you've entered in your trip details and locations, making it easy to budget for your trip, with additional extras such as sat nav also available through the booking and checkout process.
Hertz Locations in Canberra
Canberra Airport
Canberra Downtown
Fyshwick
Mitchell
Queanbeyan
Avis Car Rental Canberra
Providing more than 100 locations around Australia, global-brand Avis offers a range of cars, including small cars, sedans and SUVs, along with trucks to help with a move, or for when you've got a big job ahead of you. For those who are going to multiple locations, you can select where you would like to pick up and drop off your rental, making it easier to work around your schedule instead of worrying about where you should drop the keys off to.
Costs are outlined after you've entered in your travel dates and locations, with optional extras available as you progress through the booking process. Avis allows for drivers to pre-pay their booking, with Rapid Return also available for those who don't want to wait around while dropping off their rental.
Avis Locations in Canberra
Canberra CBD
Canberra Airport
Fyshwick
Budget Car Rental Canberra
An American brand, Budget is available at more than 200 locations around Australia, and like other hire car operators, Budget has a range of vehicles for you to choose from, including smaller models for when you're travelling on your own, or SUVs for those who have a crew with them.
Rates and prices are outlined as you book your car online, with options broken down into car types, including 'compact' cars such as the Suzuki Swift, and 'full size' cars for those looking for a Holden Commodore or something similar. Additional extras such as GPS, child safety seats and even snow cover can be added onto your order, with Budget also allowing users to prepay at a discounted rate for those who have their plans locked in early.
For those who are frequently travelling, Budget offers Fastbreak, which allows you to pick up and drop off your ride quicker and easier. While only available at select locations – and you have to be a Fastbreak member – it may be a handy option for those in a rush.
Budget Locations in Canberra
Thrifty Car Rental Canberra
Offering more than 200 locations around Australia, Thrifty's pick-up and drop-off points as well as opening hours can be found online. Similar to other providers, you can select from a range of vehicles, including small compact models, to larger SUVs and commercial vehicles. You can even hire a bus from Thrifty, making those school excursions or big group trips easier to manage.
Pick-up and drop-off locations can be selected when booking, making it easy to organise your hire car around your trip, and not the other way around. You can even add strollers, booster seats and GPS to your bookings, helping to make everyone on the trip more comfortable.
Thrifty Locations in Canberra
Canberra City
Canberra Airport
Fyshwick
Other Hire Car Companies in Canberra
Enterprise Car Rental Canberra
A global brand, Enterprise looks to focus more on short-term car rentals, making it a handy option for those who are just looking to get around town for the day. Enterprise offers a number of vehicles for your driving preferences, including small cars such as the Hyundai i20, with larger models such as the Toyota Camry also available. Users can choose where to pick-up and drop-off their rentals, with rates and fees shown during the booking process to ensure that you aren't left with a surprise when you drop the keys off.
Enterprise Locations in Canberra
Canberra Airport
Canberra CBD
Redspot Car Rental Canberra
A smaller operator in comparison to its competitors, Redspot has been in operation since 1989, and offers a number of vehicles for drivers to choose from, including the smaller Kia Rio all the way to the Holden Colorado ute, as well as other commercial vehicles such as vans and trucks. Redspot offers a number of pricing tiers to choose from, including Bare Bones, Middle of the Road and Top Dog, each with different included extras and cover, helping you to personalise to your journey and preferences.
Redspot Locations in Canberra
National Car Rental Canberra
Operating under the Enterprise brand, National allows you to reserve a hire car for either yourself or a friend, helping to make the organising phase of your next big trip easier. With a wide range of vehicles available to hire, including smaller models like the Kia Rio, plus larger models like the Subaru Forester or Mitsubishi Outlander, you can load up on extras and policies during the checkout to ensure you get the most out of your trip. You can also sign up to the Emerald Club for bonuses and discounts.
National Locations in Canberra
Sunny Cars Rental Canberra
Founded in Germany, Sunny Cars operates on a global scale, and is available in major and capital cities around Australia. A variety of vehicles and packages can be purchased to suit your style and budget, with Sunny Cars accepting payments through PayPal as well as major credit cards, making it easier for those budgeting their trip. You can filter your car results to suit what you need, but be careful when booking online as prices first appear in euros – so be sure you don't get caught when converting to Aussie dollars!
Sunny Cars Locations in Canberra
Canberra CBD
Canberra Airport
Firefly Rental Canberra
Firefly is available around major and capital cities of Australia. Owned by Hertz, Firefly has been in operation since 2013, and has a number of cars available for hire, including the Suzuki Swift for those after a small model, or the Toyota Kluger and Kia Carnival for those who need something a little bigger. Extras such as GPS units and child seats are also available through the reservation process, allowing you to find out how much you're spending before you pick up the keys.
Firefly Locations in Canberra
Alamo Car Rental Canberra
Originating in America, Alamo has expanded on a global scale, and currently operates under Enterprise Holdings along with Enterprise and National car rentals. Offering small models for the solo traveller or large SUVs and people-movers for when you're taking the whole crew, Alamo has plenty of options available for your hire car needs, with extras available through the booking process.
Alamo Locations in Canberra
Dollar Car Rental Canberra
Another American brand, Dollar Car Rental currently operates under Thrifty, with the brand available across 70 countries globally. Cars available include the Hyundai Getz for those looking for something small to zip around in, while Mitsubishi Outlanders are also available for those looking for a bit more room to play with. Rates and fees are shown when you book, with Dollar Car Rental also detailing the breakdown of its fees so you know what you're paying for.
Dollar Locations in Canberra
Fyshwick
Canberra Airport
Other car hire options
If you're still not sure about which car rental provider to go with, there are other options that may suit your journey and budget.
Providers such as Discover (formerly known as Atlas Choice) and AutoEurope are available for drivers to book through, acting as a middleman between drivers and providers. They work by renting a car from an established provider before leasing it out to you, which means they don't have the overheads of looking after a car fleet, which may mean it's a cheaper option for you to consider.
If you're looking for something completely different, you may also want to consider Carhood and Car Next Door, which allow you to rent someone's car, or lease your own car out for someone else. It works by pairing those looking to rent a car with someone who is leaving their car at the airport for a few days, providing a cheaper alternative to those looking to explore Canberra, while giving those travelling outside of Canberra a chance to make some money.
Which hire car provider should I use?
With plenty of options to choose from when it comes to seeing the sights of Canberra, finding one that suits what you need can be a tough ask, particularly when all providers appear to offer similar services at first glance. Which provider you decide to go with, will come down to your individual preferences. You might find one provider better fitting for your itinerary with more convenient locations, while another provider may offer better cover or extras, helping to make your time on the road more enjoyable.
Regardless of whether you're travelling solo or you've got a crew with you, price and location will be the biggest factors when it comes to narrowing down your search for a hire car provider. While the final bill will come down to what you need for your trip, such as a smaller car versus a larger people-mover van – as well as any extras you've added on – you might be able to find a cheaper price or more convenient location with a smaller provider, so it's best to look into all your available options for your time away from home.
If you're not sure which provider may be the best option for you, check out our Hire Cars Ratings to see which brand came out on top.
Picture credit: Kwangmoozaa/shutterstock.com, Minerva Studio/shutterstock.com, Garsya/shutterstock.com, ASDF_MEDIA/shutterstock.com