Daikin Air Conditioners Review
Having manufactured and sold air conditioners in Australia for more than 40 years, it's safe to say that Daikin probably knows a fair bit about what goes into a high-quality air conditioner. Its products have received many awards over the years for things including energy-efficiency, with the company placing an emphasis on the innovation found in its top of the range air conditioners. Daikin's key range is its efficient split system models – some with the ability to be floor-mounted. So let's see what Daikin is all about and what you can expect to pay with this giant of Aussie air con.
Daikin split-system air conditioners
| Model | Cooling Capacities (kw) | Prices From (Approx) |
| --- | --- | --- |
| US7 | 2.5, 3.5, 5.0 | $2,000 |
| Zena | 2.5, 3.5, 5.0 | $1,200 |
| Cora | 2.0 – 9.4 | $1,000 |
| L Series | 2.0 – 9.4 | $1,100 |
| Nexura | 2.5, 3.5, 4.8 | $2,000 |
| Floor Standing | 2.5 – 7.1 | $2,000 |
Source: Daikin
Daikin US7 Series
The Daikin US7 is the company's super-efficient model, having earned a 7-star efficiency rating. It's also approved by the National Asthma Council and boasts humidifying and dehumidifying capabilities. Daikin claims it is the most energy-efficient split system in Australia, and its accolades certainly suggest it is. It comes with 2-area 'Intelligent Eye' that helps detect human presence and aids in efficiency by adjusting cooling if the room has been unoccupied for 20 minutes. Daikin claims it's good for:
Humid or dry climate zones
Purifying air in your home
Introducing outside fresh air into your home
It features a full-featured remote control, with a 'quiet mode' that reduces operational levels to 2-3dBA which is undetectable by most human hearing. The US7 is also compatible with the Daikin mobile phone app, which acts as a remote control. The US7 is arguably the 'fanciest' in Daikin's split system range, and prices start at about $2,000.
Daikin Zena Series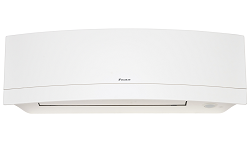 If you're feeling like a bit of a warrior princess, Daikin's Zena series is an air conditioner for the modern home. It features a sleek curved faceplate, with the series is engineered in Europe. It comes in either a silver finish or a matte white finish and comes with optional Wi-Fi capability. Daikin says it's good for:
Modern rooms
Heating or cooling small areas
Maintaining room ambience
It includes features you've come to expect with a Daikin air conditioner, including 2-Area Intelligent Eye with whisper-quiet functions and air purification filters. The remote control also comes with a humidity reduction setting, quiet modes and operational timers. Daikin Zena air conditioners come in fairly cheap with a starting price of around $1,200.
Daikin Cora Series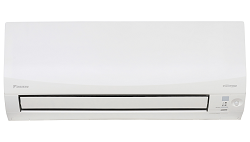 Arguably the most popular in Daikin's line-up is the Cora series. The Cora series promises whisper quiet cooling operation with 'industry-leading' efficiency levels. The Cora series features precise control, with temperatures able to be set in increments of 0.5°C. As usual, Cora units also boast 2-Area Intelligent Eye. Cora models are so quiet that some models can drop to just 19dBA, which is barely audible to most ears. Daikin's says its wall-mounted Cora series is good for:
Heating or cooling small to large rooms
Energy misers
Maintaining room ambience
With a huge variety of sizes on offer, there's bound to be a Cora air conditioner suited for any room. While 2kw models are good for smaller rooms or studies, anything above 8kw would be suited to large rooms or potentially cooling whole apartments! The Cora series is generally found cheaper than other models, but still commands a premium of around $1,000 for the smaller-sized models.

Daikin L Series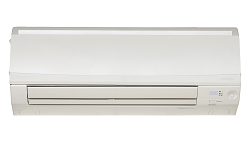 The L Series is another in Daikin's arsenal of wall-mounted split system air conditioners. It boasts a large range of power figures, from the small 2kw models up to the 9.4kw behemoths. The L Series features auto fan speeds for more efficient operation, 3D airflow, which aids in spreading air far and wide, as well as Intelligent Eye. Note that Intelligent Eye in the L Series is not 2 Area like in the other models. Daikin says the L Series is good for:
Small or large rooms with a wide variety of sizes available
Economical air conditioning
Good for when standing floor units are not available
The Daikin L Series, while not packed full of whizz-bang features, is suited to those who want a Daikin air conditioner at a slightly cheaper price. With prices starting at $1,100, it's easy to see why the L Series a popular option. With a wide variety of sizes on offer, the L Series is varied enough to heat or cool almost any room.
Daikin Nexura Series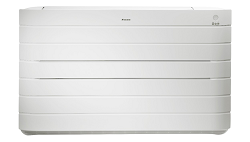 The Nexura series is for those who want a floor-standing model that doesn't need to be bolted to a wall. Daikin claims the Nexura series offers 'the best of both worlds' in terms of efficient cooling and heating. The Nexura series boasts a radiant panel that heats like a traditional heater. It's engineered in Europe and features modern lines and sleek design to fit into 'modern' rooms. This is an air conditioner more geared towards heating rather than cooling, but can be used for both. The Nexura series is good for:
Traditional heater-like heating
Heating and cooling small rooms
Quiet and powerful heating
While likely not the first on your list for a long hot summer, the Nexura is a versatile air conditioner. It may be suited to those with varied climes i.e. those living in interior Australia. 2.5, 3.5 and 4.8kw units are available, which means the Nexura series is geared for smaller rooms.
You may also be interested in:
Daikin Floor Standing Series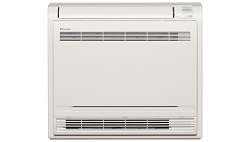 Another floor-based air conditioner, the aptly-named 'Floor Standing' series comes in a wide variety of sizes, from 2.5kw all the way up to 7.1kw. If you've ever wanted to replace your fireplace, this could be your chance, with the capability to place the unit into a semi-recessed wall, or old fireplace. It boasts a wide operating range, with top and bottom vents to distribute air evenly. The included controller also comes with a power mode, to give a 20 minute burst of cooling or heating beyond the normal capacity. By the same token, an economy mode is also available which limits power consumption to avoid tripping the circuit breaker on those really hot days when energy use is high. The Floor Standing series is said to be good for:
Heating or cooling small rooms
Small installation footprints
Colder climates that need more heating than cooling
Floor Standing Daikin models seem good for varied climates, such as Tasmania or inland country towns that might not need a wall-mounted split system air conditioner. The Nexura and Floor Standing series both start at around $2,000. While not exactly cheap, they present flexible cooling or heating suited for areas that experience a big swing in temperatures.
Should I make a sweat for a Daikin air conditioner?
Daikin might appear to have a slightly more condensed range of air conditioners than some of its big competitors, however that doesn't appear to be hindering it, as the company's success comes from manufacturing and selling the air conditioners it does produce, rather than the models it doesn't. Within different 'Series' there are many sizes available. Small 2kw units are available, while larger 9kw models are available, suited for apartments or large rooms. While Daikin air conditioners do not exactly come cheap, the brand is frequently at the cutting edge of energy efficiency and cooling technology. The next time summer starts to cause a sweat, Daikin maybe worth a look.
Air Conditioner Reviews & Ratings
What do customers think about Daikin Air Conditioners?
In 2019, Australian customers gave Daikin 3 out of 5 stars for Overall Customer Satisfaction for Air Conditioners.
Daikin Air Conditioners
Canstar Blue
Award:
Overall Satisfaction