What's the best way to get revved up before a night out? Finding an affordable rideshare service can definitely help lift your spirits and ease the throbbing financial hangover the next morning. While we all know Uber is usually a reliable option, we want to shine the spotlight on a few alternative rideshares currently available in Australia, including a number of new entrants. To help you decide which direction to go, we've compared prices, and broken down some of the fees you can expect to encounter so that you're not taken for a ride (financially) the next time you order a car to your door.
What is ridesharing?
Ridesharing is basically similar to asking a mate for a lift, only instead of paying them in beer, you pay with actual money. A direct competitor to taxis, ridesharing allows you to get places without catching public transport or driving yourself, making it ideal for when you're looking to head for a night out on the town, or for when you simply don't want to walk. Ridesharing services work through apps, making it convenient to book and track.
How do I book a rideshare?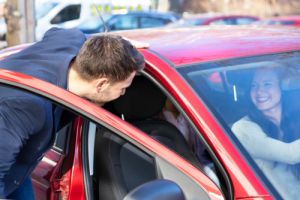 Booking a rideshare is as simple as downloading your app of choice, opening it up, and popping in your destination. You will be alerted when a driver has accepted your request, and when the driver is on their way, or waiting at the allocated pickup location.
Once they've arrived, jump in the (correct) car, and you'll be driven to your destination. Once you arrive, you can simply thank the driver and hop out, with your ridesharing app linked to your nominated bank account or credit card, meaning you don't have to worry about paying at the end of a trip as you would in a taxi. Once your trip is complete, you can also rate your experience by giving your driver a rating out of five stars, but otherwise, there's nothing else you have to do, making it a simple and convenient option for many looking for a lift.
You can also schedule a booking to pick you up at an allotted time, although how this is done will be vary from service to service. Regardless, there's peace of mind knowing that your lift is sorted for when you need to get to the airport early in the morning.
How can I improve my star rating?
Riders also have a star rating, which drivers use to select which jobs to take, meaning the higher your individual rating, the more likely a driver will accept your request. However, just like drivers, you can receive a bad rating, which affects your overall star rating, which may impact how likely you are to get a lift the next time you need one. So, how do you go about improving your rideshare rating?
Unfortunately, there's no quick and easy way to improve your rating, although each ridesharing service suggests simply being courteous, punctual, and considerate of your driver's car is the best way to bump up your rating.
Your rating is generally shown on your profile in the settings, depending on which app you're using.

What's the deal with fares?
A big factor steering Aussies in their decision to choosing a rideshare service is upfront pricing. This is basically an estimate of your fare and takes into account factors like the vehicle type, booking fee, local regulations, base rate, as well as the rates per kilometre and per minute. Although the final total you'll end up paying may be higher to reflect any additional costs for things such as tolls, surcharges, wait times, extra stops and even 'peak time' travel.
Ridesharing Prices Compared
To help you compare different rideshare services, we've listed costs and prices below, although these may vary between states and type of vehicle.
Rates & Fees
Uber
Ola
DiDi
Shebah
GoCatch
Bolt
Base fare
From $2.00
$2.27
$1.98
$3.60-$4.43 (off-peak)

$3.93-$4.84 (peak times)

$4.26-$5.25 (premium peak time)

From $2.12 (economy)

From $7.65 (premium)

$2.00
Booking fee
$0.55
$0.50
None
$2 (Advanced Bookings)
From $1.50
$0.55
Minimum fare
$9.00
$9.00
$6.98
$11.30 (instant bookings)

$18.80 (Advanced Bookings)

$6.80-$17 (instant bookings)

$20-$40 (Advanced Bookings)

$7.50
Waiting fee
$0.60 per minute
$0.30 per minute
$0.55 per minute
None
Unclear
Varied per location.
Cancellation fee
$10

$3-$7 (Uber Pool)

$10

$8.90 (QLD)

$10

$11.30 (instant bookings)

$18.80 (Advanced Bookings)

Estimate fee (standard bookings)

Minimum fare (Advanced Bookings)

Estimate fee dependent on location and vehicle type
Source: Respective ridesharing websites, January 2020. Bolt fees based on Brisbane locations. 
What are wait time fees?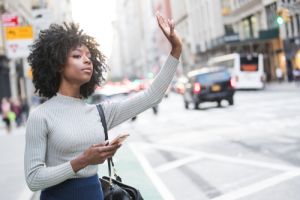 Uber and many other rideshare services charge a waiting fee to compensate the driver for the time they spend waiting for you to arrive — but the clock doesn't start ticking until a certain amount of time has passed. That's why it may be better to book a lift when you're ready to go and already located near the pick-up spot. As the saying goes, "time is money".
Here's a list of the current waiting fees:
Uber: A charge of $0.60 per minute starts running once the driver has waited two minutes. The driver can also choose to cancel the ride after waiting for five minutes, replacing your waiting fee with a cancellation fee.
Ola: Ola have recently introduced waiting fees, with the fee currently live in Perth, before being introduced in other locations around Australia. However, a $0.30 per minute waiting fee will be charged after the driver has been waiting at the allotted pickup location for more than two minutes.
DiDi: After three minutes, DiDi will begin to charge a waiting fee of $0.55 for every minute until you begin your trip. If you cancel the trip, you'll be charged the cancellation fee instead of the waiting fee.
Shebah: There are currently no waiting fees with Shebah.
GoCatch: GoCatch does outline in its terms and conditions that a waiting fee may be included in the final price of your trip, although there is no set fee involved.
Bolt: If you haven't jumped in the vehicle after two minutes of the driver arriving at the pick-up location, you could be charged for the wait time, although there is no set rate for the waiting fee outlined in its terms and conditions.
Do I get charged for cancelling my ride?
Cancellation fees are designed to compensate the driver for their time, effort and petrol getting to you if you decide you're not ready to head out just yet after all. Below are some of the cancellation fees from Australian ridesharing services:
Uber
If you cancel a ride after two minutes of the driver accepting the request, Uber will charge a $10 cancellation fee. For Uber Pool, passengers in Melbourne will be charged $3 for cancelling more than 60 seconds after matching with a driver. Riders in Sydney will need to pay $4. There's also a $6 (Melbourne) or $7 (Sydney) fee for Uber Pool cancellations made within 30-60 minutes of cancelling a previous job.
Ola
A fee is applied if the job is cancelled five minutes after the job was accepted, and as long as the driver was not delayed by more than three minutes. The cancellation fee is $10 in all cities, except Queensland, which charges passengers $8.90.
DiDi
You will be charged a $10 cancellation fee if you cancel a trip five minutes after the driver has accepted your trip request, provided the driver hasn't reached the pickup destination. You also won't be charged if the driver cancels the trip before arriving at the pick-up point.
Shebah
For instant bookings, you will be charged $11.30 for cancellations made after five minutes of booking. For advanced bookings (bookings made at least 1.5 hours ahead), an $18.80 cancellation fee applies for trips cancelled within one hour of the booking.
GoCatch
Passengers who cancel an Advanced Booking will be charged the minimum fare. This applies where the person cancels the job less than two hours before pick-up, or requests a ride and cancels after 10 minutes when the expected pick-up time is within an hour. All other cancellations will be charged an estimate fee, which will be determined by GoCatch.
Bolt
According to the company, cancellation fees only apply to some cities and vary between the different types of vehicles. Riders are charged after cancelling a trip more than two minutes after it has accepted the request, or where the driver cancels the job after having waited more than five minutes.
Rideshare services in Australia
Here are the ridesharing services available in Australia:
Uber
Ola
DiDi
Shebah
GoCatch
Bolt
Uber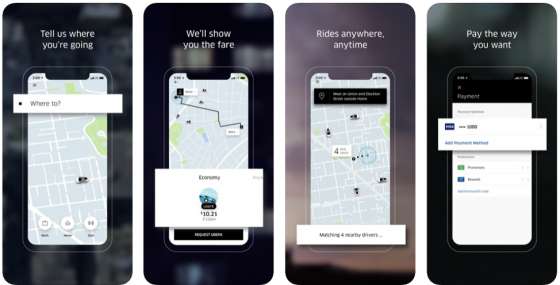 From the sunny Gold Coast to the farming region of Wagga Wagga in NSW, Uber is widely available across Australia and probably the rideshare service you're likely to think of when you need a lift. Its aims to provide a variety of vehicles, offering everything from affordable rides with UberX to higher-end travel with choices like Uber Select.
Where is Uber available?
Uber is more widely available in Australia than other rideshares, offering services in Adelaide, Bendigo, Ballarat, Bathurst, Brisbane, Bunbury, Bundaberg, Busselton, Byron Bay, Cairns, Canberra, Coffs Harbour, Darwin, Geelong, Gladstone, Gold Coast, Hervey Bay, Hobart, Horsham, Launceston, Mackay, Melbourne, Mornington Peninsula, Newcastle, Orange, Perth, Port Macquarie, Rockhampton, Shepparton, Sunshine Coast, Surf Coast, Sydney, Tamworth, Toowoomba, Townsville, Wagga Wagga, Warrnambool and Wollongong.
Get the app here on iOS and Android.
Ola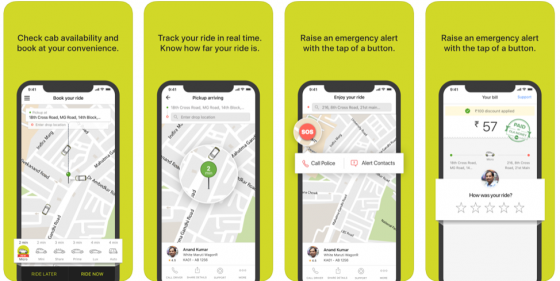 While Uber may be the unofficial favourite child, it's not the only 'designated driver' you can rely on. Ola is another well-known on-demand rideshare that's parked its way into one of the top spots alongside Uber.
When booking with Ola you'll also have a few vehicle options to choose from, including:
Prime Sedan: fits up to four passengers
Prime SUV: fits up to six passengers
Premium (Sydney only): includes luxury cars with top rated drivers
Where is Ola available?
Ola offers services across Sydney, Melbourne, Brisbane, Sunshine Coast, Gold Coast, Adelaide, Perth and Canberra. But keep in mind there are still certain areas Ola may not operate.
Get the app here on iOS and Android.
DiDi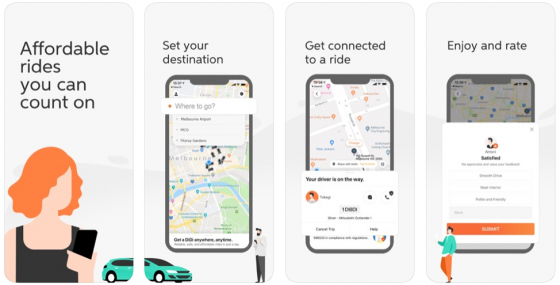 Chinese ridesharing company DiDi markets itself as the "lowfare rideshare app", making it worth checking out if you're looking for the most cost effective ridesharing option. DiDi similarly provides on-demand rides and promises users affordable "low, everyday standard pricing", although the tradeoff is that it's currently not as widely available as other services. But if you are in one of DiDi's coverage areas, you might find the safety real-time tracker feature a useful way to let your friends and family know where you are.
Where is DiDi available?
DiDi is available in Melbourne, Geelong, Newcastle, Brisbane, Gold Coast, Sunshine Coast and Perth.
Get the app here on iOS and Android.
Shebah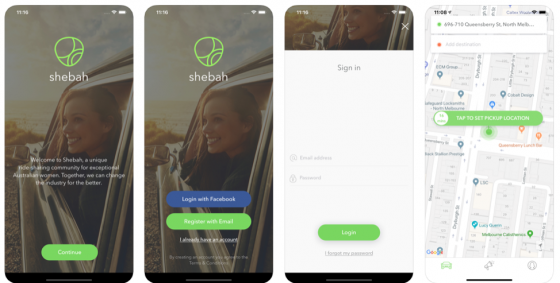 Shebah is a female-driven rideshare service designed to ensure that ladies feel safe whenever they travel. It's open to women, children, and those who identify as a woman. Males can also get a lift, but only in certain circumstances. Boys up to the age of 12 can travel anytime, while boys aged between 13 and 18 are limited to trips no later than 5pm, although boys under 18 can travel anytime if they're accompanied by their mother or female guardian. Men can similarly use Shebah as long as they're traveling with a baby or female passenger. And if you have a particular driver in mind, Shebah allows you to select that driver when you make a booking in advance. It costs an extra $1 and is only limited to drivers you've already had in the past.
Similar to other rideshares, Shebah's fares vary depending on where you live and the time you travel. Here's the breakdown of the base rates, according to the company:
Peak periods: Monday to Friday 6am – 9am, 4pm -7pm and Friday 10pm – Sunday 6am
Premium peak period: Monday to Sunday 12am – 5am
The base rate for passengers Victoria, Queensland, Tasmania, South Australia and Western Australia:
Off-peak times: $3.60
Peak times: $3.93
Premium peak times: $4.26
The base rate of riders in NSW and the ACT:
Off-peak times: $4.43
Peak times: $4.84
Premium peak times: $5.25
Where is Shebah available?
Shebah offers services in Melbourne, Geelong, Bendigo, Ballarat, Hobart, Canberra, Sydney, Adelaide, Perth, Brisbane, and the Gold Coast and Sunshine Coast. The company has also announced it will travel to Darwin sometime soon.
Get the app here on iOS and Android.
GoCatch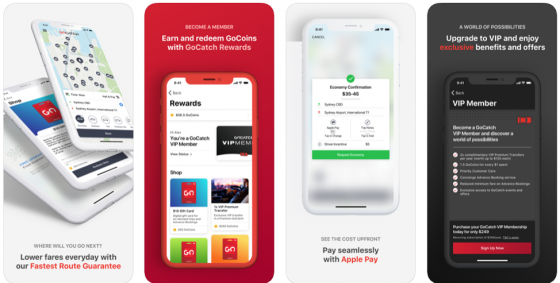 If you're worried about the safety aspect of ridesharing, GoCatch puts registered taxi drivers behind the wheel of its many taxis and luxury private rideshare services. GoCatch is marketed especially to people booking airport transfers and hotel transfers, but of course can be used for lifts around town. The main feature distancing GoCatch from Uber is its Hail & Pay service, which allows riders to flag down a taxi and create a GoCatch job with their driver, as long as that driver also has a GoCatch account. Hail & Pay can be used whether you're at a taxi rank or on the street, and applies at all hours. The only difference between a Hail & Pay and a regular GoCatch job is that the ride will only be dispatched to the particular driver you're with, rather than all nearby drivers.
For standard bookings, the minimum fares are:
Economy: $6.80
Premium: $17
For Advanced bookings (bookings made between 30 minutes and up to 12 months in advance), the minimum fare is higher for non-members:
Economy: $20
Taxi: $25
Maxi: $30
Premium: $40
Where is GoCatch available?
GoCatch operates in Sydney, Melbourne, Adelaide, Brisbane, Canberra, Perth, Gold Coast, Darwin, Hobart, Cairns and certain regional areas.
Get the app here on iOS and Android.
Bolt (formerly Taxify)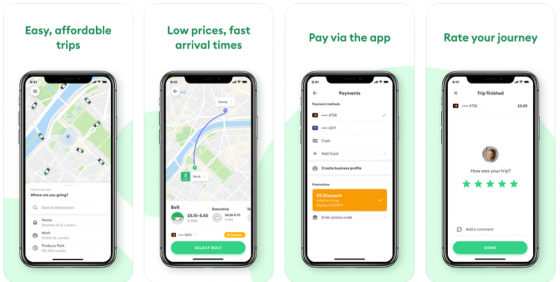 Claiming to provide the "best prices in every city", Bolt joins Shebah as another rideshare to impose different rates between states. Given that demand for rideshare services and local regulations are different in all areas, it makes sense as to why the company has decided to make costs unique to each city. Unlike Uber and other rideshare services, Bolt has only one type of vehicle to choose from and it can only fit up to four people. Although it does offer scooters and its own food delivery service for when your own fuel tank is running low.
Where is Bolt available?
Bolt is currently available in Brisbane, Melbourne and Sydney, with rates different in each city. Below are the rates for each city:
| Rates | Brisbane | Melbourne | Sydney |
| --- | --- | --- | --- |
| Base fare | $2.00 | $3.00 | $2.50 |
| Per km | $1.15 | $1.15 | $1.45 |
| Per minute | $0.38 | $0.35 | $0.40 |
| Minimum fare | $7.50 | $8.35 | $8.45 |
| Booking fee | $0.55 | $0.55 | $0.55 |
| Government levy | – | $1.10 | $1.10 (passenger service levy) + $0.10/km (NSW CTP charge) |
Source: Bolt website, January 2020.
Get the app here on iOS and Android.
Is Lyft available in Australia?
A major competitor in the US ridesharing game, Lyft is currently not available in Australia, with no word of an upcoming Australia launch. However, the app is available on both the App Store and Google Play, making it worth looking into if you're heading to America.
Which ridesharing services offer carpooling?
Some ridesharing services additionally offer carpooling, allowing you to reduce the cost of your trip, although it may take a bit longer as the driver picks up and drops off other people. Currently, Uber is the only service to offer a carpooling option in Australia – known as Uber Pool – which you can choose during the booking process. Lyft is another ridesharing service to also offer carpooling, but again, the service is only available in the US.
What's the best rideshare service?
With plenty of options to hit the road with, navigating the ridesharing market can be anything but a Sunday drive. While they should all get you from Point A to Point B, each app has different costs and rates involved, meaning if you're regularly catching a lift with a rideshare service, it may pay to look into which one will save you down the road.
It's also important to consider other factors like which cars and lift options are available, as one service could be a better fit if you're looking to take a ride with the whole squad, or you're looking to roll up in something fancy. The usability of the app itself is also important – you'll want an app that is easy to use when you're in a hurry, and generally makes ordering a ride a piece of cake. If you're still not sure on which service you should be ordering, head to our ridesharing ratings to see which service pulls into pole position.
Here is a selection of postpaid plans from Canstar Blue's database with a minimum of 10GB of data, listed in order of standard cost, lowest to highest, then by data allowance, largest to smallest. Use Canstar Blue's phone plan comparison tool to see a wide range of plans on offer from mobile providers. This table includes products with links to referral partners.
Here is a selection of prepaid plans from Canstar Blue's database with a minimum of 10GB of data, listed in order of standard cost, lowest to highest, then by data allowance, largest to smallest. Use our comparison tool to see a wide range of plans from other providers. This table includes products with links to referral partners.
Picture credits: Tero Vesalainen/shutterstock.com, Andrey_Popov/shutterstock.com, Worawee Meepian/shutterstock.com, MPH Photos/shutterstock.com, Odua Images/shutterstock.com