ALDI Deli Originals on top in food dip ratings
Nothing can bring people together like a good food spread, with a packed nibblies table a sure-fire way to not only impress dinner guests, but get them excited for whatever else you've prepared. And when it comes to nibblies, few can top the simple combination of chips & dip, with enough flavours and blends available to suit everyone's preferences.
When it comes to choosing a brand and flavour of dip for your finger food, narrowing down the options while you're in the supermarket aisles can prove a bigger ask than expected – particularly if you have to cater for allergies or picky eaters. And while making your own dip is an option, with 16% of respondents in our latest survey indicating that they like to make their own, popping down to your local supermarket and picking up a few tubs is arguably an easier option.
For those still struggling to narrow down the options, Canstar Blue has surveyed over 1,500 Australian adults on their preferences for food dips. We asked them to rate the brand they most recently bought and tried on factors like taste, consistency, packaging appeal, value for money and overall satisfaction. Ten leading brands received the minimum sample size to be included in our latest review, but only one stole the show with five stars for overall satisfaction.
Best-Rated Dips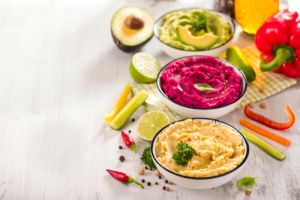 Canstar Blue's 2019 food dip ratings saw 10 major brands compared and rated in the following order for overall satisfaction:
1st ALDI Deli Originals
2nd Yumi's
3rd Willow Farm
4th Chris' Dips
5th Black Swan
6th Wattle Valley
7th ZoOsh
8th Red Rock Deli
9th Coles
10th Obela
While ALDI took out top spot for overall satisfaction, it wasn't the only brand to score five stars in a particular category. Yumi's joined ALDI in scoring top marks in the all-important area of taste, while being the only brand to get five stars on consistency. Chris' Dips and Black Swan both got five stars for their variety/range.
Read on for details about the specific dips available from these brands.
Food Dips
ALDI Deli Originals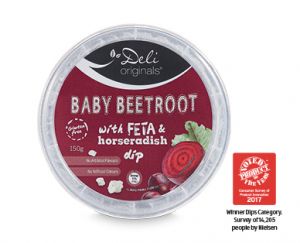 The home brand of German supermarket chain ALDI, the ALDI Deli Original dips offer those partial to an ALDI grocery shop an option when it comes to catering for home events and dinners. Offering a number of flavours, including guacamole, hummus, spicy pumpkin, tzatziki, spinach and more, ALDI Deli Originals dips are also cheaper than most big-name brands, delivering a solid budget-friendly option.
Rated five stars for overall satisfaction, ALDI was also rated five stars for taste, value for money and packaging design, with four stars for consistency and variety/range.
Yumi's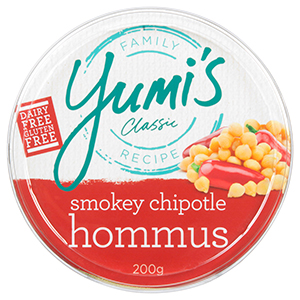 An Australian brand, Yumi's started in Melbourne before expanding into all areas of Australia, with dips found at supermarkets and local grocers. Offering a wide variety of flavours, Yumi's is also competitively priced in the market. You may even have seen Yumi handed out as a free treat on Virgin Australia flights in recent times.
Yumi's classic dip selection includes hummus, sweet corn, red capsicum, olive, sweet potato & cashew, spinach, roasted beetroot, and avocado, along with additional flavours, all priced at around $4 per 200g tubs. If you're a big fan of its dips, Yumi's also offers a range of 2kg tubs for selected flavours, although they may not be available at all stores.
Yumi's provides a range of recipes on its website, plus ingredient lists and nutritional information, ideal for those looking to whip something up for the next time guests are coming over.
Scoring the only five-star rating for consistency, Yumi's was also rated five stars for taste, with four stars for packaging appeal, variety, value for money and overall satisfaction.
Willow Farm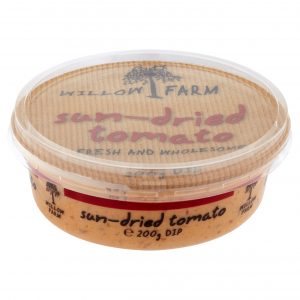 Operating under Kaiser Foods along with stablemate Chris' Dips, Willow Farm may not offer the range of some competitors, but could be worth looking at if you're trying to stick to a budget, with 200g tubs going for $2 at supermarkets. With the Willow Farm range gluten free, low sugar and containing no artificial colours or flavours, it may also be an option for those with allergies, or for those looking to enjoy some dip guilt-free.
The Willow Farm range includes French onion, hummus, sun-dried tomato and tzatziki, with a 1kg tub of hummus also available at supermarkets, ideal for big parties, or if you're just a really big fan of hummus. For the 1kg tub, expect to pay under $6 at the checkout, making it one of the more affordable options on the market.
A consistent performer in this year's ratings, Willow Farm was rated four stars in all categories, including taste, variety and overall satisfaction.
Chris' Dips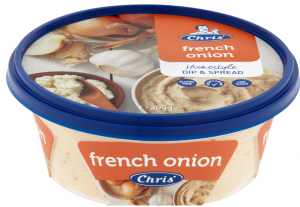 Founded and operating in Australia since 1982, Chris' Foods covers a range of food products, including dips, yoghurts and other snacks – all made locally. Chris' Dips are available at major supermarkets and independent grocers, with all ingredients, storage instructions and recipes available online to help with your next dinner party.
The bulk of Chris' Dips come in the form of the Homestyle range, which includes a variety of flavours to suit every tastebud and occasion, helping you to impress at your next family gathering. Flavours include favourites such as avocado, French onion, hummus, spicy capsicum, and spring onion, with others such as corn relish, three olive and tzatziki also available. All flavours are available in 200g tubs, with Lite and 100g snack tubs also available in select flavours.
Chris' Dips also offers a number of savoury dips for those looking to spice things up, including flavours such as blue cheese and fig, vintage cheddar and caramelised onion, as well as goat's cheese and black truffle, with each available in a 170g reusable terracotta pot. More expensive than Chris' other products, the savoury range will cost you close to $8 at the checkout.
Scoring five stars for variety/range, Chris' Dips earned four stars in all other categories, including value for money and overall satisfaction.
Black Swan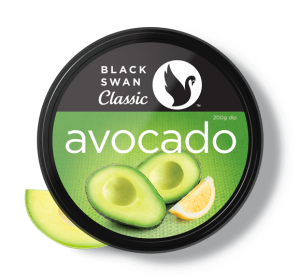 Founded over 30 years ago, Australian brand Black Swan is available at supermarkets and local grocers around the country, with a wide range of products including yoghurts and dips available for consumers to load up their shopping trolleys with. Black Swan's dip range is split between the Classics range, as well as the Crafted range, each with plenty of variety.
The Classic range contains fan favourites like French onion, spring onion, hummus, capsicum, avocado, caviar, corn relish, olive and tzatziki. For those looking for something a bit different, the Crafted range has flavours including sweet potato & cashew, baby spinach & feta, beetroot tzatziki, as well as bacon & caramelised onion, along with a number of additional flavours. Prices are around $4 per 200g tub.
Black Swan outlines ingredients and nutritional information on its website, as well as ideas for what to pair with your dips, giving you options for when it's your turn to host.
Rated five stars for variety/range, Black Swan scored four stars for taste, consistency, packaging appeal and overall satisfaction, with three stars for value for money.
Wattle Valley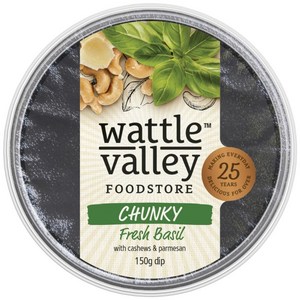 Operating under the Monde Nissin brand, Wattle Valley offers a number of dips divided into different types and ranges to give shoppers plenty of choices, in addition to having a number of pairing products such as cheeses and dipping breads to make a complete spread.
Wattle Valley's dips are divided into three series, including Chunky, Delish and Vegan dips, each with a number of flavours for plenty of variety. The Chunky range will set you back just under $5 per 150g tub, including flavours like basil, chilli, as well as capsicum and feta, with the Vegan range including roasted cauliflower and roasted sweet potato flavours. Wattle Valley's Delish range includes flavours like baby beets, baby spinach, spicy capsicum and roasted pumpkin, all with feta for a smooth texture, costing you around $4 per 200g tub.
Rated four stars for consistency and overall satisfaction, Wattle Valley was rated three stars for taste, value for money, variety and packaging appeal.
ZoOsh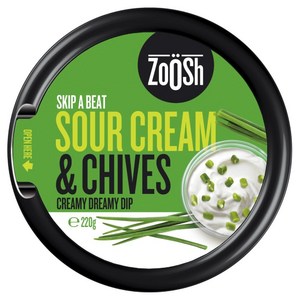 A subsidiary brand of Bega Foods, ZoOsh provides a number of food products, including salad dressings, chutneys and dips, allowing you to create a spread that will impress your next guests. ZoOsh's dip range includes flavours such as sour cream and chives, smokey bacon, smoked salmon and dill, along with the classic French onion, giving you a few options to consider when it comes to whipping up something in the kitchen.
Generally priced at $3 per 185g tub, depending on which supermarket you visit, ZoOsh is competitively priced in the market, ideal for when you're trying to stick to a budget on your next grocery shop. While ZoOsh may not offer the extensive product range of some brands, there's still a few options to choose from if you're in the mood for some chips and dip.
While scoring three stars for variety, ZoOsh was rated four stars in all other categories, including value for money, taste and overall satisfaction.
Red Rock Deli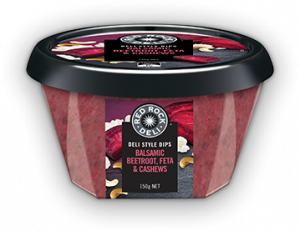 Founded in 2002, Red Rock Deli might be better-known for its chips, but expanded in 2011 to include a number of dips to help sort out the nibblies table. Operating under the Smith's brand, Red Rock Deli dips can be found at most supermarkets and local grocers.
While it may not have the traditional range that other brands offer, Red Rock Deli provides a number of flavours to keep you coming back. Flavours include basil pesto, roast pumpkin and caramelised onions, roast tomato and feta, spicy mango and lime, along with Thai chilli and lemongrass, offering customers a different take on the traditional chips and dips.
Priced at just under $5 per 150g tub, Red Rock Deli may be more expensive than some brands, but could be the choice for consumers after something a bit more adventurous.
Scoring four stars for taste, consistency, variety, packaging appeal and overall satisfaction, Red Rock Deli got three stars for value for money.
Coles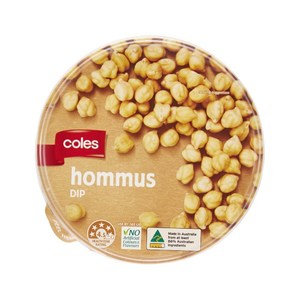 Offering one of the cheapest ranges available on the market, Coles brand food dips start from just $2 per 200g tub, making them ideal for those on a budget, as well as those who frequently shop at Coles.
With classic flavours such as hummus, avocado, tzatziki, French onion, cheese and chive, spicy capsicum and dried tomato, Coles also offers a gourmet range. Gourmet flavours include basil pesto, trio of olives, and roasted capsicum, along with baba ghanoush, all priced from $3 per 150g tub. If you're a big fan of the avocado dip, Coles also provides a 3-pack mini tub packet, containing three 60g tubs for $2.50.
Coles outlines ingredients and nutritional information on its website, with no artificial colours or flavours added into their dip products.
Scoring four stars for value for money and overall satisfaction, Coles was rated three stars in all remaining categorise, including variety and taste.
Obela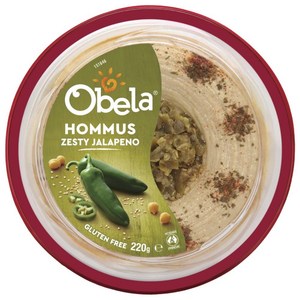 Founded back in 2011, Obela has grown to become a global brand, offering households a range of dips, with hummus making up the bulk of the range. Available at major supermarket chains and independent retailers around the country, Obela is reasonably priced in the market, with a 220g tub generally setting you back between $4 and $5.
Obela's hummus range includes flavours such as classic, roasted pine nut, jalapeño, roast tomato and lime, caramelised onion and basil pesto, with each product free from artificial flavours or colours, as well as being gluten and dairy free, making it a handy option for those with allergies. If you can't get enough of classic hummus, Obela offers a 1kg bucket, available for just under $10.
Other products include spreads and dips, including avocado and tzatziki, with Obela also offering split tubs, allowing shoppers to take home two different flavours in the one easy packet. Similarly, if you have a hummus craving while travelling, Obela offers a to-go pack, which includes wholegrain rice crackers in addition to a 100g tub of spread.
Earning four stars for taste and consistency, Obela was rated three stars across all remaining categories, including value for money and overall satisfaction.
Drivers of Dip Satisfaction
With plenty of food dips available once you enter the supermarket, narrowing down which brand and flavour you take home often proves a bigger task than originally thought. As well as revealing which dip brands are rated highest, our survey also identified the following drivers of customer satisfaction:
Taste: 34%
Value for money: 26%
Consistency: 20%
Variety/range: 14%
Packaging appeal: 6%
It's no surprise that taste is at the top of the food chain, but you'll want something that's worth forking over your hard-earned cash for as well. 34% of survey respondents stated that they buy dips as part of their regular grocery shop, with 18% buying multiple packs of dip, meaning the cost can add up if you're not careful. Our ratings help ensure you don't dip into your wallet for the wrong dip!
Which dip should I buy?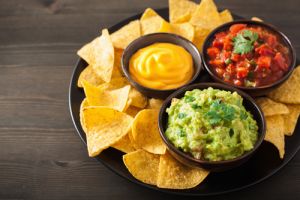 While dips are often a party-favourite for many households, narrowing down your options for which one you ultimately scan through the supermarket checkout can take away from the excitement of munching down on some chips and dips. Especially considering they're not the cheapest of products and the costs can quickly add up.
Ultimately, whichever brand of dip you end up stocking up on will depend on your personal preferences, as well as those you're catering for. With most brands offering a number of different flavours, as well as sizes and textures, it may also come down to how much you're willing to spend on a tub.
About the author of this page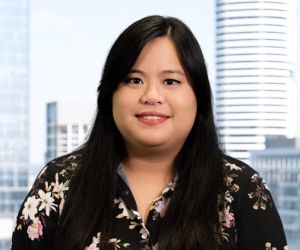 This report was written by Canstar Blue's home & lifestyle journalist, Tahnee-Jae Lopez-Vito. She's an expert on household appliances, grooming products and all things grocery and shopping. In addition to translating our expert research into consumer-friendly ratings reports, Tahnee spends her time helping consumers make better-informed purchase decisions on all manner of consumer goods and services, while highlighting the best deals and anything you need to be aware of.
Photo Credit: Alexandra Anschiz/shutterstock.com, Olga Miltsova/Shutterstock.com