Top Sugar Brand – ALDI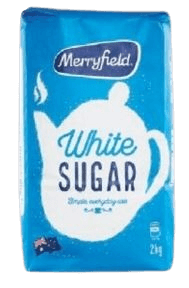 Supermarket brand Merryfield is the sole sugar brand in the ALDI range. It comes in plastic or paper packaging and can be bought in the form of raw, caster, white, and brown sugar, with 1kg packaging available.
ALDI was rated five stars for value for money, taste, packaging convenience, texture & consistency and overall satisfaction, with four stars for variety & range.
What is granulated sugar?
In Australia, granulated sugar is another name for white sugar, or table sugar, and is likely what you put in your baking or your morning coffee.
How many grams of sugar in a teaspoon?
In case you're doing a bit of baking, there are widely considered to be four grams of sugar per teaspoon. A heaped teaspoon is generally considered to be between seven or eight grams, depending on how flexible you want to be with measurements.
Get Your Woolies Worth!
Say goodbye to supermarket queues. Shop for groceries your way with Woolworths Online. Check out weekly specials & Everyday Rewards savings.

Shop Now