A.H. Beard Mattress Review & Guide
Everyone wants a comfortable sleep, but if you're up tossing and turning all night, then it could be time to invest in a well-designed mattress that will match your individual sleeping needs. The A.H. Beard brand is stated to span four generations of family and sleep innovation. Since 1911, it has been offering Aussie consumers a range of mattresses to cater for every type of sleeper. Our guide aims to explain what A.H. Beard mattresses offer across the full range.
A.H. Beard Mattresses
A.H. Beard Mattresses are Australian and New Zealand made, and come with a 10 year guarantee. The full range is stated to be approved by the National Asthma Council Australia's Sensitive Choice program, with the company claiming its mattresses provide protection from dust mites, mildew and bacteria.
A variety of standard size options are available across the full range, including queen, single, long single, king single, double and king. Let's now dive into the specs and features of each line.
A.H. Beard Domino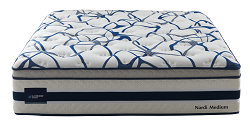 With its diverse selection of mattresses, the A.H. Beard Domino line is boasted to have 'something for everyone'. The range uses Profile Edge Support Technology, which is designed to provide edge-to-edge support for a large sleeping surface and help prevent boarder breakdown. It uses a 3-zone Conforma coil support system, claimed to conform to your body shape and help promote a correct sleeping posture, while also minimising partner disturbance.
It's designed with stretch knit fabric and ultra-soft quilting as the primary comfort layers. It's said to promote breathability and regulate body temperature. It's also boasted to be eco-friendly, protecting the mattress against dust mites, mould and bacteria. The layered structure with open celled air pockets is designed to help increase airflow, reduce sweat residue and eliminate bacterial growth.
For additional softness, certain Domino mattresses also use a pillow top layer of Performa Foam. The 'Performa' is stated to be the other ingredient latex, claimed to help relieve pressure and tension from joints and muscles. A pillow top is not for everyone so you may like to consider what type of firmness you need. In the firm feel Domino mattresses, a graduated spring tension system with endurance foam is used.
A.H. Beard Health Rest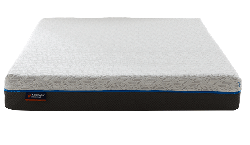 The A.H. Beard Health Rest range is designed with 'Advanced Ergomotion' technology that can adjust to specific sleep positions or to simply watch the TV or read a book with a push of a button. The accessible controls also adjust the position to help with circulation or prevent snoring.
The base adjusts the bed to a specific angle most suited for you. You can tilt it forward and recline it, giving you a 'fully adjustable lounging experience' as A.H. Beard puts it. The king size base comes in a split base so you can adjust to individual settings for each side.
The mattress itself uses 'Bio-Pure' fabric that features embedded probiotics to help neutralise odours. For an extra luxurious experience, it also features a built-in massage system that can be customised for muscle relief as well as for relaxation.
You may also be interested in:
A.H. Beard Nature's Rest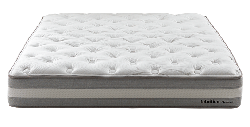 This range is all about getting back to nature. It's claimed to use naturally sourced gel-infused Talalay, which is organic latex that doesn't contain any synthetics, chemicals or other man-made products. It's also hypoallergenic and antimicrobial. In the mattress Talalay is used like other latex foam – designed to help contour to your body shape to relive pressure and provide spinal support.
These mattresses are claimed to be wrapped in pure New Zealand wool that is stated to help withdraw moisture, humidity and allergens. The design has an open cell structure to help regulate the airflow and reduce heat and moisture build up for a cooler sleeping surface.
The Nature's Rest Vitality Mattress Plush uses an additional two layers of Performa-foam support for a soft plush feel, while the fabric stretch knit quilt is said to provide breathability. If you're after a firm feel mattress, this is also available in the range, using only one layer of the Performa-foam support.
A.H. Beard Signature Range
The signature range is a 'handcrafted luxury' line of mattresses made-to-order. It's stated to be designed with a 'world-class' support system and innovative technology. For example, it's said to use 'Multi-tiered mircrocoil technology' to help each spring move individually for body contouring and minimal partner disturbance. It's also claimed to provide naturally fine comfort with Premium Australian natural fibres.
In this range, you can find Hamilton Downs Merino fleece, Sovereign cashmere, Namoi Cotton, Elliotdale wool, King Valley mohair and Southern Highlands alpaca. It's also said to feature 'timeless detail', with button-tufting and hand stitching, sewn into each of the A.H. Beard Signature mattresses.
Should I go home with an A.H. Beard mattress?
Well-designed mattresses are not cheap, but you may like to consider one as a long term investment to help improve sleep and comfort. The A.H. Beard range offers a number of premium features such as the gel-infused foam and the Talalay latex found in the Nature's Rest line. The Signature line also uses a number of natural fibres including alpaca, cashmere and mohair. There's even a built-in massage system in the Health Rest mattress line. These additional features, however, will come with a price, so it will ultimately come down to your budget and whether or not you require such features.
With the number of mattresses on offer, A.H. Beard may have the right one for you. We surveyed Aussie consumers to find out how they feel about their mattress and you can read about their verdicts via the link below.
About the author of this page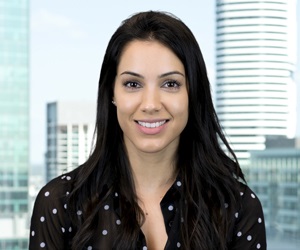 This report was written by Canstar Blue's Home & Lifestyle Content Lead, Megan Birot. She's an expert on household appliances, health & beauty products, as well as all things grocery and shopping. When she's not writing up our research-based ratings reports, Megan spends her time helping consumers make better purchase decisions, whether it's at the supermarket, other retailers, or online, highlighting the best deals and flagging anything you need to be aware of.