Telstra has unveiled a surprise mobile plan shake-up that will offer customers more data, but for a higher monthly price.
Beginning Wednesday, 1 July 2020, all of Telstra's postpaid mobile plans will receive a data and pricing update, with costs rising by as much as $15 per month on the premium Extra Large option. However, all four plans will also be given a high-speed data increase in line with price changes, and Medium, Large and Extra Large plans will all feature continued 5G network access at no extra cost.
To sum up the changes, Telstra's Small, Medium and Large plans will each increase in price by $5 per month, while the Extra Large plan has been bumped up by $15 monthly. All four plans also include more full-speed data: 10GB per month more on the Small plan, 20GB extra on the Medium and Large plans, and 30GB more on the Extra Large plan.
Overall, Telstra announced half-a-dozen major plan and policy updates, including:
Increased high-speed data on all postpaid plans
Increased monthly postpaid plan fees ($5 increase for Small, Medium, and Large plans, and $15 increase for Extra Large plans)
Free 5G network access on Medium, Large, and Extra Large plans
Free 3 months of BINGE streaming for postpaid customers
Additional free BINGE streaming for Telstra Plus rewards members
Revised financial hardship initiatives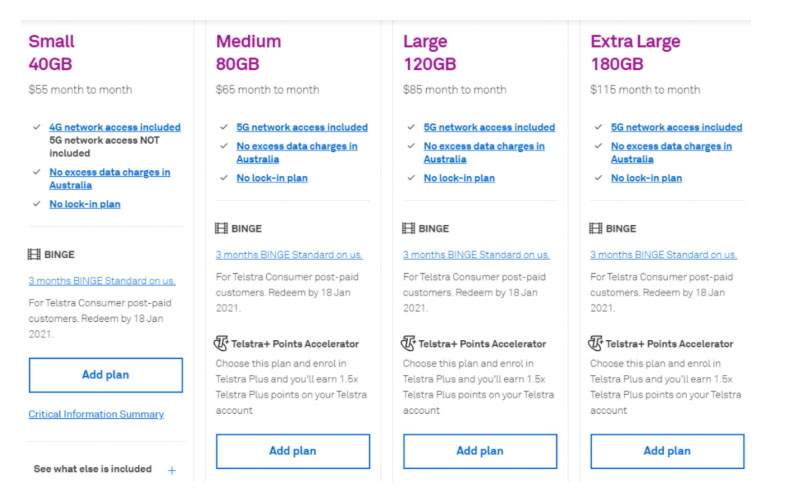 Telstra postpaid plans: price and data changes
Telstra has acknowledged that the increasing reliance of Australians on data and fast connections had contributed to the plan changes, particularly in light of recent lock downs across the country. More data is great news for customers, as is the lowering of restrictions on 5G access – but the changes will come with a requisite price spike.
We've highlighted the main postpaid plan changes below.
Telstra Small Plan
Was $50 per month, now $55 per month
Was 30GB of data, now 40GB of data
Telstra Medium Plan
Was $60 per month, now $65 per month
Was 60GB of data, now 80GB of data
5G network access now included free
Telstra Large Plan
Was $80 per month, now $85 per month
Was 100GB of data, now 120GB of data
Telstra Extra Large Plan
Was $100 per month, now $115 per month
Was 150GB of data, now 180GB of data
All the above changes will go live from tomorrow (1 July, 2020) for new customers – but if you're currently with Telstra, you do have a bit of wiggle room. While all existing Telstra customers will be migrated to the new plans, savvy subscribers who upgrade before 30 September, 2020 won't receive a price increase for their first year. Essentially, move to the new plans from your current Telstra postpaid plan by October, and you'll score a monthly credit to help offset the price difference for the next 12 months.
Telstra's new postpaid plans all include unlimited standard national talk and text in Australia, plus unlimited speed-capped gigabytes to prevent overage fees. This means that along with a limited number of full-speed gigabytes each month, your plan also includes unlimited data restricted to speeds of 1.5Mbps – so you'll never be charged for exceeding your plan's data allowance.
All plans are available on a month-to-month basis, so you're free to swap between plans each month as your data and usage needs dictate. The price and data changes will also apply to both SIM-only customers, and to those who have purchased a new smartphone on Telstra's device payment plans over 24 or 36 months.
If you do want to jump on board with Telstra before the price changes go live – and keep the lower pricing for a little longer – you can sign up to any of Telstra's postpaid plans via the below table. But remember that the new pricing goes into effect from 1 July, and all new sign-ups from that date will be subject to the updated data and price changes.
The following table shows published Telstra postpaid plans on Canstar Blue's database, listed in order of cost, from the lowest to highest and then by data allowance, largest to smallest. Use our comparison tool to review plans from a range of other providers. This is a selection of products with links to a referral partner.
Are Telstra's plan updates any good?
Telstra's plan refresh means you'll pay a little extra each month (and $15 more for Extra Large customers), but ultimately get more data for your dollars. Unfortunately, a truly entry-level postpaid Telstra plan still isn't available; with plans starting at $55 monthly for 40GB of data, there's not much to entice low-level or budget-conscious customers to sign on, especially when so many smaller providers offer simple plans for as little as $10 per month.
Another downside is that Telstra still hasn't brought back the international inclusions found in previous postpaid plans. The telco scrapped included overseas calling, texting and roaming in its last plan refresh and hasn't made any moves to bring these features back – but customers can still add an international call pack from $10 per month, as well as data roaming from $10 per day ($5 in New Zealand).
While this does make Telstra plans a little more customisable, it's still disappointing for customers who enjoy the perks of unlimited international talk and text. While $10 per month isn't a huge price to pay for overseas calling, keep in mind that only selected countries are included in the add-on pack.
The good news is that it appears that Telstra will be keeping plan extras such as data-free Apple Music streaming (subscription required), data-free live sports (AFL, AFLW, NRL, Netball and A-League), and free Telstra Air WiFi access. So overall, you'll get plenty of inclusions on Telstra's updated plans, along with the flexibility to swap between tiers or add new devices at any time.
Telstra 5G price changes
Alongside changes to prices and included high-speed data, Telstra has also revised its approach to 5G network access. While use of its 5G mobile network is free for all customers until July 1, 2020, Telstra had originally planned to charge users on Small and Medium mobile plans an extra $15 per month for 5G access after this date (Large and Extra Large plans would continue to offer 5G coverage at no extra cost).
However, Telstra will now offer free 5G access on Medium plans, in addition to its pricier Large and Extra Large options, and will abandon plans to charge a 5G access fee. This means that Small plan customers will be required to upgrade to larger plan for continued 5G access after today's cut-off. However, this plan switch is optional, so if you're a Small plan customer not currently using a 5G handset, you won't be pressured to upgrade or pay extra for a network you're not actually using.
If you're an existing customer on Telstra's Small plan, and you do have a 5G-capable smartphone – such as the Samsung Galaxy S20 5G series, or the OPPO Find X2 Neo – you'll be automatically migrated to the Medium plan so you can continue to use 5G. But as discussed above, Telstra is offering 12 months of account credits to cover the price difference, so you won't pay more for a full year on your new plan.
Free BINGE for postpaid customers and Telstra Plus members
Alongside this week's major plan changes, Telstra is also throwing in some streaming freebies for postpaid and Telstra Plus customers. Sign up to Foxtel's brand-new streaming service BINGE via Telstra, and you'll score your first three months completely free.
If you're part of the Telstra Plus loyalty program, you'll qualify for even more free BINGE-ing: an extra three months for Bronze members (six months in total), six months for Silver members (nine months in total), and nine more months for Gold members (the full 12 months in total). Telstra Plus is free to join, and the telco is also offering customers on the new Medium, Large and Extra Large postpaid plans up to 50% more points for every dollar spent – more info on how Telstra Plus works is available in our guide.
Telstra customers can use their free BINGE subscription to stream from Foxtel's extensive library of on-demand content, including new release movies, television shows, documentaries, kids' programming and more. Priced from just $10 per month for the Basic plan, Telstra's BINGE offer can save Gold Telstra Plus customers up to $120 over a year of free streaming, or a minimum of $30 for postpaid customers without a Telstra Plus membership.
If sport is more your thing, Telstra is also extending its popular Kayo streaming offer through to 30 September, 2020. Telstra customers can sign up to Kayo Basic for just $15 per month (down from $25), or Kayo Premium for $25 monthly (normally $35) for their first 12 months. Originally scheduled to end on 30 June, 2020, this offer has been extended to the end of September as live sports begin to return.
Financial hardship updates
Finally, Telstra has announced changes to financial hardship measures, prompted by the ongoing economic impact of disasters such as bushfires and COVID-19. Telstra has confirmed the following updates to financial hardship initiatives:
Removing late/dishonour fees for customers on direct debits
Allowing consumer and small business customers to suspend their services online when circumstances change, and to re-start at no cost
Continuing the new $30 affordable mobile offer for eligible customers
Extending the Connected Family Internet Offer to 30 September, 2020.

Image: Eva Blanco / Shutterstock