Australia has no shortage of options when it comes to finding a new phone plan, SIM card or internet provider. While it's good to have plenty to choose from, finding one that suits your lifestyle and telco habits can be confusing, especially if you've only recently arrived Down Under and it's your first time dealing with the Australian market.
With providers big and small available for you to choose from, which one should you sign up to? In this Canstar Blue article, we provide some background on the Australian telecommunications industry, and the types of services and features that are available.
What do we mean by telecommunication?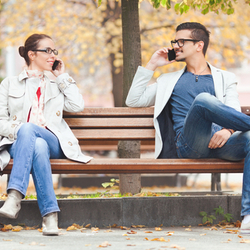 Telecommunication is the transmission of a message or signal through the use of wire, radio or other electromagnetic systems. Generally speaking, telecommunication can refer to a number of systems, including telegrams, radios telephones and even satellites. However, when we talk about a telecommunication or telecommunicator, we are often talking about those who deal with phones or internet.
Often referred to as 'telcos' in Australia, telecommunicators companies offer you the chance to stay in touch with your friends and family via mobile phones or an internet connection. And with technology significantly relying on the internet, telcos are an important part of everyday life, so it's important to choose one that can give you the best service and coverage.
What services do telcos provide in Australia?
Australian telcos offer a range of products and services for you to use, whether you're looking for a phone, internet connection or both. Below are some of the more common services a telco can offer:
Phone plans – a contract between you and a telco, in which you usually pay on a monthly basis for the use of a phone, network coverage and call, text & data inclusions. You can often get the latest phones on a contract, with plans generally billed at a flat fee on a monthly basis.
Prepaid plans – a phone plan that doesn't have a contract, meaning you can decide when and how you use your service. You will have to purchase 'phone credit' in order to make calls, send messages or use the internet, with phone credit generally lasting around a month.
Postpaid plans – working similar to any other type of bill, postpaid phone plans mean you pay for how much data, calls and texts you have used at the end of the billing cycle, rather than up front.
Mobile broadband – through a SIM card in your laptop or tablet, telcos provide data-only plans so you can access the internet on the move. Mobile broadband may also be used via a portable modem or internet dongle.
Home internet plans – the majority of homes in Australia have a fixed line internet connection, with a new National Broadband Network (NBN) being rolled out across the country. However, in some cases, Aussie households may be able to access wireless internet over a 4G network.
Australian Telco Providers
Telstra


The largest telecommunication company in Australia, Telstra was founded in 1975 following a change in the national communication sector. While it operated under the name 'Telecom Australia' until a name change in 1993, Telstra provided house phones, car phones and some of the first home internet services in Australia.
The name 'Telstra' comes from the word Telecom Australia (TEL from Telecom and STRA from Australia).
Today, Telstra is one of the main telecommunication providers for mobile phones and internet services, including all types of phone plans and the National Broadband Network (NBN). Similarly, you can get SIM cards, mobile broadband and business phones from Telstra, with products and services available either online or at more than 300 stores around Australia.
Telstra also stocks the latest phones, including the Apple iPhone 11 series, iPhone SE, the Samsung Galaxy S20 series and more.
Optus


Founded in 1981, Optus is generally considered to be Australia's second-largest telco provider. Originally known as Aussat Pty Limited before changing its name to Optus, the company offers a range of services similar to Telstra, including phone plans and internet deals, plus phones for businesses. The company is now owned by Singapore telecommunications giant Singtel.
Optus also has over 300 physical stores which you can visit, with services such as phone plans, prepaid SIM cards and the NBN also available to order online. Optus is known for its attractive telco features as some deals come with Optus Sport, which provides access to the English Premier League soccer. Some products also bring data-free music streaming.
Optus offers the latest phones, including the iPhone 11, 11 Pro and 11 Pro Max, the iPhone SE, the Samsung Galaxy S20, S20+ and S20 Ultra, along with a range of phones from other providers including OPPO, Huawei and more.
Vodafone


A global brand that operates in 25 countries, Vodafone was founded in 1991, and entered the Australian market in 1993. Today, Vodafone has over 100 stores around Australia, and offers phone plans, internet and NBN coverage, as well as the latest phones and tablets, including the iPhone XR and the Samsung Galaxy Tab.
Vodafone is known for offering big data phone plans, and also for the flexibility of its contracts as users can continue to pay off the cost of their chosen handset while switching from Vodafone to another telco provider for their data, call and text inclusions.
Vodafone also offers specific phone deals for students, so be sure to check out Vodafone if you're studying.
Other telco providers
While Telstra, Optus and Vodafone are the main providers for all your phone and internet needs, there are many smaller providers out there that may be a better option for you. Some of the other providers in Australia are:
What should you look for in a telco provider?
There are plenty of telco providers in Australia, which means that you can get a good deal on phone and internet plans. However, in order to get the best deals – and the most use – out of your provider, you should look into the variety of plans they offer, as well as what areas of Australia they cover and how close your nearest store is if you have any problems. If you're not sure which provider might be the best fit for you, check out Canstar Blue's ratings for phone and internet providers to see what plans and deals are available.
Picture credit: Akhenaton Images/ Shutterstock.com, bokan/shutterstock.com