De'Longhi Air Conditioners Review
Don't let the Australian heat ruin your summer. Popular for its hot range of coffee makers, De'Longhi turns up the heat again with its selection of portable air conditioners.
Most of the Italian brand's cooling products fall into its 'Pinguino' portable air conditioner range. De'Longhi's current line-up includes:
Pinguino Air-to-Air PAC EX130
Pinguino Air-to-Air AN112 Silent
Pinguino Air-to-Air PAC CN93ECO
Pinguino Air-to-Air PAC N77ECO
Pinguino Air-to-Air Portable Air Conditioner Pac CN86 Silent
Water to Air Portable Reverse Cycle Air Conditioner PAC WE120HP
Some of these models include three fan speeds and dehumidifier functions, while items like the Pinguino PAC WE120HP contain heat pump features that provide both heat and cooling functionalities.
But if you're looking for ways to keep your electricity bills low, De'Longhi also claims that all its portable air conditioners use eco-friendly refrigerants, which ensure each model is energy-efficient.
De'Longhi's portable air conditioners typically cost between $649 and $949. To help you decide if this is the brand for you, we've listed the prices and features of two models to get a taste of what De'Longhi has to offer.
Pinguino Air-to-Air Portable Air Conditioner PAC CN86 SILENT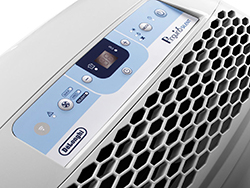 If you're a fan of the De'Longhi Pinguino PACEX120WH, but not the price, then the De'Longhi Pinguino Air-to-Air PACN86 might be an ideal alternative. For around $200 less, this model is claimed to operate at a quieter noise level of 47 db(A) due to the honeycomb shaped grid and double speed condenser fan. The honeycomb shape grid is claimed to 'maximise air flow' and ensure the unit operates with as little sound as possible.
Some other key features include:
Fan function
No Drip technology
Soft touch control panel
24-hour electronic timer and thermostat
The Pinguino PAC CN86 SILENT provides up to 2.5kW cooling capacity, and features a separate dehumidifier function which can remove up to 30L of moisture each day.
RRP: $649*
De'Longhi Water to Air Portable Reverse Cycle Air Conditioner PAC WE120HP
For a jack-of-all trades, the Pinguino PAC WE120HP offers both cooling and heating functionalities you can use all year round. The Water to Air Portable Reverse Cycle Air Conditioner is the priciest and most powerful unit in the brand's cooling range. It has a 3.520kW cooling capacity and can eliminate up to 24L of excess moisture a day. This is especially useful for coping with the humidity during damp and rainy days. This all-rounder also features a reverse cycle system which allows the unit to cool your home in summer as well as provide warmth during the winter months.
Unlike some of the models available from the brand, the brand claims its Water to Air Technology can apparently cool the room using the 'cooling effect of water'. The water is said to move from the water tank to a collection tray where it is then pumped up over the condenser. This is stated to ultimately improve efficiency and performance.
Other features include:
R410A refrigerant
Smart Mode
No Drip Technology
Turbo Power
Sleep Mode
Auto fan
RRP: $949*
Should I buy a De'Longhi portable air conditioner?
From the low noise levels to the reverse cycle system, De'Longhi's range of portable air conditioners are designed to keep you comfortable year-round. If you're searching for an energy-efficient portable air conditioner that will help you save money, many of the models available use either R290 or R410A refrigerant. Both eco-friendly refrigerants are claimed to produce low running costs and help the unit operate at higher efficiency.
For a quiet model that won't disturb your sleep or distract you from your work, De'Longhi offers several models that feature Silent Technology to keep noise to a minimum. Some of these include the models mentioned above.
But if you're looking to invest in an appliance you can get the most out of, the De'Longhi PAC WE120HP provides both cooling and heating functionalities. While it's the most expensive model in the range, it is also the most powerful and includes a heat pump system so you can use the appliance all year.
Still don't know if De'Longhi has the best portable air conditioner for your home? Visit the Canstar Blue portable air con ratings page to compare a variety brands. Big names like Riannai and Kogan have proven to be popular in our satisfaction ratings. These companies have received high ratings for categories such as reliability, functionality and noise. But don't forget to also check out smaller brands such as TCL and Honeywell.
---
Read more: Portable air conditioner running costs
---
About the author of this page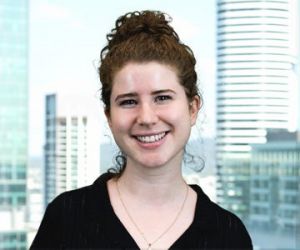 This report was written by Canstar Blue's Content Producer Luciana Lawe Davies. She writes about streaming, appliances and consumer products and services. Luciana enjoys bringing readers the best in what's on TV and at the shops, including the best deals and latest reviews.
*Prices are taken from retailer, correct as of December 2020.