Batter up! ALDI's White Mill rises to the top in packet baking mix ratings
Waiting for a batch of choc chip cookies to see if they strike the right balance between gooey and chewy can be just as agonising as watching paint dry. Especially, if you've baked them from scratch. So, it's understandable that nearly half (47%) of our Aussie survey respondents have dipped their wooden spoons into baking mix packets from different brands ─ especially when two-thirds (68%) find these easy to follow and use. Some even add their own steps to the mix, such as by pouring in extra ingredients to suit their taste (18%).
Thankfully, it seems many manufacturers have mastered their recipes. One in four (27%) people generally stick to one brand, while almost two in five (39%) mix things up by trying different flavours from the same brand. For 30% of consumers, there's nothing more delicious than whichever product is the cheapest or on special.
To see which brands puff to the top and which crumble, we surveyed more than 1,300 Australians on the packet baking mixes they've purchased within the last six months. Respondents rated products on their ease of baking, taste, texture, packaging design, value for money and overall satisfaction. The brands which met the minimum required survey sample size of 30 responses are featured in our results.
ALDI's White Mill clearly whisked away Aussies after scooping up five-star reviews across the board (or should we say, the pan).
Best Packet Baking Mix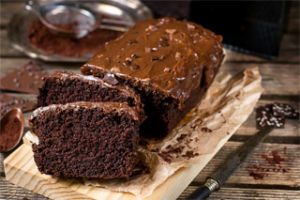 Here are the best packet baking mix brands in Australia, as rated by consumers in Canstar Blue's inaugural review:
White Mill (ALDI)
Green's
Betty Crocker
White Wings
Woolworths
Coles
ALDI private label White Mill got a sweet taste of victory after finishing best in all categories, including ease of baking, taste, texture, packaging design, value for money and overall customer satisfaction. It was also the only rated brand to achieve a five-star review in any category.
Runner-up Green's, Betty Crocker, White Wings and Woolworths each picked up a solid four-star rating in most areas, including overall satisfaction, while Coles scooped up a moderate three stars.
Packet Baking Mix Brands
White Mill (ALDI)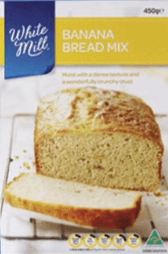 ALDI isn't new to serving up its own plate of home branded goods. In fact, it's probably known as one of the supermarket's specialties, along with dishing out cheap Special Buys. When it comes to baking, White Mill has a variety of options to choose from. Some include sticky date pudding, chocolate cake, vanilla cake and butter cake. The private label also offers packet mixes for cupcakes, paleo balls, protein balls, pancakes, muffins, brownies and cakes in a mug. Here are some of the different types of White Mill packet baking mixes you can pick up at ALDI:
White Mill Super Moist Vanilla Cupcake Mix (450g): $1:50
White Mill Blueberry Muffin Mix (500g): $1.99
White Mill Devil's Food (580g): $2.99
White Mill Banana Bread Mix (450g): $2:39
White Mill Golden Butter Cake Mix (440g): $2.79
ALDI's White Mill was rated five stars in all categories, including taste, texture, value for money and overall satisfaction.
Green's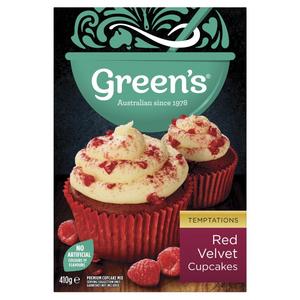 Enjoy baking with the kids? Green's sells a Learn to Bake range which include snowflake cookies inspired by Frozen II and vanilla cupcakes with a colourful icing design straight from the Trolls World Tour movie. The Australian brand also offers the classics, such as carrot cake, sultana cake, date loaf, muffins, brownies, banana bread and a self-saucing pudding. Plus, there's a lemon meringue pie, donut balls and cookies and pancakes. Here's a sample selection from the Green's range of packet baking mixes:
Green's Cookies & Cream Cupcakes Mix (380g): $4
Green's Red Velvet Cupcakes (410g): $4
Green's Temptation Tiramisu Dessert: $5
Green's Cookies Baking Mix (530g): $5.50
Green's achieved four-star reviews in all categories, including taste, texture and overall satisfaction.
Betty Crocker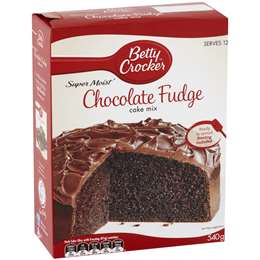 If there's a name synonymous with delicious sweet baked goods, it's Betty Crocker. The brand offers a wide variety of products, such as everything from mug treats, no-bake cookie dough mix and brittle mix, to chilled treats, frosting, potato mix, pie crust, salad and kitchen accessories. And the brand even has a flavour selection that's just as wide for its cakes, cookies, brownies and other baked goodies. Some options include a Confetti Angel Food Cake, Devil's Food, Pineapple Upside Down Cake Mix, Supreme Chocolate Chunk Cookies and Peanut Butter Cookie Brownies. Betty Crocker additionally has gluten-free baking mixes, a low-fat fudge option and a Reese's bars dessert range. Other drool-worthy products from the Betty Crocker range include:
Betty Crocker Supreme Lemon Slice Mix (510g): $5.20
Betty Crocker Strawberries Cake Mix (540g): $5.20
Betty Crocker Salted Caramel Cookie Mix (500g): $5.20
Betty Crocker Cinnamon Crumble Muffin Mix (500g): $6
Betty Crocker White Chocolate Fudge Blondie Brownie Baking Mix (500g): $5.20
Betty Crocker scored a clean four-star sweep across all research categories, including taste, value for money and overall satisfaction.
White Wings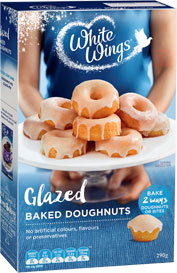 From seasoning dinners with their Hamburger Helper, to filling that special space in our tummies reserved for desserts like chocolate profiteroles, White Wings has us covered. The brand offers a colourful variety of baking mixes for brownies, cookie sandwiches, doughnuts, muffins, cupcakes, mousses, cakes, cookies, banana bread, gravy mix, seasoning mix and crumbing mix. White Wings additionally sells flour as well as mixes for cake in a cup, pancakes and bliss balls. Here are a few packet baking mixes from White Wings' range:
White Wings Glazed Baked Donut Mix (290g): $4
White Wings Banana Muffin (455g): $5
White Wings Double Choc Cookie Sandwich Mix (430g): $5
White Wings Red Velvet Cupcake Mix (365g): $5
White Wings Choc Mint Brownie Mix (475g): $5
White Wings landed on four stars for most factors, including taste, texture and overall satisfaction. The only exception was value for money, where it received three stars.
Woolworths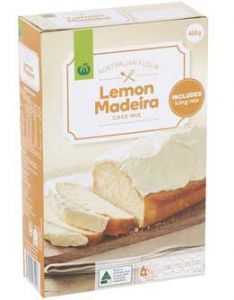 Woolworths is another supermarket that add its own flavour to the mix. It offers a super affordable range of cake and dessert mixes, which includes several types of cakes and brownies with icing. The supermarket itself also sells a bunch of baking essentials, such as muffin pans, mixing spoons and even a slow cooker. The private label's line of packet baking mixes is considerably cheaper compared to some other brands, with most of its products available for less than $2. Some items include:
Woolworths Lemon Madeira Cake Mix with Icing (450g): $1.85
Woolworths Vanilla Cake Mix with Icing (450g): $1.85
Woolworths Chocolate Cake Mix with Icing (450g): $1.85
Woolworths Brownie Mix (450g): $2.25
Woolworths achieved four stars in most categories, including taste, value for money, ease of baking and overall satisfaction. It also got three stars for texture and packaging design.
Coles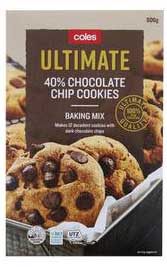 Prices aren't the only thing going 'down, down' at Coles, with the supermarket offering a few types of cake mixes to enjoy. The homebrand sells a few quick and easy-to-make alternatives to your standard store-bought treats, such as melting moments and glazed donuts. You can also devour family favourites such as chocolate mud cake and choc chip cookies.
Coles' range of cake mixes is probably one of the most budget friendly out there. Prices start from just $0.75 for a 340g vanilla cake mix, reaching up to $4 for a 500g packet of sweets including melting moments, donuts (550g), cookies and brownies. Many of the products are also made in Australia. Here are some products you can expect from the Coles packet baking mix range:
Coles Butter Cake Mix (340g): $0.75
Coles Banana Bread Baking Mix (450g): $1.80
Coles Vanilla Melting Moments Baking Mix (500g): $4
Coles Donut with Glaze Icing Baking Mix (550g): $4
Coles Ultimate Choc Chip Cookie Baking Mix (500g): $4
Coles achieved a four-star review for value for money, and landed on three stars everywhere else.
About the author of this page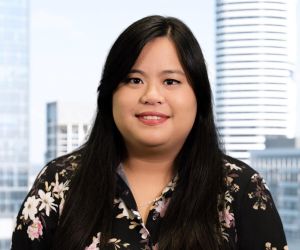 This report was written by Canstar Blue's home & lifestyle journalist, Tahnee-Jae Lopez-Vito. She's an expert on household appliances, grooming products and all things grocery and shopping. In addition to translating our expert research into consumer-friendly ratings reports, Tahnee spends her time helping consumers make better-informed purchase decisions on all manner of consumer goods and services, while highlighting the best deals and anything you need to be aware of.
Picture credits: Larik_Malasha/Shutterstock.com.