Sorry parents, you'll have to brace your wallets once again as Woolworths digs up yet another giveaway promotion – Discovery Garden.
Following the huge success of the Lion King Ooshies, the supermarket giant has announced it will now be giving out seedling kits for every $30 shoppers spend in store or online, while stocks last.
Discovery Garden launches Wednesday (September 11).
The idea is based around getting kids excited about growing their own food.
Woolworths Fresh Food Kids Programs Manager, Sarah De La Mare explained: "As the fresh food people, Woolworths Discovery Garden is a natural next step for us to engage families and empower Aussies of all ages to understand how their food grows.
She added: "Learning about fresh food, where it comes from, how it grows, how long it takes to grow, whether it's easy or challenging are all questions that will encourage meaningful discussions at home, at school and even at work."
Woolworths and Coles have previously been slammed for 'gross hypocrisy' for releasing plastic toys after promising to minimise plastic waste by phasing out single-use plastic bags and reducing packaging.
Woolworths customers can also score a bonus seedling kit when they spend $15 on fresh fruit and veg in a $30 shop in-store. Plus, there is a free interactive growth chart and learning book available in-store and online, as well as a collector's tray for $4.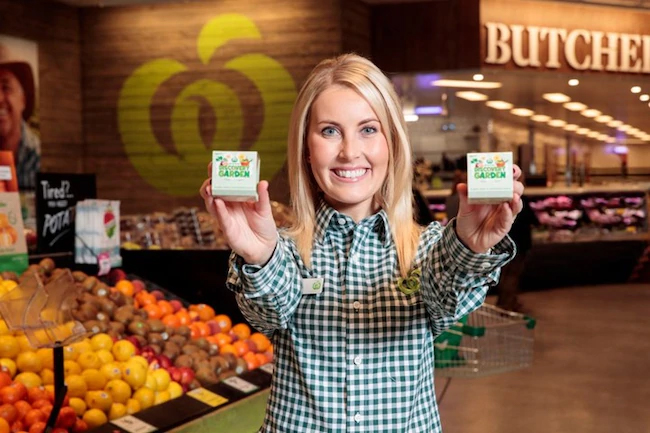 Discovery Garden is based on a similar promotion in New Zealand and South Africa called Little Garden, run by New World, which aimed to teach shoppers about where their food comes from.
Green fingers of all ages have praised the tiny trend on the Little Garden website, with many parents also admitting to learning something new.
One person wrote: "Our little garden is growing so well! We were so excited when the seedlings sprouted and look forward to watching them grow and eventually moving them to our garden beds outside. It's been such a great tool for teaching my 4-year-old about gardening and allowing her to see how vegetables and flowers grow, it's fantastic. Thanks so much New World!!!"
Little Garden included seed packets for a variety of vegetables, fruits and herbs such as kale, lettuce, red onion, watermelon, bok choy, oregano and star flower.
Woolworths Discovery Garden
Here's a list of vegetables, fruits and herbs that are included in the Discovery Garden promotion.
Basil
Beetroot
Bok Choy
Cabbage
Carrot
Chamomile
Chives
Coriander
Cress
Dianthus
Dill
Kale
Lettuce
Onion
Oregano
Pansy
Parsley
Radish
Rocket
Snapdragon
Spinach
Thyme
Tomato
Viola
Woolworth Mobile Phone Plans
You may not realise, but in addition to offering great promotions like Discovery Garden, Woolworths is also now a major player in the telco space, providing some competitive phone on a plan and SIM-only deals at affordable prices.
The following table shows all published Woolworths Mobile postpaid plans on Canstar Blue's database, listed in order of cost, from the lowest to highest and then by data allowance, largest to smallest. This is a selection of products with links to a referral partner.