Jumbuck BBQs Review
Jumbuck covers outdoor heating products, BBQ accessories and BBQs themselves, intending to bring barbecuing back to basics. Coming in a number of shapes and sizes, the Jumbuck BBQ range aims to fit right into any backyard, balcony or outdoor area. Jumbuck divides its BBQs by the number of burners they are equipped with, followed by a range classed under 'Portable, Charcoal & Kettle' BBQs.
Jumbuck BBQs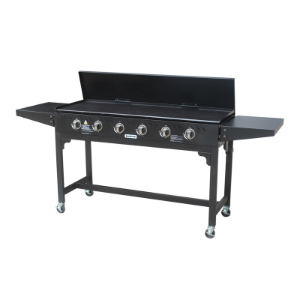 6 Burner BBQs
The Jumbuck 6 Burner Solid Top Club BBQ is aimed to be an ideal barbecue pal for small backyards and balconies. It has been constructed with a powder coated steel frame, lid, fascia and side shelves. Several design features include an easy access oil collection cup for cleaning convenience and castor wheels for easy moveability. It is equipped with auto ignition and is only available in LPG. It doesn't feature a grill but has a large cooking area – 1340 x 490mm – as well as a warming rack.
4 Burner BBQs
In the 4 Burner BBQ range you will find all BBQs in a powder coated steel design with a black coloured frame.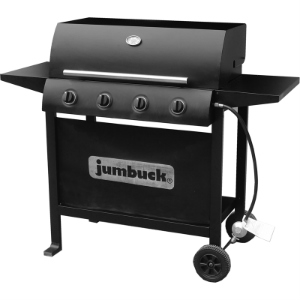 All 4 burner BBQs are fairly similar in size, all stretching out to 800mm in cooktop length and ranging from 420 to 490mm in width. None of the models feature a cabinet, but if you weren't considering storing any BBQ utensils within the BBQ, then this shouldn't be much of a downfall.
The 4 Burner Hooded Portland BBQ – is rotisserie ready (rotisserie needs to be purchased separately). It features a thermometer gauge and a grill, complete with stainless steel handles and warming rack. It is designed with a powder coated frame, hood, fascia, side shelves and trolley.
The 4 Burner Flat Top Urban BBQ – features a cast iron hotplate and grill. The construction material is the same as the previous model, using powder coated steel frame, fascia and lid, steel side shelves and trolley shelf.  The main difference with this model is that it is not equipped with a warming rack.
The 4 Burner Flat Top Delta BBQ – uses the same construction as the model above. It is designed with an easy access grease collection cup but does not feature a grill.
2 Burner BBQs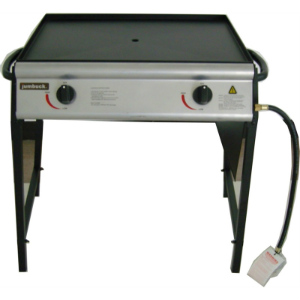 The Jumbuck 2 Burner Flat Top BBQ has a simple and compact design. Jumbuck claims this BBQ is ideal for picnics, camping and caravanning with its foldable legs and handles. It uses a solid steel cooktop and stainless steel burners with the aim to be durable for outdoor weather conditions. It is equipped with automatic ignition.
You may also be interested in:
Portable, Charcoal & Kettle BBQ Range
Portable BBQs
The Jumbuck Portable Round Hotplate BBQ – is ideal for camping or for your "outdoor voyages" as Jumbuck puts it. It is claimed to have a lightweight and portable design in order for you to store it in your caravan or car with ease. It features a cast iron hotplate and stainless steel burners, which is fairly standard construction material used across BBQ brands.  With a collapsible frame, screw legs and a removable windshield for flame protection, the Jumbuck Portable Round BBQ may be an ideal travel companion. It is a ULPG BBQ with manual ignition.
The Jumbuck Black Charcoal Kettle BBQ – is designed for small backyards and balconies with wheels and handles for easy manoeuvring. It has a stainless steel grill with an enamel coated steel frame to ensure resistance against tough weather conditions. It is a compact charcoal BBQ equipped with an ash catcher, giving you an option for an easy late night meal.
Charcoal BBQ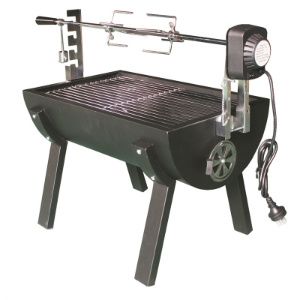 The two Jumbuck charcoal models that are currently available are both 890 x 430 mm (LxW) in size and both are designed with a grill and rotisserie.  The Mini Spit Rondo model, however, is heavier in weight, coming in at 11kg compared to 8kg but does feature wheels for movability.
The Mini Spit Rondo Charcoal Roaster (HS-FP006) – is claimed to be lightweight and portable, using powder coated steel material. It features an adjustable height rotisserie on top of the cooking grill as well as adjustable side ventilation. The Mini Spit Rondo BBQ is designed to achieve that mouth-watering slow cooked meat over wood or heatbead fuelled fire with 240V of power to control each rotation.
The Small Novo Battery Spit Roaster with Rotisserie (HS-FP005) – is a battery operated unit, claimed to be easy to clean and operate.  With an adjustable rotisserie height and 240V of power, it gives you the ability to BBQ up to 15kg of meat. How about that for backyard party entertainment? Similarly to the Mini Spit Rondo model, it has been constructed with powder coated steel and adjustable side ventilation.
Kettle BBQ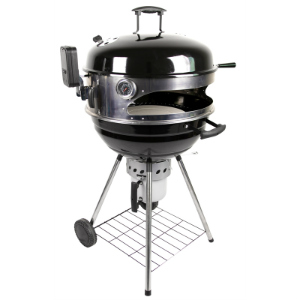 For a charcoal BBQ with the lot, you may like to consider the Kettle BBQ with Pizza and Rotisserie Ring. It features a pizza stove, battery operated rotisserie and a bottom wire rack. It's constructed with hard wearing steel, and enamel bowl and lid, and stainless steel ring rotisserie. The rotisserie is included with this model along with wheels for manoeuvrability.
Wood-fired & Gas Pizza Ovens
Although not a BBQs in itself, Jumbuck pizza ovens may certainly add another entertainment feature to the backyard. There are currently two models in this range including the Outdoor 'Moda' Gas Pizza Oven (HS-PZ001) and the Outdoor Charcoal 'Pinsa' Pizza Oven (HS-PZ003). Both are on wheels for much easier moveability, with the Pinsa Pizza Oven being slightly heavier coming in a total weight of 41kg. Both are equipped with a viewing glass and temperature gauge to cook your pizzas to perfection.
Should I go home with a Jumbuck BBQ?
Jumbuck offers a number of different styles of BBQs from your classic charcoal kettle model to a very powerful 6 burner BBQ while also throwing in a BBQ with a pizza oven into the mix. When looking at BBQs, it is important to consider the number of burners, size of BBQ, quality of build materials and extra features it has. Jumbuck aims to provide an affordable range, sitting in the low to mid-price category but with that there isn't much in terms of extra features. Nevertheless, if you are after a simple BBQ that does the job, Jumbuck may have a BBQ for you.
About the author of this page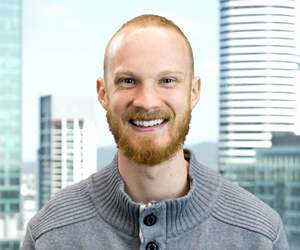 This report was written by Canstar Blue's Content Projects Lead, Dean Heckscher. He's our resident expert on all things automotive, health & fitness, streaming and more. Dean is also one of Canstar Blue's customer research report producers, helping to turn complicated subjects into easily-digestible information for our readers. He's passionate about helping consumers make better-informed purchase decisions on all manner of consumer goods and services.
What do customers think about Jumbuck BBQs?
In 2020, Australian customers gave Jumbuck 3 out of 5 stars for overall customer satisfaction for BBQs.